2013 Fantasy Football Daily Fix, December 10th: Week 15 WR Daily Fantasy Strategy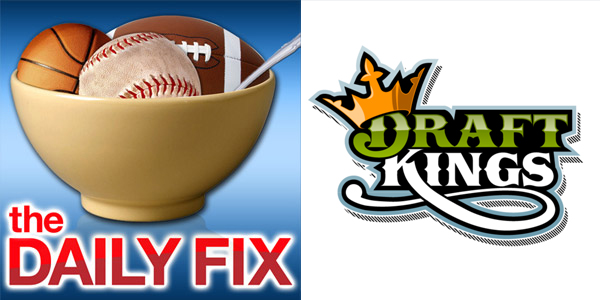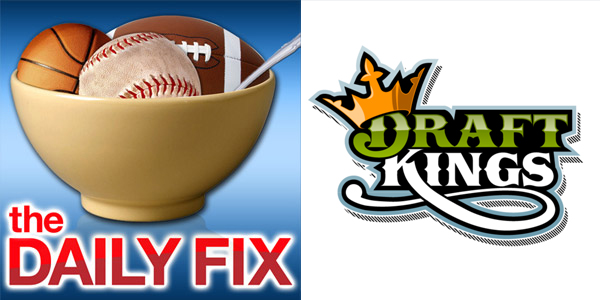 Coming up in today's daily fix I discuss Da'Rick Rogers, Daniel Thomas, and Delanie Walker, and I have some week 15 wide receiver recommendations for DraftKings contests (#DFS).
News and Notes
How about Da'Rick Rogers? According to @MikeClayNFL, Rogers was in on 41 snaps Sunday (68%). He, T.Y. Hilton and LaVon Brazil all played about that many snaps, but Rogers easily led the team in targets with nine (five for Hilton, four for Brazil). And Darrius Heyward-Bey only played 23 snaps. So there is clearly a hole at the WR2 spot in Indy, and Rogers seems more likely than anyone to fill it for the rest of the year. The Colts face Houston this week who look like they're good at stopping wide receivers given that they allow the 7th fewest fantasy points to receivers. But that's likely a function of an easy schedule as both ProFootballFocus and Football Outsiders have Houston rated as a bottom seven pass defense. Rogers is virtually unowned, so if you're looking for a play, I guarantee he's available for you.
If Lamar Miller happens to sit with a concussion this week, Daniel Thomas is an interesting option. The Patriots run defense has been severely hampered by the loss of some key guys to injury, and they allowed 30+ points to running backs in both week 12 and week 13. Thomas is dealing with an injury of his own as it was thought a few weeks ago that he might miss the rest of the season with an ankle injury. But he was back in the lineup last week and produced with 105 yards and a score on 16 carries. Again, there are a few "ifs" here. If Miller sits and if Thomas is healthy, he would be a strong play in this matchup. He might even crack my top 20 running backs for the week. He's available in about 95% of ESPN.com leagues.
Delanie Walker was knocked out early in week 13 with a concussion and missed week 14 as well. But if he's healthy for week 15, he's a must add. He had been targeted 18 times in the two games prior to the concussion, so he was really getting involved in the offense. And his matchup this week is as sweet as sweet gets against the Cardinals who allow the most fantasy points to tight ends by a mile. Walker is available in about 80% of ESPN.com leagues and is a must-add if you like to stream your tight ends. There will be a lot of experts recommending that you add Dennis Pitta as a Rob Gronkowski replacement. And I would agree with that if you're looking for a guy to use in each of the final three weeks. But if you're looking for a guy just for this week, go with Walker.
DraftKings Wide Receiver Recommendations
Week 14 is in the books and I honestly got killed. It just wasn't my week. But I did well with my wide receiver recommendations in this article last week. I recommended Alshon Jeffery and A.J. Green on the high end who both had nice games. I recommended Brian Hartline as a cheap option, and he had a nice game with 16 points in PPR for a cost of only $5,100 (which works out to an excellent $318 per point). And I'm giving myself a pass on recommending Riley Cooper and Kris Durham given I had no idea what the weather would be like when I wrote last week's article on Monday night.
It actually shouldn't surprise me that my WR picks did well even though my picks at other positions didn't work out. Through week 13, I'm the most accurate expert at ranking WRs on a weekly basis according to the FantasyPros.com expert accuracy challenge. BOOM!
Despite getting killed in week 14 #DFS, the boss and I still have a ticket to the Week 16 Millionaire Grand Final which has $3.1 million in prizes and a million dollar grand prize thanks to an awesome week 12. Qualifiers for this insane contest are going on weekly.
Below I've got options in several different price ranges. This will allow you some flexibility when building your team depending on what you would like to do at other positions.
DraftKings uses a PPR format.
Luxury Options
I'm always wary to have the most expensive receivers on any of my teams because they have to have huge games to be worth the cost. But there's always a second cut of elite receivers that I like to choose from. This week the most expensive guys are Josh Gordon ($9,500) and Calvin Johnson ($9,400).  Neither has an especially great matchup, so I'm looking at the next tier for my elite receivers this week. Here they are with their price and their matchup.
I'm staying away from Marshall and Jeffery because I figure Joe Haden will spend most of the day on one of them. If I knew for sure who he'd be on, I'd like the other guy a lot. I'm guessing he'll stick on Marshall, but I can't be sure. And so I'm going with any of the other three.
Johnson leads the league in receptions with 95 and is facing the Colts who have allowed at least 27 points to receivers in five of their last seven games. The only two games where they didn't allow that many were both against Tennessee. Green and Thomas are 5th and 9th in receptions and both have great matchups. Green will square off against Ike Taylor who has been the worst cover corner in the league according to ProFootballFocus.com, and Thomas will face the Chargers who have the worst pass defense in the league according to both PFF and Football Outsiders. Thomas has the added benefit of not having Wes Welker in the lineup this week. You can't go wrong with any of these three.
However, if I had to pick just one, I'd go with Green because I think he is the best option for pairing with his quarterback in a lineup. I don't trust the Houston QB situation, and putting both Thomas and Manning in a lineup would use up about 36% of your budget. But Andy Dalton may be a bit undervalued as only the 22nd most expensive QB this week. Pairing him and Green would only use about 29% of your budget.
Reasonable Option
I mentioned this last week, but Denver allows the second most pass attempts in the league, which makes all the sense in the world since teams are constantly playing from behind against Denver. And so I like Keenan Allen ($7,000) against them this week . Allen is 24th in the league in receptions despite not really becoming a part of the San Diego offense until week four, so he can help in a PPR format.
Riley Cooper ($6,200) isn't a good PPR option. He's more of a boom-or-bust type player. But boom or bust can have value in daily contests with top-heavy payout structures. Cooper has had as many or more targets than DeSean Jackson in Philly's last five games. I'm of the opinion that he is Nick Foles #1 receiver. I want Foles' top option on my team in a matchup against the Vikings who are a bottom five pass defense by any measure.
Cheap Options
I mentioned Da'Rick Rogers ($4,700) earlier, and I'm a fan of him at his price. Stacking him and Andrew Luck would only use up about a quarter of your budget.
But if Aaron Rodgers plays this week, James Jones ($4,500) and Jarrett Boykin ($4,000) are by far the best value picks of the week. They're priced outside the top 40 at the position, but they're obviously top 40 receivers with Rodgers under center. That is especially true in this fantastic matchup with a horrendous Cowboys defense. But if Rodgers sits out again this week, Da'Rick is probably your best cheap option.
Cheapest Guy I Can Recommend
I'm going back to the well with Kris Durham ($3,300). I put him in this space last week while making the argument that he was second in targets only to Megatron on Thanskgiving and a better red zone threat than Nate Burleson. For those reasons, I think he's still the #2 receiver in Detroit. But the crazy snow in Philly last week messed everything up. Burleson got five targets to Durham's three, but Durham is more of a down field threat, so I'm not surprised Burleson got more looks in a game where short passing was about all you could do. I'm hoping Durham redeems me this week. Only use him if you want to stack him with Stafford and try to hit it big in a top-heavy payout contest.