2013 Fantasy Football Daily Fix, November 5th: Week 10 WR Daily Fantasy Strategy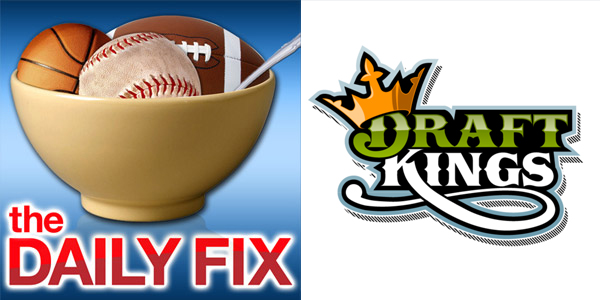 News and Notes
I wasn't high on Andrew Luck coming into the season, and he hasn't done anything to change my mind so far. Yes, he's 7th or 8th among quarterbacks in fantasy points per game, but it doesn't look sustainable. Luck's interception rate is the second lowest in the league at 1.1%. This is a bad thing because interception rate is a stat that tends to regress towards the average (about 3%) over time. The only quarterbacks who have held an INT% under 1.5 for the last couple of years are Aaron Rodgers and Alex Smith. Of the two, Luck is far more analgous to Smith given that Luck seems to be keeping his INT% down by being conservative. Luck is averaging only seven yards per attempt, which is 22nd in the league. Yards per attempt has a pretty strong correlation with touchdowns, and the top QBs average at least 7.5 yards per attempt and a 5.5 TD%. Quarterbacks with a YPA similar to Luck's tend to have about a 4.3% TD% (Luck's is 4.9%). Assuming Luck's level of aggressiveness remains stagnant, I would expect his TD% to regress. If he becomes more aggressive his TD% may rise somewhat, but his INT% should rise as well. Either way, his upside seems limited.
Each week I like to point out the running backs that are attractive sell high options because they scored a touchdown in their last game. Stevan Ridley seems like an obvious choice because Shane Vereen is expected back soon. It wouldn't be a shock if Vereen's return made this Ridley's last two score game of the year. Chris Ivory is a sell high for a similar reason. He and Bilal Powell have flip flopped in this backfield several times with Ivory looking like the guy in the preseason, Powell taking over in week three and four and now Ivory regaining the lead role. I wouldn't trust Ivory to continue to see such a heavy workload.
Doug Baldwin could be a sneaky guy to help you make a push towards the fantasy playoffs. With Sidney Rice going down for the year in week eight, it made sense that Baldwin would be more involved going forward. That held true in week nine when he caught six balls for 75 yards and a score with a team leading 10 targets. Russell Wilson is seventh in the league in yards per attempt, so there is some yardage to be had to whomever he is throwing the ball. The Seattle passing game has very nice matchups against Atlanta and Minnesota in the next two weeks, and Baldwin is available in 94% of ESPN leagues for anyone who would like to use him in those matchups.
DraftKings Wide Receiver Recommendations
Week 9 is in the books and I have tripled my money as I cashed in a Triple Up! this weekend. But when week 16 rolls around I could have a chance to "millionaire up" when DraftKings hosts a contest with $3.1 million in prizes and a million dollar grand prize. Qualifiers for this insane contest are going on weekly.
Before we get to the recommendations, here are the rules for the various NFL games DraftKings offers and a quick look at how wide receivers score points:
10 Receiving Yards = +1PT (+0.1PT per yard is awarded)
Reception = +1PT
Receiving TD = +6PTs
100+ Yard Receiving Game = +3PTs
Fumble Lost = -1PT
2 Point Conversion (Pass, Run, or Catch) = +2PTs
Below I've got options in several different price ranges. This will allow you some flexibility when building your team depending on what you would like to do at other positions.
Luxury Options
Denver wide receivers – Just pick one. The matchup with San Diego is great. Just pick the one you like the most.
Reasonable Options
Keenan Allen, $6,000 – We're safely at the point where Allen is a reliable receiver. Over his last five games, Allen is averaging 99.4 yards, 8.8 targets, 6.2 catches and has three scores over that span. He's a top 20 receiver at worst. And with a good matchup against the Broncos, who are bottom ten in fantasy points allowed per game to receivers, he's at least a top 15 receiver for the week if not top ten. But he's priced as the 17th most expensive receiver for the week.
Emmanuel Sanders, $5,200 – Over the last two weeks, only Harry Douglas and AJ Green have more targets than Sanders (22). If Sanders sees double digits targets for the third week in a row, he should do some damage against a Bills defense that has allowed more fantasy points per game to receivers than any other team.
Cheap Options
Steve Johnson, $4,700 – As we found out last week, the Steelers pass defense isn't that good. Their numbers looked good prior to running into the Patriots buzzsaw last week, but that was only because they had not faced any good quarterbacks to that point. EJ Manuel isn't going to light up the Steelers, but they're not so intimidating to think that Johnson can't get his.
Doug Baldwin, $3,800 – We covered this already.
Cheapest Guys I Can Recommend
Eddie Royal, $3,000 – Royal is inconsistent, but that's better than the fluke label that was placed on him after five touchdowns in the first two weeks. The matchup with Denver is good, so Royal could keep his little run going for another week before he inevitably goes dormant again.
Robert Meachem, $3,000 – If Meachem could repeat his five target performance from last week, he could return some value on his bear minimum price in a good matchup against the Cowboys.