2013 Fantasy Football Daily Fix: October 11, Week 6 RB Daily Fantasy Strategy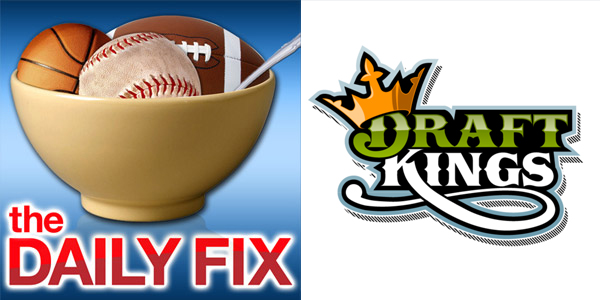 News and Notes
DraftKings Running Back Recommendations
If you've never played on DraftKings before, you can get a deposit bonus by signing up. And there are different options to pick from at DraftKings for any skill level.
At DraftKings you can qualify for the chance to win a million dollar prize starting with just a $2 investment. It's all right here at the DraftKings Millionaire Grand Final.
Here are the rules for the different NFL games DraftKings offers, and I'll go ahead and list the running back scoring settings here:
10 Rushing Yards = +1PT (+0.1PT per yard is awarded)
Rushing TD = +6PTs
100+ Yard Rushing Game = +3PTs
10 Receiving Yards = +1PT (+0.1PT per yard is awarded)
Reception = +1PT
Receiving TD = +6PTs
100+ Yard Receiving Game = +3PTs
Punt/Kickoff Return for TD = +6PTs
Fumble Lost = -1PT
2 Point Conversion (Pass, Run, or Catch) = +2PTs
Expensive
Doug Martin – $7,700 – vs. Philadelphia – Martin has been less than stellar this year, but he's seen 20 carries in each game and has faced four of the better defenses against running backs, fantasy-wise. The Eagles rank in the bottom half of defenses against running backs and have allowed 115 yards or a touchdown to RBs in every game this season. The Bucs should lean on Martin again, and he should have the best day of his season this Sunday.
Reggie Bush – $7,600 – at Cleveland – Even if Calvin Johnson sits out again this week, Bush should have a better day than last weekend. The Browns have allowed at least one rushing touchdown, and six total, to running backs in four of five weeks. They've also given up 25 catches to RBs in just five games. Bush should have plenty of chances to make plays rushing and receiving this Sunday, and his chances of finding the end zone are pretty good.
Reasonable
Marshawn Lynch – $7,400 – vs. Tennessee – Lynch has at least 17 carries in each game. The Titans are allowing 4.45 yards a carry, six catches and almost 40 receiving yards a game to opposing running backs. In its past four games Tennessee has given up at least 84 rushing yards to backs, including three 100-yard games. Lynch is always a safe option, and the juicy matchup makes him even more appealing.
DeMarco Murray – $6,500 – vs. Washington – Murray's 18 fantasy points a game at DraftKings rank him sixth among running backs playing this week, but his price is just the 10th highest. He's got a juicy matchup against Washington, which has allowed almost five yards a carry to running backs and almost 10 yards a reception. Murray has at least 74 total yards or a touchdown in four of five games. This figures to be another shootout so he should be involved plenty.
Cheap
Giovani Bernard – $5,100 – at Buffalo – The Bills rank fifth in points allowed to running backs, but that's only because opposing backs have scored just one touchdown against them. In weeks 1-3 running backs rushed for 162, 110 and 168 yards, respectively, against Buffalo. Opposing backs are rushing for a respectable 4.12 yards a carry against the Bills. Other than Ray Rice, Bernard's will arguably be the best back that the Bills have seen so far this season. Other backs that aren't as talented as Bernard have had success against the Bills so as long as Gio gets his touches he should produce.
Zac Stacy – $4,100 – at Houston – Stacy's probably the last player you'd feel at least a little comfortable starting, and that's being really generous. The rookie did well in his first start last week, rushing for 78 yards on 14 carries. Houston's allowed five touchdowns to running backs and over 100 rushing yards to RBs in three games.