2013 Fantasy Football Daily Fix, October 4: Week 5 Running Back Recommendations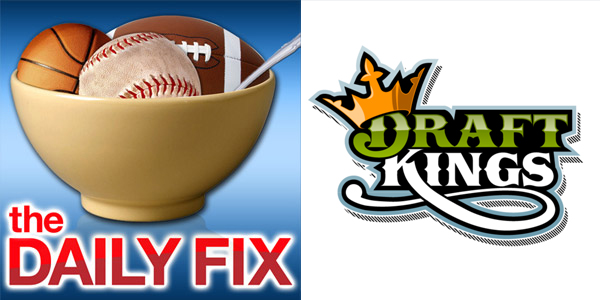 News and Notes
ESPN's St. Louis reporter Nick Wagoner wrote yesterday that rookie running back Zac Stacy could be in line to see more carries in the near future thanks to the Rams' ineffective running game. The Rams' running backs have rushed for only 167 yards this season with Stacy accounting for just four of those yards on one carry. It's unlikely Stacy will have a huge impact in the coming weeks, but if he breaks out this week against a bad Jacksonville team he might be able to run away with the starting job. Stacy's worth a pickup in deep leagues if you have the room for a no-risk/medium-reward player.
Both Bryan Hoyer and E.J. Manuel left Thursday night's tilt early with injuries. Hoyer left in the first quarter after suffering a right knee injury; Manuel left in the third after suffering an injury to his right leg, also. Hoyer's injury looked the more serious of the two, and early reports on Twitter Thursday night mentioned the Browns believed Hoyer could've had ligament damage. Brandon Weeden replaced Hoyer and did reasonably well, connecting with Josh Gordon on a 37-yard touchdown. As of late Thursday night I'd say Manuel has a chance to play in nine days while Hoyer probably is out for at least a couple of weeks.
Tampa Bay finally released Josh Freeman Thursday. The Bucs tried to find a taker for Freeman among the other 31 NFL teams, but were unsuccessful in their attempts. Freeman will be free to sign with any team in the near future, but no team has said outright that they'd be interested in signing him. Perhaps he may land in Cleveland if Hoyer's injury is serious enough. But if/when he does sign he's almost certainly not start-worthy except in the deepest of 2-QB leagues.
DraftKings Running Back Recommendations
If you've never played on DraftKings before, you can get a deposit bonus by signing up. And there are different options to pick from at DraftKings for any skill level.
At DraftKings you can qualify for the chance to win a million dollar prize starting with just a $2 investment. It's all right here at the DraftKings Millionaire Grand Final.
Here are the rules for the different NFL games DraftKings offers, and I'll go ahead and list the running back scoring settings here:
10 Rushing Yards = +1PT (+0.1PT per yard is awarded)
Rushing TD = +6PTs
100+ Yard Rushing Game = +3PTs
10 Receiving Yards = +1PT (+0.1PT per yard is awarded)
Reception = +1PT
Receiving TD = +6PTs
100+ Yard Receiving Game = +3PTs
Punt/Kickoff Return for TD = +6PTs
Fumble Lost = -1PT
2 Point Conversion (Pass, Run, or Catch) = +2PTs
Expensive Options
LeSean McCoy – $8,500 – at New York Giants – Shady is third in ESPN standard scoring and has averaged over 4.6 yards a rush each week. New York's giving up over four yards a carry to running backs and five catches and 30 receiving yards a game to RBs. So even if Philly's up big or trailing, Shady will be a factor in a huge way against a porous defense.
Reggie Bush – $8,000 – at Green Bay – The Packers are the 12th-friendlist defense to opposing running backs, fantasy-wise. In Bush's two healthy games this season he's averaged almost six yards a carry. This game figures to be a shootout so Bush is in line for another big game.
Reasonable Options
Darren Sproles – $5,600 – at Chicago – You might think the Bears are a tough team to go against, but last week they gave up eight catches and 64 yards to Reggie Bush and Joique Bell. They also gave up 40 points to Detroit, so New Orleans shouldn't have any trouble moving the ball. Sproles is a stud in PPR formats so don't worry about this matchup.
Maurice Jones-Drew – $5,100 – at St. Louis – MJD has been anything but the rusher we used to watch several years ago. He's only averaging 2.4 yards a carry and doesn't have a rush over 10 yards. But if there's one matchup to help a running back it's the Rams. They've given up six touchdowns to backs as well as 4.6 yards a carry. Dallas and San Fran combined to rush for 401 yards against St. Louis in its last two games.
Cheap Options
De'Angelo Williams – $4,300 – at Arizona – Williams has rushed for at least 85 yards in each game this season, and in two of those games has rushed for over five yards a carry. This is a bit of a tough matchup, but with Williams you know you should get around 20 touches – something you can't say about most if not all backs cheaper than D-Will.
David Wilson – $4,200 – vs. Philadelphia – Wilson had the most carries, yards, receptions and fantasy points in last week's game, and he's played over 40 percent of offensive snaps the last two weeks after playing under 40 percent the first two weeks of the season. Also, Da'Rel Scott, who's been playing about 40 percent of snaps, was cut this week, so most of those snaps should go to Wilson. It should be just a matter of time before he breaks out, and it could very well be this week against Philadelphia, which is a bottom-11 team against running backs.