2013 Fantasy Football Draft Strategy: 12-Team Snake Draft Flow Chart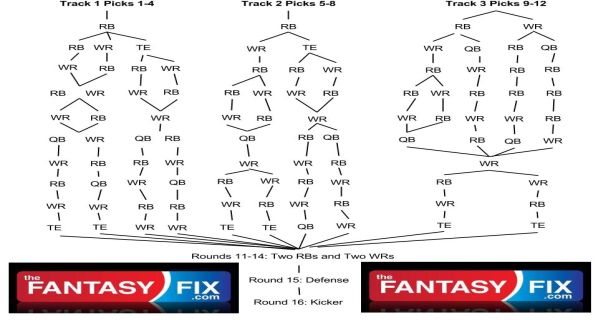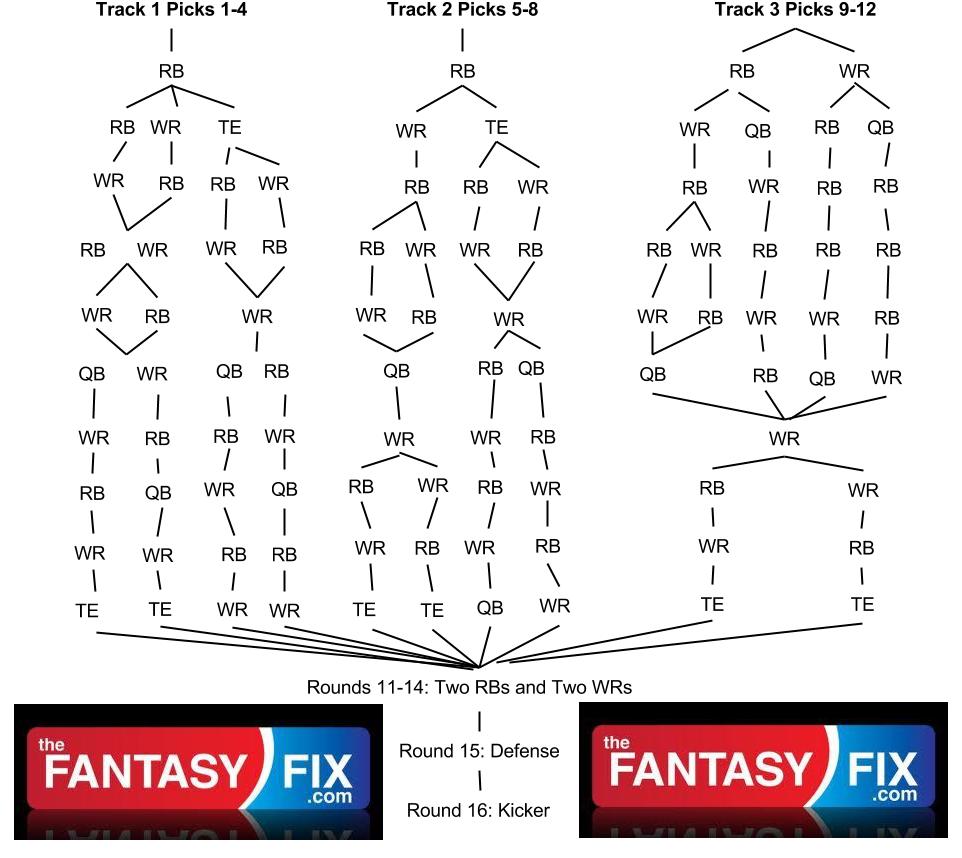 Above you can see my favorite piece of content to produce each preseason, a flow chart to use in snake drafts. This particular flow chart is designed for 12-team leagues with the following starting roster: QB RB RB WR WR FLEX TE D/ST K. As you can see, the chart is divided into three "tracks" according to where your pick is in the first round. I'll take you through each track and give you some of the names to target at each step along the way.
You can also check out my flow charts for ten-team leagues, Yahoo rosters, 2 QB leagues and PPR leagues here.
SEE MORE GREAT ARTICLES LIKE THIS IN OUR 2013 FANTASY FOOTBALL DRAFT GUIDE!
Track 1, Picks 1-4
This isn't revolutionary advice, but you should be taking a running back in the first round, especially if you're picking in the top third of the first round. I don't really care which running back you take as long as it's not Marshawn Lynch. I documented my distaste for Lynch in our Draft Guide (which you can buy here) and in a separate post here on the site. But other than that, feel free to take whoever you prefer out of Adrian Peterson (have to take him if you're #1), Arian Foster, Ray Rice, Doug Martin, Jamaal Charles and C.J. Spiller.
When things come back around to you in the second, you won't have the luxury of choosing whoever you like; you'll have to take whatever is left for you. Hopefully Maurice Jones-Drew will fall to the back of the 2nd. But if not, you should probably go somewhere other than RB. At receiver, Brandon Marshall could fall that far. But if he doesn't, Roddy White, Demaryius Thomas or Julio Jones would be a fine choice. And if you want to take a tight end before the tenth round or so, here's the one spot where I'm OK with you doing it. If you love Jimmy Graham, I'm OK with him right here.
In rounds three through five, I want you to get to the point where you have three RBs and two WRs. But if you took Graham, have two of each. Guys going in this range that I like are the aformentioned Jones-Drew, White, Thomas and Jones who you should take at the top of the third if they slip. I'm also OK with you reaching for a running back with any pick given their scarcity. I'm not afraid to reach and grab Darren Sproles or DeMarco Murray at the top of the 3rd. And when you get to the 4th/5th, I have no problem reaching for Chris Ivory or Ahmad Bradshaw. And at receiver look for Marques Colston, Reggie Wayne or Jordy Nelson to slip to you (not too worried about Nelson's regular season health). If they don't, grab Steve Smith, Dwayne Bowe, or Pierre Garcon.
The pair of picks in rounds six and seven are where things get a little tricky. Round six is ultimately where I prefer to take a quarterback, but there's a chance that no one worth taking falls that far. Because you picked at the top of the first, we're talking about the back end of round six, picks 69-72. Matthew Stafford or Russell Wilson could fall to you here. Tony Romo should be around, but someone will reach on him occasionally. Andrew Luck might be there, but I'd pass on him (you can read why here). If one of those three guys is there, grab 'em.
But if they're all gone, don't panic. Just take a RB and WR in the 6th and 7th, then take someone like Eli Manning or Ben Roethlisberger in the 8th. Pair Eli or Ben with someone like Jay Cutler and just play match ups. You could even wait until the 14th and take Josh Freeman or Philip Rivers as your second option. Don't sweat going late on QB if it happens. You'll end up with one of if not the deepest sets of backs and receivers.
If you do nab a QB in the 6th, you'll be taking RBs and WRs in rounds seven through nine. Guys I like going in this range are (with guys I love relative to their ADP in bold) Giovani Bernard, Stevie Johnson, Greg Jennings, Miles Austin, Lance Moore, Mike Williams, Daryl Richardson (may shoot up draft boards after being on top of the depth chart) and some handcuffs like Bryce Brown, Bernard Pierce and Ben Tate.
Round ten is where you grab your tight end if you didn't grab Graham. If Brandon Myers slips this far, grab him up. If not, take a shot and reach for my boy Fred Davis. Between 2011-2012, Davis was third in yards per catch behind only Rob Gronkowski and Jared Cook (min. 50 catches). I like Cook to break out as well, but more people think that way on Cook as opposed to Davis, so Cook is going in the 8th round or so.
From there on out, it's just building some depth a running back and receiver. Guys I like going after pick 120 on average are (with guys I love relative to their ADP in bold) Danny Woodhead, Ryan Broyles, Pierre Thomas, Reuben Randle, Malcolm Floyd, Ryan Williams, and Mohamed Sanu. And finish it off with a defense in round 15 and a kicker in round 16. I don't care which ones. I recommend playing the wire at kicker and defense all year.
Track 2, Picks 5-8
This is by far the cleanest track and my preferred spot in the first round. And in the middle of the first you're still going running back no matter what. If any of the six backs I listed when talking about track one are there, take them. Those guys are Peterson, Foster, Martin, Rice, Spiller and Charles. But if you have pick seven or eight and those six are gone, take your pick from LeSean McCoy, Alfred Morris, and Trent Richardson. Of that trio I definitely prefer McCoy, but take whoever you like the most.
In round two you can again take Jimmy Graham if you're just wild about him, but it's probably too much of a reach here. You can do it, but I'd prefer you go after one of the elite wide receivers that is generally still there in the middle of the second. Dez Bryant, A.J. Green and Brandon Marshall are the guys I'm looking for here.
Rounds three through five are nothing but backs and receivers just like in Track 1. Two of these three picks have to be running backs. If you take Murray in the third, you're taking on an injury risk and need to get a solid third option at the position. Again, I like Ivory and Bradshaw to be the third option. And at receiver look for one of Nelson, Colston, and Wayne in the 4th or one of Bowe, Smith, or Garcon in the 5th if you go RB-RB in the 3rd and 4th.
Round six is again where you try to grab one of Wilson, Romo or Stafford (in that order). If you miss out, just go with the two quarterback plan discussed above. But other than that, track two is pretty much just like track one from this point on.
Track 3, Picks 9-12
I hate picking late in the 1st this year. Because there are only nine running backs that I like more than the best options at quarterback and receiver, there is a chance that you have to go somewhere other than running back in the first. You're hoping for one of Peterson, Foster, Martin, Rice, Spiller, Charles, McCoy, Morris, and Richardson. But if you miss out on them, I'd look to the receivers in round one. Calvin Johnson is the obvious first choice if you have to go receiver, but if he's gone I can live with Dez Bryant or A.J. Green at picks 11 or 12.
If you do have to go receiver in round one, you almost have to go running back in round two. I hate Lynch, but if he falls that far (unlikely), you have to take him. I'd also be willing to reach on MJD here. But if Lynch is gone or you don't feel comfortable gambling on MJD, the only other option is going quarterback with either Aaron Rodgers or Drew Brees. If you have to do that, your picks in rounds three, four and five have to be running backs. Hope MJD is still there in the third (unlikely) and go McFadden or Murray if not. Try to grab Darren Sproles at the top of the 4th. And at the back of the 5th look at Ivory and Bradshaw. Then in the 6th take your second receiver.
If you are able to go running back at the back of the first round, I'd recommend taking Bryant, Green or Marshall in round two. But if you're dead set on Rodgers or Brees there, I'm fine with that. Rounds three through five in this scenario are just like they are in the other two tracks. Two running backs and a receiver. And if you didn't take Rodgers or Brees in the 2nd, you're hoping to go quarterback in the 6th just like the other tracks. The main reason I'd prefer not to take Rodgers or Brees at the top of the second is that one of Wilson, Romo and Stafford is almost always going to be available at the top of the sixth. In track one you may miss out on QB in the sixth being at the back end of the round, but I'd be very surprised if you couldn't land one of the three guys I mentioned in round six going down track three.
From there it gets pretty simple. Take your third receiver in seventh, a running back and a receiver in the eight and ninth, a tight end in the tenth, two RBs and two WRs in rounds 11-14, and then a defense and kicker.
Easy enough, right?