2013 Fantasy Football: T.Y. Hilton Bobbling Out of the Gate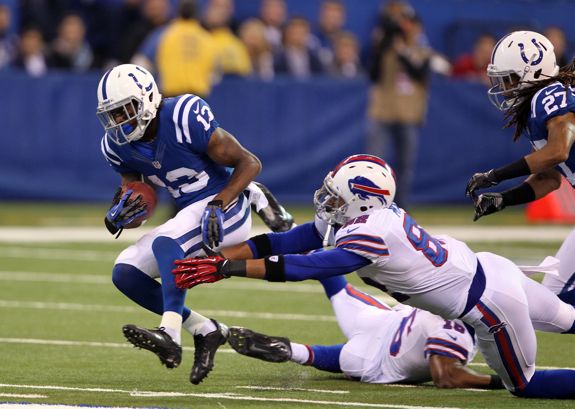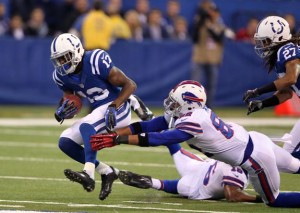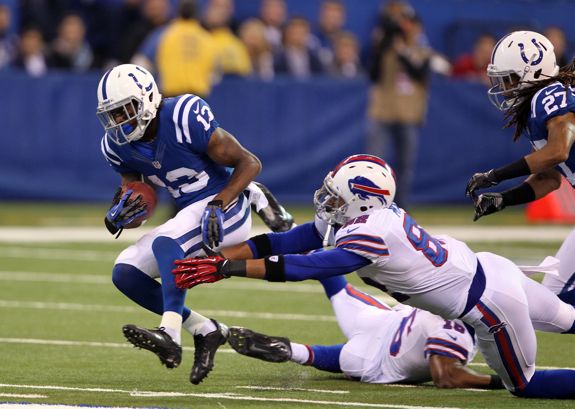 Drafted towards the end of the third round in 2012, T.Y. Hilton transitioned flawlessly from Sun Belt Conference dynamo to NFL playmaker. He topped all rookie receivers in touchdowns (7) and yards per catch (17.2), finishing a close second to Justin Blackmon with 861 receiving yards. Blessed with extraordinary top-end speed, Hilton is proof that 4.37 wheels can translate at any level; that is if the necessary work is put in to honing the intricacies of the wide receiver craft (see Clyde Gates for an example of the contrary). Hilton also recorded a 35 ½ vertical on Pro Day, and his impressive ball skills at 5'9 allow him to make highlight reel grabs such as this one: [am4show have='p9;p4;p7;p3;' guest_error='Front Office' user_error='Front Office' ]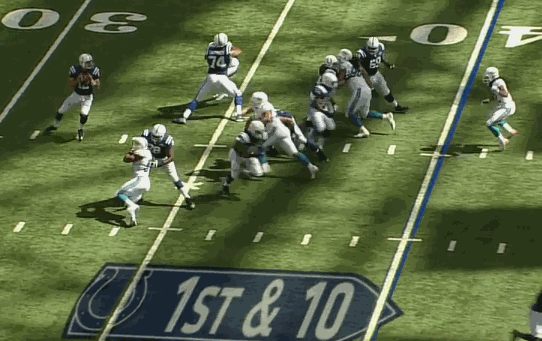 "You're paid to play to make plays and T.Y. is an example of that. He comes out and whenever his number is called, he steps up and makes a play." — Reggie Wayne
As currently constructed, Hilton is the lone utilized deep threat on the Colts roster. In fact, they lack a legit #1 weapon on the outside altogether – Wayne (who will be 35 in November) is working predominantly out of the slot, and Darius Heyward-Bey has never developed into the vertical threat most envisioned him as coming out of Maryland. However, behind the strong quarterback play of Andrew Luck, Indianapolis continues to run an efficient, spread-the-wealth pass offense buttressed by its rushing attack. Through four games, the Colts have opted to the pass on just 53.8% of their total plays, ranking them 26th in the league and down almost 7% from 2012. When they do go to the air, however, they usually put their skill players in a position to succeed. Which in turn begs the question: why has Hilton struggled?
Now that we have a clearer image of Hilton's surrounding cast and the team philosophy he melds into, let's delve into his actual 2013 production. The arrival of DHB (in addition to playing with a nagging toe injury the past couple of weeks) has resulted in a 3% dip in snap count, 61% to 58%, from last season. The colts run a ton of 3WR sets so the negligible difference is probably a byproduct of game situation more than anything else.
What's truly disconcerting is Hilton's lack of chunk gains – In 2012 he had ten separate games with a 20+ yard reception, including seven catches of 35+, five of 40+ and three of 60+. Furthermore, he hauled in seven touchdowns at an average distance of 39 yards. This year he has three receptions of 20+, but all three came in the first half against Miami, and one came on a deflected pass intended for Heyward-Bey. And as his owners well know, he has yet to hit paydirt. In the past two weeks combined (@ San Francisco and @ Jacksonville) he's caught seven balls for 51 yards (7.2 YPC).
Notable displays of his Hilton's YAC prowess have also been few and far between. His average of 13 YAC yards per game has been more than cut in half from his 27-yard median in 2012. The opposition, as one would expect, is more prepared for the Colts bubble screen action and middle crosses to get Hilton the rock in space.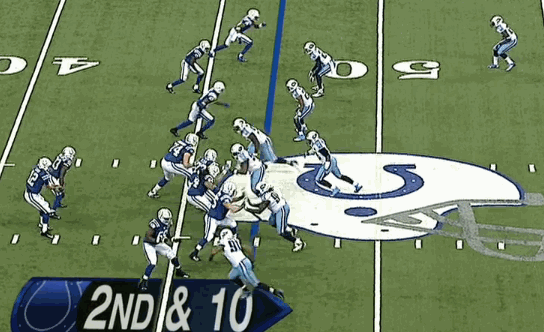 As you can see, his general vicinity is now marked by congestion on the short and intermediate routes (and typically on deep routes for that matter). Speaking of routes, the usual stellar rapport between Luck and Hilton was MIA last week at the Jags. He caught five balls, but two miscommunications resulted in an interception and a dangerous overthrow.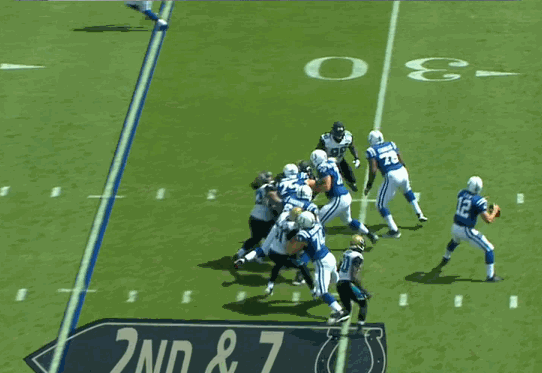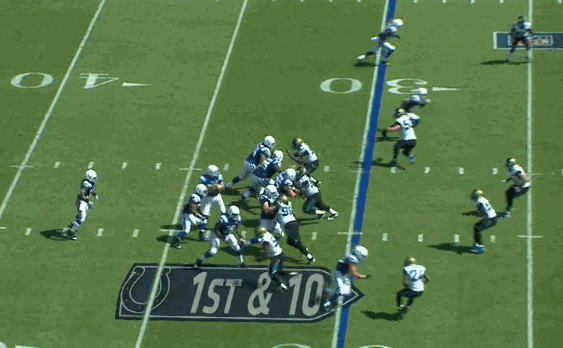 Hilton is a critical piece for the Colts offensive spacing and overall potency. At this very moment, you can be sure Chuck Pagano and Pep Hamilton are diagnosing defensive looks and devising ways to once again unleash Hilton. If he was 6'3 220 this wouldn't be necessary, but unfortunately he's 5'9 183. While his route running is plenty good enough for a speed receiver, it will never be his calling card; he's not exactly going to box out DB's and create passing windows either. He's a lethal playmaker, but he needs help to make those plays. He needs space.
Game wrecking speed = upside, and Hilton possesses a saturation of both. He remains a strong HOLD.
*Premium Stats provided by ProFootballFocus.com*
Follow Adam on twitter @AdamGaneles for NFL analytics and breakdowns
[/am4show]