2013 Fantasy Football, Week 3 Gold Mine: Sleepers Can Be the Rising Giant You Need!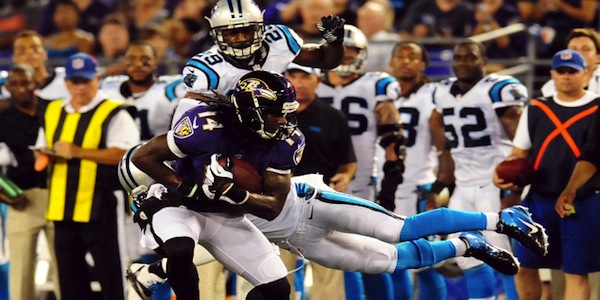 Are you 0 – 2 in your league and panicking? Well, quit it. If Eli Manning and the Giants aren't worrying about being 0 – 2 you shouldn't be either. The league has kicked off with a bang breaking scoring records left and right, you may just have been on the short end of the stick, but I promise you that is sure to change.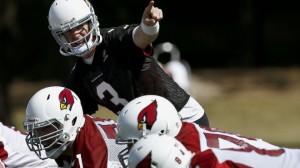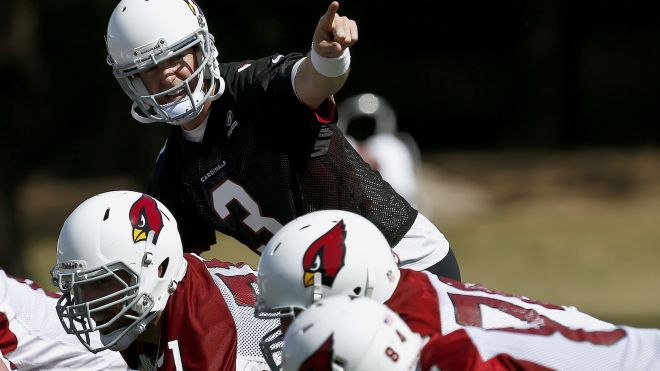 Late injuries to Andre Johnson (HOU) and Ray Rice (BAL) didn't help in week 2. Neither did Larry Fitzgerald (ARI) or Roddy White's (ATL) Questionable designation that turned into next to non existent. And who would've thought that Drew Brees (NO) would have only scored 9 fantasy points in 6 point per TD leagues? No one, so don't fret, the season is incredibly young and players who have gone off (James Starks (GB)) will die down, and those who have started slow will pick it up.
As always check out these players who are owned in less than 25% of fantasy leagues that can easily fit in and help your team in week 3 and beyond.
[am4show have='p9;p4;p7;p3;' guest_error='Front Office' user_error='Front Office' ]
Quarterbacks:
Carson Palmer (ARI): Just a few years removed from his MVP caliber Cincinnati Bengals days, Palmer (21.4%) has returned to an offense that can bring him back to life. Arizona's new offense consists of Bruce Arians the head coach and former interim HC of the Indianapolis Colts that saw Andrew Luck (IND) throw for more than 4,000 yards. In Oakland, Palmer's only supporting cast was an oft-injured Darren McFadden (OAK) who failed to play in 16 games during his tenure. In Arizona, Palmer is accompanied by future Hall of Famer Larry Fitzgerald (ARI) and two sure handed route running receivers in Andre Roberts (ARI) & Michael Floyd (ARI). With little running game, Palmer is given the ability to throw with just under 40 attempts per game so far. Fitzgerald is a bit banged up and so it slowed him down from his week 1 performance but he is soon to return and so shall Palmer's ability to find the end zone. In 2 games, Palmer has 3 TDs, 2 INTs and 575 yards.  Palmer and the Cardinals visit New Orleans this week whom gave up 304 yards and 2 TDs in week 1.
Ryan Tannehill (MIA): Tannehill (9.7%) seems to be coming into his own in 2013. Only a sophomore in the National Football League, Tannehill has thrown for at least 270 yards in each of his first two games finding the end zone at least once. In retrospect Ryan completed that feat only twice in all of 2012. A consistent offensive group finally surrounds Tannehill with Lamar Miller (MIA) in the backfield, and Mike Wallace (MIA) and Brian Hartline (MIA) on the outside. 3rd year TE Charles Clay (MIA) is also stepping up to the plate to help Tannehill pulling in 10 catches on 163 yards. With this kind of supporting cast around him, Tannehill doesn't have to do anything special, he needs to command the offense and manage the game; his offensive weapons will do the rest. Tannehill faces Atlanta at home in week 3 a team currently ranked 26th against the pass thus far in 2013.
Running Backs:
Felix Jones (PIT): Need a starting HB that is owned in less than 2% of leagues? Look no further, Jones (1.8%) will act as the Steelers' No. 1 back until Le'Veon Bell returns from injury, NFL.com reports. The Steelers offense is struggling, and Felix himself has never really been able to stay healthy, but he is a solid flex option in deeper leagues because of his versatility in both the running game and the passing game. Felix will not be the every down back but he is the #1 back and will get the majority of the snaps on the offense. Jones was never given a fair shake in Dallas, but when he got the ball he did something with it, gaining at least 4.3 yards per carry in every year outside of 2012. Since 2010 Jones caught at least 25 receptions in each with 48 in 2010. Jones has the speed and the elusiveness to be a solid HB in the NFL if given the right opportunity. Grab Jones, stash him now, if he goes off you'll be happy that you did.
Danny Woodhead (SD): Another deep league option, Danny Woodhead (12.7%) has never been a viable every week starter but has shown amazing value for a player who is not. Woodhead has been a backfield passing game specialist since signing with the Patriots in 2010 with at least 34 receptions in 2 of his three years there. Woodhead isn't going to light up your stat sheet but in deep PPR leagues he is a great flex option. Woodhead in two games already has 25% of his career record in receptions and it doesn't seem like the Chargers are going to slow down the passing game any time soon. Much like Jones, Woodhead has done what was needed of him when the ball was in his hands, a career 4.7 yards per carry in the NFL and 110 total receptions for more than 1,100 yards proves he can be a solid option if given more of an opportunity. Danny will continue to be a focal point in the Chargers passing game as long as Ryan Matthews (SD) continues to fail in the running game. Like Jones, stash him on your bench and hope that he goes off for you during one of the many bye weeks you need fillers for.
Wide Receivers:
Marlon Brown (BAL): The unfortunate Jacoby Jones (BAL) injury has given rookie Marlon Brown (7.9%) the boost he needed to get recognized. Brown is now the #2 WR option in an offense that saw a career high in passing yards from Joe Flacco (BAL) in 2012 with more than 3,800. Its clear the Ravens are a run first team with Ray Rice (BAL) and Bernard Pierce (BAL) getting most of the touches but as teams begin to double team the Ravens lone superstar WR Torrey Smith (BAL), Marlon is going to get more options in the passing game. Brown is averaging 15 points per week in fantasy, which tops Hakeem Nicks (NYG), Marques Colston (NO) and even Torrey Smith to name a few, and while I wouldn't start Brown over those other options it says a lot that he has been able to do that even in a short sample size.
Aaron Dobson (NE): Sure Dobson (7.9%) dropped several passes in his first appearance in a NFL game last Thursday. But what should make things very easy for you is that despite his consistent mishaps Tom Brady (NE) continued to throw the ball his way. Its clear, the Pats offense is struggling to find weapons outside of Brady. Danny Amendola (NE) caught 10 passes in week 1 and Julian Edelman (NE) caught 13 last week and 20 in the first two combined. But Amendola is out, and there is just so many times you can throw the ball to Edelman so Kenbrell Thompkins (NE) and Dobson are going to be the ones getting the targets. Chalk up his week 2 performance as rookie nerves, he is extremely talented and in an offense that needs all the assets they can afford. Dobson will continue to see targets, and given his playmaking ability in college Dobson will break out. When that will be is still up in the air, but I saw enough on Thursday to know he should be on more teams than just 8% of them.
Tight Ends:
Jermaine Gresham (CIN): Last week I told you to pick up Dallas Clark (BAL) you may or may not have taken that advice. If you had, you were disappointed with his 1 catch for 8 yards (I know I was). But don't sweat that, Clark is still the go to TE in Baltimore, much like Gresham (12.4%) is in Cincinnati. Gresham has been the guy in a Bengals uniform for a few years now and despite the drafting of Tyler Eiffert (CIN) in the 2013 draft Gresham continues to get his looks. Averaging 10 points per game in the first two weeks with a 12-point performance in week 2, Gresham faces the Packers defense, which has surrendered 44 total fantasy points in the first two weeks to opposing tight ends. Gresham has been consistent over the years, and is showing the same level of consistency in 2013. Grab him off the waiver wire and depending on your current options get him in your line up immediately.
Charles Clay (MIA): I mentioned Clay (5%) above when speaking about Tannehill so it would be perfect to single him out among the options the Dolphins have. Clay a third year TE is finally getting his time to shine at the position. In his two previous years with the Dolphins Clay only had 34 receptions combined and only 445 yards. In just two games, Clay has just fewer than 33% of the receptions and 36% of the yards. He is averaging 16.3 yards per reception and has at least 10 points in each of the first two weeks with 21 in week 2. Clay is getting the targets and the opportunities to make plays, and if he can find the end zone more frequently he will turn into a very solid option for you at Tight End. The Dolphins week 3 opponent, Falcons were able to slow down Jared Cook in week 2 after giving up 7 catches for 76 yards and a TD to Saints tight ends, and now its Clay's turn to take on the Atlanta line backing core. Could be a viable FLEX option in leagues that allow for a second tight end in your starting roster.
The point of this whole thing is don't go crazy, and as much as I like the above mentioned players that is not to say they should be starting against other more viable / reliable options you already have but certainly should be considered for your back ups when your starters go down or have bye weeks. Its only week 2, in most leagues there are still 12 more to go, be patient but be smart and you can see your season turn around very quickly.
Follow me on Twitter @JustinMandaro
Need start / sit advice, tweet me all the way up until game time.
[/am4show]