2013 Fantasy Football: Week 5 Gold Mine, Rashad Jennings, Austin Pettis, Garrett Graham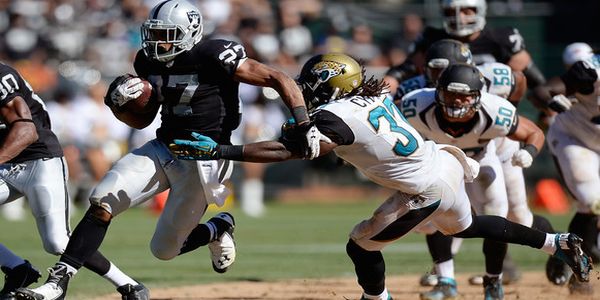 It's very hard to be the best, but it's very easy to get knocked off your thrown. Don't let an early 4 – 0 start derail all your hard work, or stop you from achieving the ultimate prize, a Fantasy Football Championship.
Over the last few weeks I've mentioned about how being 0 – 2 or 0 – 3 wasn't the end all be all and as we head into the second quarter of the NFL season being 4 – 0 shouldn't be either. At a moments notice you may lose a player to injury See: Ray Rice (BAL) and his inadequate numbers since suffering the hip injury, or even Darren McFadden (OAK) who yet again is injured.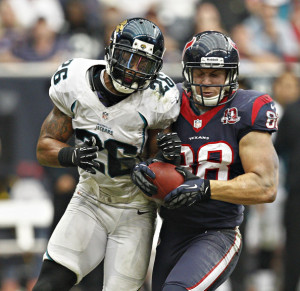 It is just as important today than it was weeks ago to make sure to grab the right player off the waiver wire. Think you are too big to make changes and you'll be the only one seeing a change from 4 – 0 to basement dweller in a heartbeat.
As always, the below mentioned players are owned in less than 25% of fantasy leagues and absolutely should be on your team right away.
Quarterbacks:
Brian Hoyer (CLE): Is Hoyer (5.2%) still on the waiver wire in the league? If so, smack yourself in the face. Hoyer is an unproven commodity and I understand that holds your hesitation, and he certainly had a favorable match up two weeks ago, but last week against a tough Cincinnati defense which held Aaron Rodgers (GB) to only 13 fantasy points the week before Hoyer threw for more than 260 yards and 2 touchdowns with zero turnovers. Since the injury to Brandon Weeden (CLE) Hoyer has stepped up impressively with 22 and 24 fantasy points in the two previous weeks and tonight he faces the 19th worst passing defense that gave up 28 fantasy points to Geno Smith (NYJ) in week 3. Hoyer may be unproven but he learned from the best being a back up to Tom Brady for three years and now is getting his opportunity to shine. There is absolutely no reason he should be on the wire.[am4show have='p9;p4;p3;p7;' guest_error='Front Office' user_error='Front Office' ]
Blaine Gabbert (JAX): I know, you are probably face palming right now after reading Gabbert's name that has been far less than average in his early career so far. However, Gabbert (0.3%) was the #1 pick, and if there was ever a time where the Jaguars could get off the snide and get their first W it will be this week against the 24th worst passing defense in St. Louis. Gabbert only has 3 fantasy points on the year and that is absolutely terrible, but for this week, he can turn it around. Gabbert is obviously ONLY a play in 2 QB leagues with byes until he proves that he can play a lot better than he has in the past, but he has a great match up this weekend and could surprise some.
Running Backs:
Rashad Jennings (OAK): This one should be easy. Jennings (5.5%) will be taking over as the starting HB for the Raiders barring a miraculous return to the oft-injured Darren McFadden. McFadden went down early in the week 4 contest vs. Washington, and Jennings came in to put up 19 fantasy points in PPR leagues. Jennings is a threat in both the running game and the passing game, which makes his worth that much bigger in PPR leagues. Obviously its still uncertain whether or not Marcel Reese (OAK) or McFadden will suit up on Sunday, but with how often they get injured its safe to put Jennings on your bench. And if you have McFadden you absolutely NEED to have Jennings on your bench. If the aforementioned HBs are not available to go on Sunday, Jennings is a perfect FLEX option in week 5.
Johnathan Franklin (GB): Last week I added Franklin as an honorable mention because the Packers were on a bye, it seems as if you decided to ignore my information. Franklin (7.9%) broke out in week 3 against a very tough run defense in Cincinnati, and now has the luck of going up against the 5th worst defense to opposing HBs. Of course, Franklin has first round pick Eddie Lacy (GB) in front of him who has already missed a game due to a concussion but will be ready to play. In a game against such a porous run defense and with James Starks (GB) listed as OUT for the game look for Franklin to get his fair share of opportunities. This play is specifically for deeper leagues and in such he will offer very good FLEX value. If Lacy goes down again, it's going to be all Franklin's ball!
Wide Receivers:
Jeremy Kerley (NYJ): Someone has to get the ball right? With Stephen Hill (NYJ) questionable with a concussion and Santonio Holmes (NYJ) doubtful with a hamstring injury Kerley (2.6%) is the last man standing. Kerley reeled in 4 catches for 65 yards on Sunday in a lopsided loss to the Titans after the aforesaid wide outs went down with their injuries. Kerley has an explosive game style and has been known from time to time to make big time plays in the return game. He is also no stranger to big receiving games and it's exactly what the Jets are praying for this Monday vs. Atlanta. The Falcons are the 28th worst defense against opposing wide outs, giving up at least 31 points in each game this year and 60 in a week 2 contest vs. St. Louis. If the Jets can expose the defense it will be Kerley that is the immediate benefactor.
Austin Pettis (STL): Pettis (1.1%) is the odd man out it seems when everyone begins to talk about Rams Wide Outs. But the other Austin (Tavon) in St. Louis is getting a lot more of the publicity. Pettis, has caught at least 4 passes for 59 yards in 2 of the first four games, and has 2 scores which adds up to double digit fantasy points in each of the last three weeks. He gets a lot of garbage time production and with teams focusing on Tavon, Pettis is getting open.
Tight Ends:
Garret Graham (HOU): Owen Daniels (HOU) who? Graham has been a nice surprise through the first quarter of football averaging more than 10 points per game so far including a 17 point performance in week 4. Graham (3.1%) has been a shining star for the Texans offense that hasn't been nearly as powerful as you'd expect it to be. With lingering injuries to both Arian Foster (HOU) & Andre Johnson (HOU) and a fairly tough defensive schedule thus far it's been Graham that has shown up the most. Garret has double-digit points in 3 of the first four weeks and has found the end zone three times in such an early season. While he won't score every single week that he is out there it proves the Texans brass is trusting of the young Tight End.
Coby Fleener (IND): Fleener (22.7%) has a very familiar Quarterback throwing him the ball. Fleener a former Stanford tight end who had Andrew Luck (IND) throwing him the ball during his tenure is doing the same in the pros and their chemistry shows. While Fleener hasn't completely broken out in his young career he has certainly shown signs of doing so, case in point, week 4 vs. Jacksonville. In 2 of the 4 weeks thus far, Fleener has at least 4 grabs for 63 yards and a score. If it weren't for the very unpredictable offensive scheme in Indianapolis Fleener would be an every week starter. For now, if he is available you need to stash him in hopes that when your bye week comes in, it will match with the Colts choosing to use the TE more than ever.
If you are 0 – 4, it's certainly not over, but it's going to be an up hill climb for you. But it will certainly be easier for you to climb up, then it will be for you to sustain the roll you're on if your 4 – 0. Make the right decisions and stay King of the Hill, make the wrong ones, and watch as your championship and the money associated with that go bye-bye.
You can follow me on twitter @justinmandaro
Reach me fo any start / sit questions you have right up until game time!
All statistics are using 6 point TDs and 1 Point Per Reception.
Percentage Owned from ESPN Fantasy Football.
[/am4show]