2013 Fantasy Football: Week 9 Start/Sit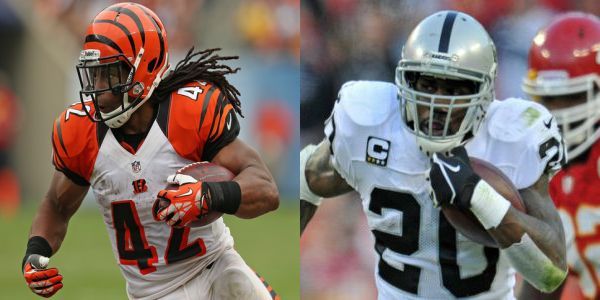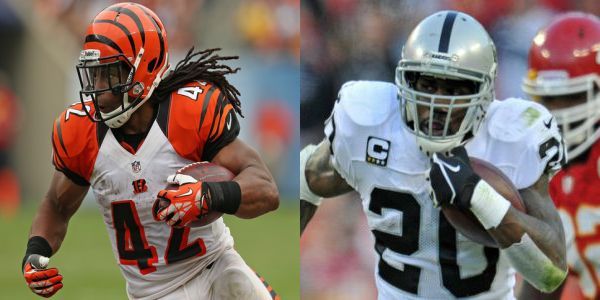 Here are the guys I like or dislike in week 9 compared to the other experts on FantasyPros.com. I'm focusing on guys that are actually on that start/sit bubble. There's no need to tell you I'm higher on Stevan Ridley when I have him ranked #8 and the expert consensus rank (ECR) has him ranked #15. Both rankings tell you to start him.
Some of the names discussed below are Darren McFadden, Tom Brady, Alshon Jeffery, BenJarvus Green-Ellis and several others.
If you have additional start/sit questions, feel free to ask in the comments below or ask me on Twitter @TheRealTAL.
Start 'Em
Tom Brady / QB / vs. Pittsburgh / ECR: 14 / My rank: 10
With three top ten caliber QBs on bye in Stafford, Peyton and Kaepernick, Brady is a borderline QB1 this week. He hasn't played anywhere near well enough to earn that ranking, but the guys ranked behind him are iffy options as well. Andy Dalton, who I have ranked #11, was fantastic last week, but he's facing an above average Dolphins pass defense and plays on Thrusday, which has historically been a rough night for QBs. Matt Ryan, who I have ranked #12, looked OK in his first week without Julio Jones, but struggled mightily last week against a good Arizona secondary. This week he'll face the Panthers who have a top ten secondary by any metric. And so Brady is the lesser of the evils going up against a Pittsburgh team that hasn't faced a QB better than Dalton or Jay Cutler.
BenJarvus Green-Ellis / RB / @ Miami / ECR: 27 / My rank: 15
I mentioned that the Dolphins have a strong pass defense, but their run defense is the opposite of strong. They allow the 4th most fantasy points per game to RBs, and Football Outsiders has them rated as the 4th worts run D in the league. I've been stashing BJGE for a few weeks in a league as a fill-in for Reggie Bush this week. I also have the option of slotting Darren Sproles into Bush's spot, but I prefer Green-Ellis in this nice matchup as opposed to Sproles against the Jets.
James Jones / WR / vs. Chicago / ECR: 24 / My rank: 13
I'm assuming other experts have Jones ranked outside the top 20 simply because they're unsure if he'll play. But if he does, he's unequivocally a starter against the Bears who are a bottom ten pass D by almost any measure.
Ted Ginn Jr. / WR / vs. Atlanta / ECR: 39 / My rank: 22
I talked about Ginn on Tuesday, but given his matchup with the Falcons, his is a name worth mentioning again. He scored touchdowns in weeks two and three and not again since, so it may seem like he was a total flash in the pan. But he actually has two games with 75+ yards since. So he has four of seven games with at least seven points. That's more than enough production to convince me to start him against the Falcons who allow the fifth most fantasy points per game to receivers.
Emmanuel Sanders / WR / @ New England / ECR: 32 / My rank: 24
According to Football Outsiders, the Patriots are the second worst team in the league at defending #2 receivers. This makes some sense given that ProFootballFocus has Aqib Talib rated as a top ten cover corner but does not have another New England corner rated as an above average cover corner. In a week with so many receivers on bye, Sanders is probably startable in 12 team leagues and is a flex option in ten team leagues.
Buffalo Bills / D/ST / vs. Kansas City / ECR: 22 / My rank: 11
The Bills D is underrated. Both Football Oustiders and ProFootballFocus have them rated as a top ten defense, but they have the seventh lowest ownership percentage among defenses on ESPN.com (7.1%). They play the Chiefs who aren't a great matchup for fantasy defenses, but not in a traditional way. Usually when a team is a bad fantasy matchup for defenses it's because they're an offense with the potential to score boat loads of points like the Packers, Saints or Broncos. But the Chiefs are a bad matchup just because they don't turn the ball over (fourth fewest turnovers in the league). So there might not be a lot of upside with the Bills, but there is little downside as well with every team defense facing the Chiefs this year having scored between four and seven points.
Sit 'Em
Darren McFadden / RB / vs. Philadelphia / ECR: 10 / My rank: 22
ProFootballFocus has Philadelphia rated as the 9th worst defense in the league. They have a -14.5 overall rating with a -24.6 rating for pass rush and a -27.4 rating for pass coverage. You can do the math and figure out that the pass defense is really weighing down their overall defensive rating. Their run D rating is a healthy 25.1, which is the 6th best rating in the league. Terrelle Pryor is the Raider you want on your roster this week, not McFadden.
Fred Jackson / RB / vs. Kansas City / ECR: 17 / My rank: 21
The Chiefs allow 4.7 yards per carry, which is the fourth highest mark in the league. But the problem for Jackson is that the Chiefs don't allow many rushing attempts. Their pass defense has been so good that they're just not allowing sustained drives and thus not allowing many rushing attempts. This game also has the second lowest over/under of the week (40), so I don't expect there to be many points in this one.
Alshon Jeffery / WR / @ Green Bay / ECR: 18 /  My rank: 30
Most guys listed as "sits" are listed as such because the matchup is bad. But that's not the case with Jeffery; Green Bay has a below average pass defense. I'm just concerned about Josh McCown. I know Jeffery topped 100 yards in week seven with McCown primarily at the helm, but I'm still skeptical. Analytic reasoning, huh?
Kendall Wright / WR / @ St. Louis / ECR: 21 / My rank: 28
Again, with so many receivers on bye, there are a lot of names in consideration to be started this week that wouldn't normally be. We were talking about Ted Ginn earlier for the love of god. And Wright is another one of those guys getting more consideration than normal this week. On one hand, I like Wright because he gets consistent looks and consistent yardage with at least 50 yards in his last six games. The problem is that he's not really a scoring option. He has only one touchdown and isn't among the top 40 receivers in Mike Clay's oTD stat which tells us how likely players are to score based on the frequency and location of their usage.
Steve Johnson / WR / vs. Kansas City / ECR: 23 / My rank: 32
As mentioned above, the Kansas City pass D is really good. How good? They're ranked first in pass coverage according to ProFootballFocus and second in pass rush. Football Outsiders has them rated as the second best pass defense. And they allow the second fewest net yards gained per pass attempt.