2013 Fantasy Football, Week Five Morning Buzz and IDP Waiver Wire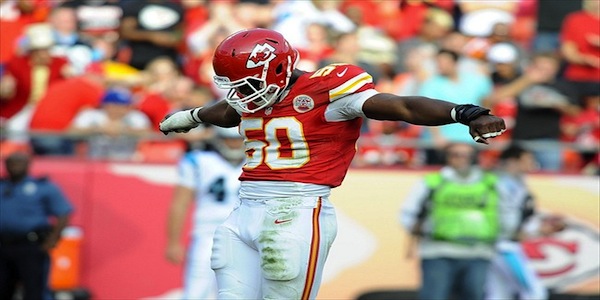 Good Morning my fellow IDP'ers in the world of fantasy football, are we Daryl Washington owners welcoming him back with open arms? Or did you face the wrath felt by a handful of Arizona Cardinal IDP.  There was a lot of high scorers in IDP world thru this weekend; especially at LB.  We're approaching week 6 as well and the waiver wire is getting slim so won't mention much but instead will go into who to ride, buy low and possibly sell high.  Before I get into that let's take a look at the top 5 IDP performers from each position.

TOP 5 DL 
Calais Campbell (Cardinals):  4 tackles 2 TFL 1 FF 2 sacks and 1 safety on Cam Newton! 
Sen'Derrick Marks (Jaguars):  4 tackles 1 TFL 1 FF 1 Sack 2 PD
Wallace Gillberry (Bengals):  4 tackles 1 TFL 1 FF 2 sacks
Chris Long (Rams):  5 tackles 2 TFL 1FF 1 sack
Dontari Poe (Chiefs):  7 tackles 1 TFL and 1 Sack
Honorable Mention:  Ahtyba Rubin (Browns):  8 tackles (5 solo) 1 sack
TOP 5 LB
Daryl Washington (Cardinals):  9 tackles (8 solo) 1TFL 1int 2sacks 1PD

Lance Briggs (Bears):  14 tackles (11 solo)  3TFL  1 sack
Karlos Dansby (Cardinals):  8 solo tackles 2TFL 1int 2-sacks 1PD
DeAndre Levy (Lions):  14 tackles (11 solo)  3TFL  1PD
Sean Lee (Cowboys):  16 tackles (11 solo)  1TFL
Honorable Mention:  Luke Kuechly (Panthers);  9 tackles (7 solo) 1 TFL 1-int 1PD
TOP 5 DB
Matt Giordano (Rams): 6 tackles 1-int 1-pd 1-td 
TJ Ward (Browns):  5 tackles 1-int 1-pd 1-td
Bradley Fletcher (Eagles):  9 tackles 5-pd
Barry Church (Cowboys): 11 tackles (all solo) 1-FF 1-pd
Ryan Mundy (Giants): 15 tackles (10 solo) 2-TFL
Honorable Mention: Jonathan Cyprien (Jaguars): 13 solo tackles
My apologies for not getting this out earlier this morning prior to kick-off for Monday Night Football, but the usual suspects Osi Umenyiora, Muhammad Wilkerson and David Harris did their thing tonight.  Wilkerson was everywhere and creating havoc for Matt Ryan, and Osi, yes that Umenyiora – poor Geno Smith didn't see him coming untouched on his blind side.  David Harris played tonight as if IDP owners forgot about him, wrapping up tackle after tackle (14 of them) and is still relevant if you didn't know just Demario has the higher ceiling.  If you're in a dynasty league, you'd still want to target Demario as this is his first year starting and trust he'll only get better.  Let me also chime into the late late night game between the Raiders and Chargers, Raiders got some serious talent in the IDP world in the names of Kevin Burnett (14 tackles 1-FF 1-sack) Lamarr Houston (7 tackles // 1 QB Sack) and the future Hall of Famer himself; Charles Woodson (4 tackles 1-FF 1-int 1-td 1-pd) and Nick Roach put in a solid outing with his 12 total tackles as well.  Donald Butler and Eric Weddle had quiet nights for their owners but they're still legit LB1 and DB1 options going forward.
Now, let me dig into a few waiver wire additions this week as it's not a big group because your list of available players is probably slim pickings unless you're in a league that starts 1-2 IDP's only.
EYE CATCHERS:
NICK PERRY // LB // PACKERS – had a solid game vs DET with a line of 5 tackles 1-FF and 2-QB Sacks.  Clay Matthews is expected to miss 4 or more weeks and Perry instantly becomes their main outside rusher and quick add, especially if you're a Matthews owner.  Here on out he's a nice LB3 and has the big play ability type (Suggs/Houston) where you'd want him to contribute in the turnover department and getting to the QB.  But, if you have to drop a quality LB already to get Perry then don't chances are the LB your'e dropping could be a better keep than rostering Perry.  
KOA MISI // LB // DOLPHINS – if Ellerbe misses some time, Misi is the add (if you can afford too, but don't have to rush) Misi will get his opportunities but never really grasped the LB job when given the chance.  Deep leaguers he's worth an add and is a LB4 option.
MOISE FOKOU // LB // TITANS – Zach Brown left sunday's game with a knee injury so his status is up in the air, Fokou becomes a hot ticket if he's still available because nobody else will man the LB duties.  Sneaky play and start for bye weeks – LB3.
COLIN MCCARTHY // LB // TITANS – more than likely his previous owner has already dropped him in pre-season, you could pick up McCarthy if Brown is out for some time and hope McCarthy puts up some sorta numbers.  Injuries kind of ruined his career early on and lost his job to Fokou.
DARIUS BUTLER // DB // COLTS – Butler's been balling lately and has been getting after the ball.  Did you guys see his pass deflection and effort he made on Sunday? that was awesome.  Looking for a quick sneaky start for week 6 then Butler could be your man especially since he's going up against Rivers.
I'm currently adjusting my Rest of Season rankings and will be posted tomorrow with my week 6 IDP rankings and as always, follow me on twitter @IDPwithBEE_DSE and shoot me a mention in which i'll gladly respond in a timely manner.  I'm here to help you get a championship and feel confident about your choices in whom to start – make your life easier.