2015 Fantasy Football: Week 11 Deep Sleepers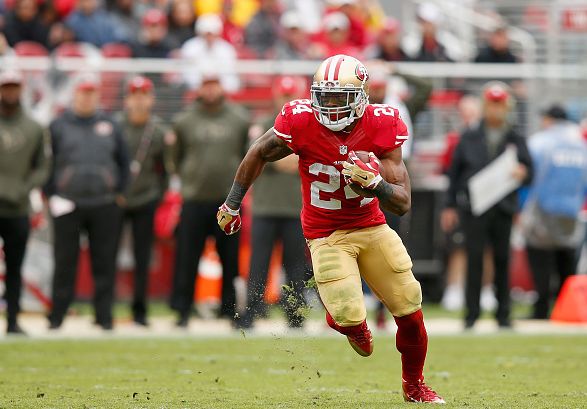 Everybody knows to start Adrian Peterson, Aaron Rodgers and Julio Jones. In this article we will be covering deep sleepers, guys that a lot of people may be able to find on their waiver wire. If you're desperate for an emergency play or a cheap DFS option, this is where you find those guys. Just remember all these guys are longshots. Don't bench your stars for them!
QB Case Keenum, STL
Keenum will start this week in place of Nick Foles. His weapons are bad and his talent may be worse. Still, he could be worth a look this week if you're desperate because the Rams will be facing the Ravens. Baltimore's pass defense is among the worst in the league. Only the New Orleans Saints have allowed more fantasy points to opposing quarterbacks. Keenum is far from a solid option in most scenarios. However, this is about as good a matchup as you're going to get.
RB Shaun Draughn, SF
If Carlos Hyde doesn't come back this week due to a stress fracture in his foot, Draughn could be the lead back in San Francisco for the remainder of the season. Hyde has yet to practice this week and his status is looking bleak. Draughn led a backfield Week 9 which consisted of himself, Kendall Gaskins and Pierre Thomas. Thomas has since been cut and replaced with the lackluster Travaris Cadet. Draughn saw 18 carries for 68 yards and tacked on four catches for 38 yards. Those are not terrible numbers considering it was his first week with the team. Gaskins saw just seven carries for 20 yards and no catches. It's rare you can pick up any NFL RB1 as this point in the season. At the very least, he has the upside of a potential high-volume running back.
WR Aaron Dobson, NE
With the exception of Gronk, the Pats have lost their two biggest playmakers. Dion Lewis is on injured reserve with a torn ACL and now Julian Edelman is done for at least the rest of the fantasy season with a broken foot. Dobson has been insignificant for a while now, nonetheless, he could become a key playmaker as a potential boom-or-bust option in New England. He does have a seven catch, 87-yard game on the stat sheet this season. Every play can't go to Gronk. Brandon LaFell and Danny Amendola are solid options, however, they aren't exactly superstars. Dobson is a long shot, but he could be exactly what the Patriots need right now.
WR Dontrelle Inman, SD
Inman is another receiver that could suddenly become relevant due to a streak of injuries. The Chargers WR corps has been decimated by injury. Top wideout Keenan Allen has been placed on I.R. with a lacerated kidney. Malcom Floyd is out indefinitely with a torn labrum in his shoulder. Antonio Gates is dealing with a significant knee injury and now a hip issue as well; he's not even close to 100 percent.
Inman is the favorite to win the starting job alongside Stevie Johnson. Even when or if Floyd returns, he should be the third option at the very least. Philip Rivers is averaging over 43 passes per game for 337 yards. There are plenty of balls to go around in San Diego. We saw Inman develop late last season and become a sleeper wideout down the stretch. There is a great chance he can do the same thing this season and more importantly, there is a chance he can do it this week. Healthy options are difficult to come by in San Diego right now. If Rivers continues to throw the ball around at this rate, Inman will inevitably see a ton of targets. Be sure to keep this kid in mind if you're scrambling for a wideout this weekend.