2015 Fantasy Football: Week 5 Defense Streamers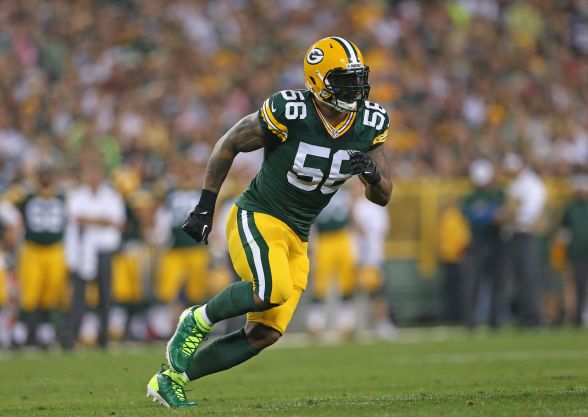 With a quarter of the season officially completed in the 2015 NFL season, we are now getting to the point of the year where navigating the weekly four or five teams on bye for the next seven weeks becomes all the more trickier when deciding which defenses to stream from week-to-week. The four teams on bye in Week 5 are the third-ranked Carolina Panthers, fourth-ranked New York Jets, eighth-ranked Minnesota Vikings, and 31st-ranked Miami Dolphins. Fantasy owners will obviously be feeling the effects of three top-10 defenses being out of action, but fortunately we've got you covered here at TheFantasyFix with five defenses to stream this week. Without further ado, let's get this column started.
Green Bay Packers – (68.9% owned in ESPN) – vs. Rams – The Rams are allowing opposing defenses to average 12.5 fantasy points against them, so the Packers have been afforded another favorable matchup this week. Over the last three weeks the Packers D/ST is averaging 10 points a game. It is worth nothing the Packers are susceptible against the run as they have allowed 115 yards per game, which ranks 21st in the NFL, and they now have to face rookie running back Todd Gurley, who is coming off a marvelous 146-yard effort in Week 4. With that being said, the Packers have excelled at pass rushing as they have accumulated 17 sacks, second-most in the NFL. Additionally, the Packers remain virtually unbeatable at Lambeau Field and game script is likely to work in the Packers favor. If so, this could force Nick Foles to air it out and rely on underwhelming like Tavon Austin, Kenny Britt, Steadman Bailey, and Jared Cook, which would seem to favor the Packers who are allowing the seventh-fewest amount of passing yards (197).  Fire up the Packers with confidence.
Cincinnati Bengals – (29.6% owned) – vs. Seahawks – The 4-0 Bengals have been clicking on all cylinders on both sides of the ball and they have another solid matchup in Week 5 against the Seahawks. While the Seahawks still have a vaunted defense, their offense has struggled in 2015 as they rank 19th with 345.8 Y/G and have only five offensive touchdowns to their credit. Even more worrisome for Russell Wilson and Co. is the fact that the offensive line is in shambles as they have allowed 18 sacks, the second-worst figure in the NFL. You can be assured that Geno Atkins, Carlos Dunlap, Michael Johnson, and the rest of the Bengals defense will be pressuring Wilson as the Bengals have already racked up 11 sacks and forced seven turnovers. The possible return of Marshawn Lynch (hamstring) would damper the Bengals outlook, but they would still make for a solid play considering the Seahawks struggles on offense so far.
New York Giants – (29% owned) – vs. 49ers – The Giants are the top defense to stream this week in a mouthwatering matchup as heavy home favorites against the moribund 49ers. In Week 4 the Giants had two sacks, with an interception, and fumble recovery in what amounted to a solid outing that will likely be topped in Week 5. Colin Kaepernick has been one of the worst, if not the worst quarterback through the first four weeks as he's only averaging 181.1 yards passing and sports a hideous 2:5 TD:INT ratio. The 49ers come into Week 5 in an offensive slump as they have only scored one touchdown the last two games. On the flip side, the Giants have forced seventh-most turnovers (7). Additionally, the Giants led the NFL by only allowing 69.8 Y/G and this should play into their hand as they want Kaepernick relying on his shaky arm and lackluster weapons of Anquan Boldin, Torrey Smith, and Reggie Bush. As long as the Giants can contain Carlos Hyde, sacks and turnovers are likely to follow for Big Blue. Over the last three weeks, opposing defenses have averaged 16.3 fantasy points agains the 49ers. In other words, start them.
Atlanta Falcons – (14.6% owned) – vs. Redskins – Fantasy owners shouldn't be expecting a repeat of the 18-point performance (3 FR, 2 TD, 1 INT) the defense mustered in Week 4, but another above-average matchup awaits the undefeated 4-0 Falcons at the Georgia Dome. Opposing defenses are averaging nearly nine points against the Redskins and the Falcons should have no problem racking up points against a turnover-prone Kirk Cousins who owns a 22:23 TD:INT ratio in his brief career. The Redskins greatest strength on offense is their running game as they are averaging a league best 139.5 rushing yards per game, but this plays into the Falcons strength as they rank fifth against the run by only allowing 85 rushing yards a game. If Atlanta can limit Alfred Morris and Matt Jones on the ground, they should have success in limiting the Redskins aerial attack as they will likely be without Jordan Reed (concussion) and DeSean Jackson (hamstring). Don't let the low ownership tag scare you away from streaming them this weekend.
Jacksonville Jaguars – (10.3% owned) – at Buccaneers – While the Jaguars are less than one percent owned at the moment, they have a juicy matchup this weekend against the Bucs and are coming off a solid eight point outing in Week 4. For starters, the Jaguars have recorded at least two sacks in every game while Tampa Bay is allowing 2.25 sacks a game. While Doug Martin is coming off his best game of year with a 106-yard performance last week, the Jaguars have the fourth-best run defense so far as they are allowing only 83 rushing yards per game. Furthermore, opposing defenses have teed off against the Bucs sputtering offense as they are averaging 13 fantasy points. Rookie quarterback Jameis Winston has been turnover-prone so far as he's leading the NFL with seven interceptions, six of which have come at home. Tossing that many picks is not exactly a harbinger of future success. While the Jaguars will have to focus their attention on talented players like Mike Evans, Vincent Jackson, and Martin, the team has held their own on defense so far as the prolific Patriots are the only team to have scored over 20 points against them. Starting them requires a leap of faith, but one that could reward fellow fantasy owners quite handsomely if the turnovers continue to persist for Winston.
Thanks to NFL.com, Rotoworld, and ESPN for providing the statistical information. Be sure to comment below with any questions or remarks. You can follow me on Twitter @MattMoczy and I'm more than willing to answer any questions.