2015 Fantasy Football: Young Players That Can Turn Around Bad Offenses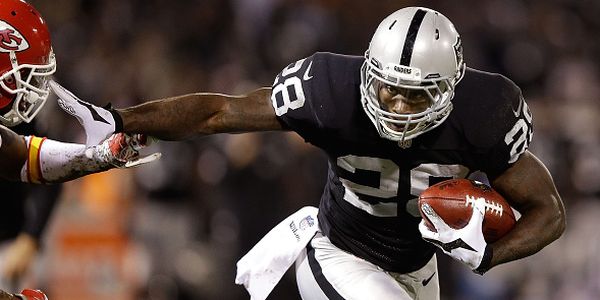 In this article we will be covering potential breakout stars on some of the worst offenses in the NFL. These young players have a chance to help turn around some of the worst offenses in the game today. If not, they can at least be fantasy stars in their own right and make the games worth watching. Do not avoid these players just because their offenses are notorious for struggling.
Latavius Murray, Oakland Raiders
2014 Offense Rank: 32
Murray has been a sleeper since being drafted in 2013. Despite being a sixth-round pick, he was still a 225-pound back that ran a 4.38 40-yard dash at his pro day. Unfortunately an ankle injury landed him on IR and cost him his rookie season. In 2014, he was inexplicably left out of the game plan until late November in favor of the drastically declining Darren McFadden and Maurice Jones-Drew.
It took 11 games but the Raiders finally had the sense to give Murray his shot at the RB1 job. It would be no easy task as the rival Chiefs hadn't allowed a rushing touchdown all season. Murray more than rose to the occasion right out of the gate. On just four carries, he rushed for 112 yards and two TDs, including an electrifying 90-yard run. However, his night was cut short when he suffered a concussion. His momentum was stalled as he was forced to miss the next game as well. He finished the season averaging 5.2 yards per carry and caught 11 passes in the last four games giving him decent PPR value.
This offseason Murray has impressed at Raiders' camp. He is running away with the starting job and his only competition for touches in the dreadfully bad Trent Richardson. The team also signed Roy Helu this offseason, however, he'll likely be relegated to third-down back duties. You can most likely draft Murray as an RB3/Flex and he'll have RB2 value. He should see a very heavy workload and has Breakout Player of the Year potential.
Allen Robinson, Jacksonville Jaguars
2014 Offense Rank: 31
Robinson is a star in the making. I projected him as a first-round pick last season in the NFL Draft and ranked him higher than Sammy Watkins, Marqise Lee and Devante Adams. Robinson was one of the most NFL ready, well-polished receivers in the entire draft last season. At Penn State he caught 77 passes for 1,018 yards and 11 TDs in 2012 and followed that up with a 97-1,432-6 stat line in 2013.
He was starting to roll last season despite being in a terrible pass offense and a raw rookie quarterback. Through 10 games he caught 48 passes for 548 yards and two TDs before his season was ended with a foot fracture. The Jags have quietly built a talented young offense and Robinson will be the centerpiece. It doesn't hurt that opposing defenses will also have to deal with WRs Allen Hurns, Rashad Greene and Marqise Lee. Not to mention TE Julius Thomas, and perhaps a revitalized rushing attack with T.J. Yeldon and Denard Robinson.
The second-year receiver has reportedly been unbelievable in camp and is developing his ability to high-point the ball and become more aggressive in the red zone and in jump ball situations. He projects to be the WR1 in Jacksonville this season. You may be able to draft Robinson as late as a WR4 and get WR2 production out of him. Robinson is about to take a major jump this season, and you need to be the guy who drafts him. Don't let this kind of value slip through your fingers.
Duke Johnson, Cleveland Browns
2014 Offense Rank: 23
The talented rookie out of The U has the capability to be as dynamic and explosive as any back in the league. He leaves Miami as the school's all-time leading rusher, beating out guys like Clinton Portis, Willis McGahee, Edgerrin James and Frank Gore. Not only is he an explosive home run hitter on the ground, Johnson is a natural pass-catcher and hard-nosed blocker. He's been so good in the passing game this offseason that the Browns are actually lining him out wide in certain sets.
In his final year at Miami he rushed for 1,652 yards and scored 13 touchdowns. During his three season tenure as a heavily utilized RB, his lowest yards per carry total was 6.3. Johnson is a rare athlete that can change an entire offense. I'd go as far to say that he's a better version of Giovani Bernard. At some point this season he will emerge as the top back in Cleveland.
His PPR value is outstanding and he can put up fantasy points in bunches thanks to his big-play ability. However, what makes Johnson so dangerous is the fact that he has the strength and power to blast between the tackles as well. While he shouldn't be the first rookie RB drafted, he has more fantasy upside than any rookie back aside from Todd Gurley. He'll be a much needed playmaker for the Browns.