2017 Fantasy Football: Potential Breakout Players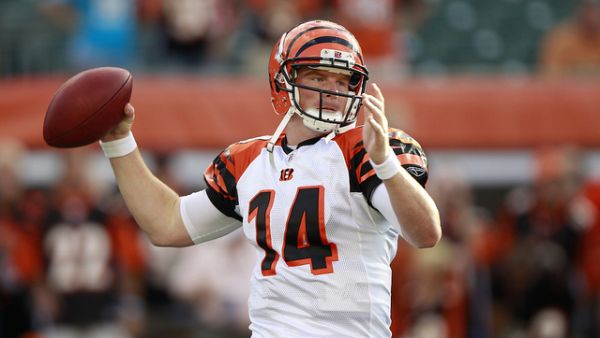 A high school golf coach once said, "Golf is a simple game. Fairway, green, two putt." While this advice was extremely reductive, it wasn't wrong. A similarly reductive-but-true axiom for fantasy football might be, "Fantasy football is a simple game. Volume, efficiency, fantasy points."
Like you might be able to bomb a driver but struggle mightily with a putter, some football players have touched the ball often but haven't been efficient or have proved to be efficient in small doses. Below we'll examine a few players poised to combine volume and efficiency and have a breakout season.
Andy Dalton, QB, Bengals
After finishing with the fifth most fantasy points among quarterbacks in 2013, Andy Dalton hasn't been a top-15 fantasy quarterback in any season since. Hue Jackson was unquestionably the biggest reason for Dalton's mediocrity in those three seasons. Jackson was Cincinnati's offensive coordinator in 2014 and 2015, and Dalton averaged a meager 29.9 pass attempts per game. But with Jackson moving on to Cleveland in 2016, Dalton averaged 35.2 attempts per game with Ken Zampese in charge of the offense.
In Zampese's offense Dalton maintained most of the gains he made in his rate stats under Jackson with a 64.7 completion percentage, 7.5 yards per attempt, and a career-low interception rate of 1.4 percent. Yet he still didn't crack the top 15 fantasy quarterbacks due to a low, fluky 3.2 percent touchdown rate. Had Dalton simply hit his career average TD rate of 4.6 percent, which is a bit better than league average, his touchdown total for the season would have gone from 18 to 26, and he would have finished tied with Dak Prescott at QB6 as opposed to QB16.
Dalton's career high TD rate was in 2015 when Tyler Eifert and A.J. Green combined for 23 touchdown catches. Eifert and Green appeared in a combined 18 games in 2016 and weren't always at full strength even when active, so it's not difficult to see why Dalton's touchdown rate declined so significantly.
With the increased volume under Zampese and healthy weapons, Dalton should easily crack the top 15 at his position and could well make a run at the top five once again.
DeAndre Washington/Jalen Richard, RB, Raiders
Three running backs who topped 1,000 yards from scrimmage in 2016 were unrestricted free agents entering the offseason: Le'Veon Bell, LeGarrette Blount and Latavius Murray. Of those three, Murray seems the most likely to be playing for a new team next season. If Murray moves, 195 carries, 43 targets and more than 75 percent of Oakland's carries inside the five would have to be distributed elsewhere. All those extra touches would come behind a solid Oakland offensive line which ranked 10th in Football Outsiders' Adjusted Line Yards last season.
DeAndre Washington and Jalen Richard received 87 and 83 carries last year, respectively. It's difficult to say which one, if either of them, would receive a larger portion of Murray's vacated carries. But when it comes to the work Murray did in the passing game and inside the five, it's easy to see which back will benefit in each category.
In the passing game, Richard received 39 targets compared to only 23 for Washington. Richard ranked sixth in fantasy points per opportunity (carries + pass routes) in PPR formats and could, with a heavier workload, realistically push to be a top 20 running back in that format a la Darren Sproles or Bilal Powell.
Inside the five, Murray dominated the workload last year receiving 77.3 percent of Oakland's carries. Washington out-touched Richard two to none inside the five last season and would be the more likely of the two backs to pick up the slack there. Jamize Olawale would probably play vulture from time to time, but of the backs that should see enough work to be fantasy relevant week in and week out, Washington is more likely to benefit from extra goal line work.
J.J. Nelson, WR, Cardinals
Nelson was extremely efficient last year as he ranked fourth among receivers in fantasy points per snap in standard formats and 10th in fantasy points per opportunity. Unfortunately, he lacked volume as he ranked 68th among receivers in targets and thus finished just 45th in fantasy points. However, Nelson should see a spike in volume in 2017.
With Michael Floyd no longer in Arizona, his 67 targets and 13 red zone targets must be distributed elsewhere. Larry Fitzgerald and David Johnson combined for a whopping 254 targets last year, so not much more can be added to their workloads.
Instead, Nelson and John Brown should be the main benefactors of Floyd's absence. Nelson figures to be the bigger benefactor given that he played more snaps than Brown in five of Arizona's last six games, including Week 15 when Floyd was inactive. Nelson also saw 10 red zone targets compared to Brown's six last season.
Were Nelson simply to get half of Floyd's targets in addition to the 67 he had last year, that would put him on pace for roughly 100 targets. But there's a case to be made for Nelson going past 100 targets. Nelson never played more than 20 percent of Arizona's snaps in the first six weeks but saw 80 of 95 snaps in Week 7. He was a significant part of the offense from that point on, and he racked up 68 targets in those last 10 weeks, which works out to a 109-target pace over 16 games. If you want to be more optimistic, he saw 30 targets in Arizona's last three games, so it's not unrealistic to think he could even eclipse the 110-target threshold.
Even with a slight decline in efficiency to be expected due to a heavier workload, Nelson is primed to take a massive step forward in his third season with an increase in volume.