2019 FANTASY FOOTBALL, WEEK FIVE WAIVER WIRE: SLIM PICKENS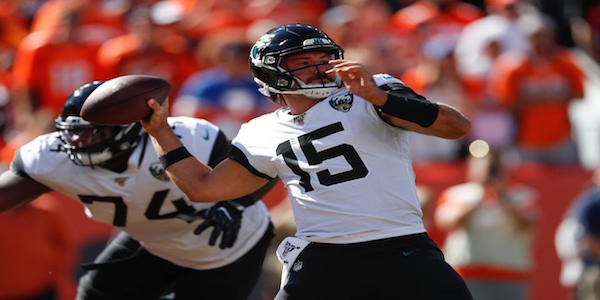 Week Four, one that most of us want to forget about quickly. If you made it out of the rubble with a win, you dodged some roster spots that ate away at fantasy owners. Many top performers decided not to show up which have now sent GMs into panic mode. Quarterbacks Tom Brady and Dak Prescott were stinky. Brady was 18-39, good for 150 passing yards, 0 TDs & a interception (3.7 Fantasy Points). Prescott was a bit better totaling 22-33, 223 yards passing, seven rushing and also threw a pick to end the game on a Hail Mary (7.6 Fantasy Points). The Golden Boy Patrick Mahomes also failed to record a pass or rushing touchdown (but still managed 18 Fantasy points). That is the second time in his career that he didn't record a touchdown, the other was Week 17 of the 2017-18 Season – his first pro start.

Running Backs Marlon Mack (3.9 points), Rex Burkhead (1.7 points), Adrian Peterson (2.8 points), Sony Michel (6.3 points), Phillip Lindsay (7 points) and Mark Ingram (8.1 points) all let their owners down.
Wide Receivers Adam Thielen (2.6 points), Odell Beckham Jr. (4 points), Hollywood Brown (6.2 points), Calvin Ridley (6.2 points), Sammy Watkins (6.4 points), Julian Edelman (7 points), D.K. Metcalf (1.6 points), Mecole Hardman (0.8 points) and Nelson Agholor (0 Points) were all embarrassing.
Tight Ends Vernon Davis (1.5 points), Delanie Walker (1.4 points), Greg Olsen (2.5 points) and Jared Cook (5.1 points) most likely helped earn a "L" for your squad.
Time to start forgetting about how you valued a player from Draft Day as we now have data to support new cast members. Week Five drops BYES on the Detroit Lions and the Miami Dolphins. We are a quarter way through the fantasy regular season and time to start readjusting rosters. If you struggling, time to trade away a big piece for a two for one. Look for 'buy lows' from owners who are 1-3 or worse. Review where 'cellar dweller' owners are hurting and see if you have anything that can help them while helping you.
Remember the suggestions below are players owned in less than 40% of leagues. A couple guys who are on the fringe there and if available…  Running Back Ronald Jones II and Wide Receivers Golden Tate and Marquez Valdes-Scantling.
Quarterback
Gardner Minshew II (JAC)
Ownership: 14% ESPN, 15% Yahoo
Week 4: 19/33, 213 yards passing and two touchdowns. One rush for two yards.
Hopefully everyone saw the ESPN bit with Uncle Rico from Napoleon Dynamite going to visit his old pal Gardner Minshew II. It aired Sunday before the games and you should go find it if you missed it. Open shirt, chest hair flowing, gold chains, throwing balls out of the stadium, major pizzazz… these are things that Gardner flaunts with his style. He also has quietly completed 69.4% of his passes which is sixth best in the NFL and has tossed more touchdown passes (seven) than Aaron Rodgers, Deshaun Watson and Jared Goff (who all have six). Sure he doesn't air it out a lot down field, but has a handful of weapons at his disposal that can get separation in space. Completed passes to nine different players in Week Four as Fournette stole the show. Defenses will need to stack the box against the run which should open more looks up downfield. Jacksonville is currently tied for second in dropped passes with eight (6.6%), so with a little more luck (or skill), things could change for the better. Currently 15th in average points per game for QBs, but if he starts to run the ball, the floor could elevate. Pick-up and Stashe…  Yes sir!
Running Backs
Jaylen Samuels (PIT)
Ownership: 19% ESPN, 30% Yahoo
Week 4 Snap Percentage: 46%
Week 4: Rushed 10 times for 26 yards and a touchdown. Caught all eight targets for 57 yards. Also lined up in the Wildcat three times as the QB and tap passed three times, all completions for 31 yards.
On Monday Night Football, Samuels did it all. 18 touches and three tap passes (forward hand offs in Wildcat). Conner went into the medical tent and fantasy owners cringed, Jaylen shined. If Conner were to miss any time during the season, Samuels should fill in just fine. Next week the Steelers will have their hands full with the visiting Ravens who are tied for first in scoring offense with the Chiefs. Maybe Pittsburgh has found a new weapon to add to the arsenal and if so, could have value moving forward. Any back who throws 100% completion rate on three passes opens my eye (even if just a hand off). Baltimore did get gashed in Week Four by Nick Chubb for 183 total yards and three scores, so if you are struggling… could do worse.
Nyheim Hines (IND)
Ownership: 38% ESPN, 19% Yahoo
Week 4 Snap Percentage: 45%
Week 4: Rushed three times for six yards. Caught all six targets for 39 yards.
Marlon Mack owners were not pleased with the performance through three quarters against the Raiders on Sunday and to make things worse, left the game in the forth quarter with an ankle issue. Colts coach Frank Reich stated that Mack was cleared to return but game flow kept him out. So when Indy is losing, hurry up mode is Nyheim Time. If Mack were to sit out and rest the ankle, Hines would have a mouth watering match-up against the Chiefs. Even if Mack goes, Colts will probably be in hurry up most of the game trying to keep up with Mahomes and crew. Decent PPR Flex option if desperate.
Wide Receivers 
Cole Beasley (BUF)
Ownership: 20% ESPN, 12% Yahoo
Week 4 Snap Percentage: 86%
Caught seven of 13 targets against the Patriots on Sunday for 75 yards receiving.
Was on the list last week and is still available in most formats. Currently 12th in targets in the NFL through the first four weeks. His 36 targets tied with names like DeAndre Hopkins, Davante Adams, Kenny Golladay and Larry Fitzgerald.  Still no touchdowns but was targeted for a successful two point conversion. Beasley is the number two option for Josh Allen behind John Brown. Next week the Bills travel to Tennessee and the Titans are fifth in the NFL with 13 sacks. Allen will need to get the ball out quick and Cole will eclipse 10 targets once again. High volume makes a great workable floor with potential to boom. Potentially a must start weekly in PPR format.
Mohammad Sanu (ATL)
Ownership: 36% ESPN, 27% Yahoo
Week 4 Snap Percentage: 79% (tied with Julio for team lead)
Sunday at Home against the Titans. Lead the team in targets with 12. Caught 9 balls good for 91 yards receiving.
22.5% of target share in Week 4 and 17.6% through four weeks, almost 5% higher than Ridley's 13%. Matty Ice averages 44 pass attempts a game to start '19 and is on pace for 5,300 passing yards (which would be third all time). So numbers say Sanu will average 7+ targets per game. Volume is key for waivers. Atlanta's run game is weak as they haven rushed for 100 yards as a team in '19. Ridley has hit pay dirt twice, Sanu still has not… but Sanu has eight more targets & receptions that Ridley and more yards receiving. Sanu is gonna find the end zone and when he does will have a top 20 WR finish for the week. PPR league must.
A.J. Brown (TEN)
Ownership: 6% ESPN, 10% Yahoo
Week 4 Snap Percentage: 44%
Week 4: Hauled in all three targets for 94 yards and two touchdowns
Only 17 targets seen all year (least amount in Week Four). Many will be rushing to pick him up, but Tajae Sharpe sees the field more than him and Adam Humphries is also lurking. Don't chase the TDs here as the floor is really low. Has not seen more than five targets in a game. BEWARE
Geronimo Allison (GB)
Ownership: 27% ESPN, 24% Yahoo
Week 4 Snap Percentage: 79%
Caught three of four targets for 52 yards and a touchdown
Davante Adams is likely out Week 5 when Green Bay heads to Dallas. Last week Davante was peppered with 15 targets and averages nine per game in '19. If he were to sit, both Jimmy Graham and Geronimo should see more involvement in the passing game. Speculative pick-up hinging on Davante's status. Plug in and play option if so.
Tight Ends
Jimmy Graham (GB)
Ownership: 36% ESPN, 37% Yahoo
Week 4 Snap Percentage: 70%
Week 4: Snagged six of nine targets and scored a touchdown
JG showed up for fantasy owners and should be a good option moving forward. Rodgers has a thing for his tight ends and if Adams is out, Graham will be a great play this week. With how weak the tight end position has been, I wouldn't be surprised if we see a renaissance outta JG for the rest of '19.  Potential plug in and play riding on Adams availability, but a good option if you missed on Dissly.
Chris Herndon V (NYJ)
Ownership: 8% ESPN, 19% Yahoo
Currently on suspension but is set to return Week 6
Herndon was very serviceable last year catching 39 balls for 502 yards and four touchdowns. He will be returning from suspension Week Six and that might line up with the return of Sam Darnold. If you have room on your roster and you are struggling at TE, this would be a stash waiver to see how he pans out upon return. Could help you down the stretch.
Gotta toss this in… One last Hail Mary, Tyler Eifert (CIN) has some hidden value Week Five as he is facing the Cardinals at home. If you do not know how bad AZ is against tight ends, you haven't been paying attention. Worth a dart throw plug and play.
–
Go out and make your team stout! Make sure your bench is not neglected. Always try to build the strongest team possible and that includes your bench. Time to start thinking about letting go of players who have not performed and pick-up lesser known names that have proven numbers. Thanks for the read and if you ever have any trade or lineup questions, holler at me on Twitter. Best of luck Week Five!
Todd D Clark – Fantasy Bro
Follow me on Twitter @Lunchmade