2019 Fantasy Football, Week Six Waiver Wire: Gerald Everett A Top Target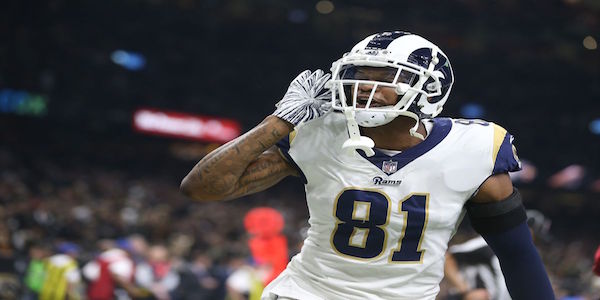 WEEK FIVE WAS DEFINITELY ALIVE. So many studs in week five compared to all the duds the week prior. In PPR leagues, eight players eclipsed the 30 point mark, four the 40 point plateau and Will Fuller scored 53.7 points with his unworldly performance against the Falcons where he caught 14 of 16 targets good for 217 yards receiving and three touchdowns. Aaron Jones was a total workhorse for the Pack Show on only 68% of the snaps. He had 26 touches, 182 yards from scrimmage and four touchdowns. McCaffrey's 47.7 points were not enough to surpass Aaron Jones' 49.2 pinnacle. I posted a lineup on Twitter of a potential fantasy team and the final point total was 289.1 points. Just imagine being on the wrong end of that game; receiving that type of beat down in fantasy, would really squash one's pride.

Looking ahead to Week Six we have four teams on BYES: Bills, Bears, Colts and Raiders. Also, the Giants travel to Foxboro on a short week with Jonathan Hilliman potentially being the #1 running back. Wayne Gallman was removed with a concussion & Saquon Barkley is progressing nicely coming off the high ankle sprain, but I cannot imagine the Giants would trust him back into action unless he is 100%… but their season is slowly fading away. Hilliman ran the ball nine times (say it in Ed Rooney's voice from Ferris Bueller's Day Off) for a whopping 20 yards. Gotta give props to the Patriots Defense. Once again turned in another double digit performance making in four in-a-row. They have scored 41 more points on the season than the next place team, the Bears, at 53 points… and who says drafting a Defense early is a bad strategy? They have been a First Half MVP up to this point and should continue the smashing on Thursday.
Remember, even if you do not need to pick-up anyone, you can always block your opponents or work on building depth for these upcoming bye weeks. Start looking ahead in the schedule and review playoff weeks and see who have good match-ups. You should know by now if you have a shot to contend. Stay Active. Here are some guys that I will have my eye on in waivers…
Gardner Minshew II (JAC)
Ownership: 18% ESPN, 23% Yahoo
Week 5:  26/44 374 yards passing and two touchdowns. Seven rushes for 42 yards.
I was glorifying the musk of Gardner Minshew II last week in the Waiver Wire column, and I will continue to do so here. Now after 5 weeks in the books, he is the 11th overall QB, scored 16.1+ points in every game and is coming off of a 21.2 point performance in Week Five. So far he is scored more points than Rodgers, Goff, Rivers, Stafford and Cousins (guys you are probably running out there week in week out). He is now the fifth overall QB with 124 rushing yards (more than Deshaun Watson, Dak Prescott & Russell Wilson). Gardner has completed 66.7% of his passes this year and had nine touchdowns and only 1 pick. Becoming very reliant on his two receiving weapons Dede Westbrook and D.J. Chark (do, do, do, do do-do do) and gets less pressure with Leonard Fournette toting the rock. Week Six the Saints come into town and Minshew Mania will continue to live on, get him on your roster. Also has good matchups the next two weeks (Week 7 at Bengals & Week 8 Home against Jets).
Teddy Bridgewater (NO)
Week 5: 26/34 314 passing four touchdowns and one interception. Five rushes for seven yards. 
Teddy was wetting the bed up until this performance, but you have to take notice due to plenty of weapons at his disposal. Only two TD's before the four touchdown eruption in his Week Five performance. The Saints next two games are at Jacksonville and at Chicago, gonna be tough to play them in those spots, right? But in Week Eight, New Orleans has a juicy match-up against the Cardinals at home. If you have room on your bench and have either Dak Prescott or Lamar Jackson (Who have BYES Week Eight), snag up Teddy Bear and hold him tight as a gap filler in advance.
Running Backs (options are bleak this week)

Chase Edmonds (ARI)
Ownership: 3% ESPN, 2% Yahoo
Week Five Snap Percentage: 35%
Week 5: Eight rushes for 68 yards and a touchdown. Targeted four times and hauled in three for 18 yards.
DJ was battling back tightness issues pretty much the whole game in Week Five and this is something to watch during the week. Kyler Murray hasn't exactly lit it up in the passing game, so maybe more of a running approach moving forward. If DJ was to sit, plug and play option off the wire as the Atlanta Defense just gave up 166 yards on the ground to Houston and bled 53 points!
Jonathan Hilliman (NYG)
Ownership: 1% ESPN, 0% Yahoo
Week Five Snap Percentage: 64%
Week 5: Nine rushes for 20 yards and caught one of two targets for four yards.
If Gallman is out (concussion) and Saquon isn't deemed ready, Hilliman would get the start. You would have to be pretty desperate to start him with any confidence against the Patriots stout D in Week Six. But a starter on a NFL team on waivers he is (Yoda voice). PPR dart throw.
Ito Smith (ATL)

Ownership: 10% ESPN, 14% Yahoo
Week Five Snap percentage: 47%
Week 5: Five rushes for 19 yards and caught all six targets for 45 yards receiving.
Devonta Freeman hasn't been all that fantastic so far in '19 (averaging 3.2 yards per carry) and Ito has been sprinkled in more and more weekly. His 5.2 yards per carry might have to be explored more as the Dirty Birds are 1-4. Freeman has four games of 30 yards or less rushing. If it wasn't for PPR, DevontA would be DevontF. Ito saw 35 snaps Week Five compared to Devonta's 40.
Reggie Bonnafon (CAR)
Ownership: 0%ESPN, 0% Yahoo
Week Five Snap Percentage: 17%
Week 5: Five rushes for 80 yards and one TD. Saw one target and didn't reel it in.
If something were to happen to Run CMC, he would have some immediate value. If you own the best running back in football, I would claim up his handcuff. McCaffrey was hobbling a bit towards the end of the fourth quarter Sunday, but just appears to be cramps from being such a stallion. McCaffrey Owners only as handcuff.
Alexander Mattison (MIN)
Ownership: 16% ESPN, 23% Yahoo
Week Five Snap Percentage: 23%
Week 5: Seven rushes for 52 yards
If anything were to happen to the Cook, Mattison would be a RB1. Vikings might want to start easing the workload of Dalvin his 22.6 touches per game, Mattison is just the guy. We have seen how committed to the run Minnesota has been, I am counting on continued and increased usage from here on out. Averages 5.6 yards per attempt and a must own for Cook owners.
Wide Receivers

Byron Pringle (KC)
Ownership: 0% ESPN, 1% Yahoo
Week Five Snap Percentage: 78%
Week 5: Caught six of nine targets for 103 yards and a TD
Calling all cast members, Patrick Mahomes needs some new parts to elevate up to his level. Mecole Hardman, Demarcus Robinson and now enter Byron Pringle who lets admit it, no one even had on the radar. Welp, the tall can of chips spills in and crumbles for 22.3 hard to reach points which was good for twelve overall in PPR formats. If Watkins sits, I would roll the dice with Lord Byron at Arrowhead coming off of a loss… I am lovin' the name at least and Mahomes is like Midas.
Keke Coutee (HOU)
Ownership: 26% ESPN, 17% Yahoo
Week Five Snap Percentage: 44%
Week 5: Caught three out of four targets for 72 yards
All eyes on Will Fuller, as they should be after stealing the show. It's quite OK however, let Keke sneak onto your bench. Houston goes to KC and should be a high scoring affair. The Chiefs will make sure that Will Fuller and Nuk don't blast them, Coutee sneaks into a nice double digit game while getting free for being the forgotten guy.
Darius Slayton (NYG)
Ownership: 1% ESPN, 0% Yahoo
Week Five Snap Percentage: 65%
Week 5: Five targets, hauled in 4 of them for 62 yards and pay dirt.
Looks like Sterling Shepard will be out as he is in concussion protocol and won't be cleared in time… this is Shepard's second concussion of the young season. G-Men facing Patriots on the road on a short week. Garbage Time star?! Remember Golden Tate is here too. Worth a speculative add as Giants will be chasing the whole second half.
Duke Williams (BUF)
Ownership: 0% ESPN, 0% Yahoo
Week Five Snap Percentage: 78%
Week 5: Four targets, all caught for 29 yards and a touchdown
Lets be serious here, I would never recommend him but did score more points in Week Five (PPR) than Keenan Allen, Emmanuel Sanders and Beckham Jr. combined… crazy world.
OJ Howard 23.1 points on the season. He can be dropped in all formats. Too much pain from OJ grasping the tight end spot. Let go of your hate, cut bait.
Gerald Everett (LAR)

Ownership: 3% ESPN, 8% Yahoo
Week 5 Snap Percentage: 81%
Week 5: 11 targets good for seven catches and 136 yards receiving 
Most catches and most yards receiving in Week Five out of all tight ends. His 20.6 points in PPR was only second to George Kittle's resurgent 20.8 points on Monday Night Football. Everett scored in everyone's eyes but the referees on Sunday and should of been TE1. 19 targets over last two weeks is huge volume. Matt Ryan and Jared Goff have attempted 222 passes (Tied for first)… that is over 44 per game… enough volume to keep this going.
Chris Herndon IV (NYJ)
Ownership: 12% ESPN, 29% Yahoo
Suspended first four weeks + BYE Week Five
Sam Darnold should be back soon and would be an immediate upgrade to the Jets passing game. Herndon was a serviceable option last year for a good handful of games while he was healthy (caught 39 balls for 502 yards and four touchdowns). His usage is yet to be seen, but with tight end being so fluky, if he hits the ground running, could be a great add-on bolster during the heart of bye weeks.
—
Study target shares, Air Yards, routes run, total touches, snap percentages and make sure to read as many articles daily, listen and absorb content through podcasts and news outlets. We are almost halfway to the promised land, please stay with me for the ride!
Todd D Clark – Fantasy Bro
Check me out on Twitter @Lunchmade and if I can ever lend any advise, shoot me a message.