Players Looking to Bounce Back in 2016: Quarterbacks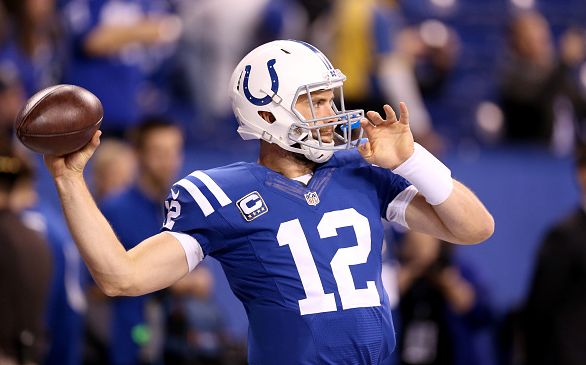 We will be covering five players at each key position that will look to have a bounce back season in 2016. To be clear, this is players that will look to bounce back, not necessarily those most likely to bounce back. We are starting with the quarterbacks. All of these guys had down years and have high hopes of turning things around this year. Hopefully this benefits their team and your fantasy team.
1. Andrew Luck, Indianapolis Colts
There was no other option for the top spot here. Luck was touted as the consensus No. 1 overall quarterback in Fantasy Football last year and fell flat on his face. Injuries played a major role, but even when healthy he looked like he had taken a significant step back in 2015 after being an MVP candidate in 2014.
In seven games Luck totaled just 1,881 yards, 15 touchdowns and 12 interceptions. He also put the ball on the ground three times and scored no rushing TDs. With that said, there was little to like about his supporting cast. I'm not a T.Y. Hilton guy. I feel he's a dime a dozen receiver with bad hands in a great situation. Andre Johnson is a Hall of Famer, but he couldn't be more done. Frank Gore had a great career as well, nonetheless, he's nearing the end of the road, too. Most importantly the offensive line was so bad that they allowed their franchise quarterback to take such a beating that his shattered bones in his upper torso lacerated his major internal organs. If that's not unacceptable, what is?
I anticipate a big bounce back season from Luck. The Colts took major strides to improve the offensive line and wide receivers Donte Moncrief and Phillip Dorsett should take a big step forward this season. Luck knows his poor numbers and 2-5 win/loss record is flat out just not good enough. More than the line and weapons, he is good enough to raise his level of play to new heights.
2. Ryan Tannehill, Miami Dolphins
Last year was supposed to be his breakout season. After throwing for 4,045 yards, 27 touchdowns and just 12 interceptions in 2014 while completing 66.4 percent of his passes, he looked poised to take the next step. In reality he didn't take much of a step back throwing for 4,208 yards, 24 TDs and 12 INTs, but he didn't make the jump either. 2015 was widely considered a disappointment for Tannehill and the Dolphins as a young crop of QBs seemed to pass him by.
Now with an improved offensive line and a slew of dangerous weapons, Tannehill will look to bounce back in a big way. Since entering the league he's been the most sacked QB in the league, so protecting him could do wonders for his value. Skill-position players like Jarvis Landry, DeVante Parker, Leonte Carroo and Jay Ajayi could prove to be among the most dangerous in the business, although, they're a bit under the radar. Don't sleep on them.
I believe he is indeed to on track to rebound this season. The expectations are lower and this offense will play loose and without pressure. They'll catch the league by surprise and be a tough team to beat. Whether or not that results in wins remains to be seen.
3. Tony Romo, Dallas Cowboys
My general analysis on Romo heading into last season was that 35-year-old quarterbacks with bad backs don't get better, they get worse. Needless to say, his season was plagued by injuries and he didn't play well when on the field. Based on my take from last season and the results, I'm certainly now not going to say a 36-year-old QB with a bad back and glass-like collarbone is going to get better.
In the four games Romo did manage to play last season, he only threw for 884 yards, five touchdowns and seven interceptions. Now coming off two broken collarbones and surgery, I don't expect Romo to bounce back as a valuable fantasy asset. Look for the Cowboys to deploy a run-heavy offense and attempt to hide Romo's deficiencies much like they did in 2014 when they ran DeMarco Murray into the ground. Sorry fantasy owners, Romo will let you down in 2016.
4. Robert Griffin III, Cleveland Browns
RG3 has had perhaps the most tumultuous five years of any QB in recent memory outside of Tim Tebow. Griffin went from Heisman Trophy, second-overall pick, Rookie of the Year and franchise quarterback to Washington Redskins bench-riding outcast seemingly overnight. The talent is there for Griffin and now he's looking to get a fresh start.
Unfortunately that fresh start is with the Browns. That has worked out for nobody since the team came back in 1999. I would be excited to watch and see what Griffin could do if he went anywhere else but Cleveland. With a dismantled offensive line and no proven receivers on a team with a miserable history with quarterbacks, it's hard to be optimistic.
5. Teddy Bridgewater, Minnesota Vikings
I wasn't sure if Bridgewater qualified, because he's not really bouncing back. He was never really at that level to begin with. Nevertheless, the expectations were there as he was a sleeper high-end QB in a ton of drafts last season. This is more of a "prove it" year than bounce back year. But this is my article so I make the rules.
He was bad last year. The team won in spite of him, not because of him. He took game-manager to the next level. Bridgewater only threw for 3,231 yards and 14 TDs. He just flat out can't throw the ball down field. He threw 212 passes less than 10 yards and 98 behind the line of scrimmage. He was 225 of 310 on those short passes. He also wasn't intercepted when throwing those passes.When he threw the ball 11-20 yards, he was still decent. He went 46 of 76, however, he also threw four interceptions to just three touchdowns, so he wasn't overly effective. Anything past 20 yards, Bridgewater was terrible. On these longer passes he completed just 11 of 42 attempts with three TDs and five interceptions. He was atrocious when attempting to push the ball down field.
He has a lot of work to do to change that narrative in 2016. He's been given more than enough weapons now. We'll have to see if he has the talent. I'll be avoiding him until he shows me more than he has to this point. I just don't trust his arm.