2013 Fantasy Hockey: Five Hole Friday: Goalie Talk and Rankings for Week 8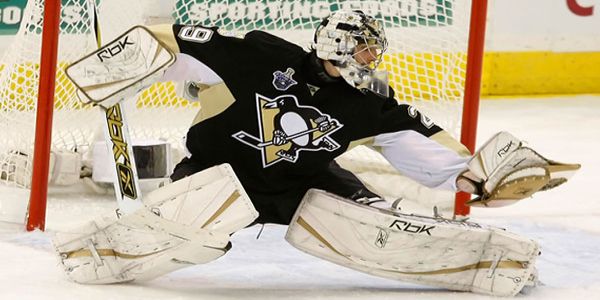 There are a number of teams in the NHL that have good-to-great goaltending situations with poor records. There are also a number of teams that have average to poor goaltending situations that have good or great records.
It never ceases to amaze me how sports in general work in mysterious ways. "You can't predict…" is the perfect phrase to place in front of any sport. Since this is a fantasy hockey piece, I can only comment on that at this time.
The one tandem that is raising my eyebrow is Jonas Hiller and Viktor Fasth of the Anaheim Ducks. Anaheim has been blessed with possessing two solid goalies for the better part of 10 years. Hiller, Fasth, and Frederik Andersen have seen time in net, but the best netminder isn't with the big club.
In 18 games, Hiller and Fasth have combined for 8 wins, a 2.86 goals against average, and an 89.0 save percentage. Andersen has 6 wins in 6 games, a 1.66 GAA, and has stopped over 94% of shots faced. Injury has put in its two cents with this situation, but it is hard to imagine the first place Ducks keeping two goalies together that cannot save 90% of shots with a talented third waiting in the AHL. Anaheim also has American goalie prospect John Gibson in the system.
If you own Fasth or Hiller, do not be surprised if one or both are in legit trade talks in the coming months.
Rising
Marc-Andre Fleury– Pittsburgh Penguins: Welcome to the top five! Fleury's reign as a regular season stud continues to roll on. The Penguins offense is as healthy as it has been in nearly one year, so all M.A. has to do is not screw up. He has not, as his 1.90 GAA and 92 save percentage dictate. Jeff Zatkoff has seen time in three of Pittsburgh's 22 contests, which may raise eyebrows if that rate continues towards the playoffs. The Canadian goalie situation is a but confusing at this moment prior to the Olympic roster deadline. Penguins fans have to hope he is left off with the hope for rest for their unquestioned starter.
Ben Scrivens– Los Angeles Kings: Jonathan Quick is hurt! Panic through the streets of L.A.! Abandon hope! Well, good thing Ben Scrivens is a serviceable back up goalie. Scrivens may not be Jonathan Bernier, the goaltender he was swapped for, but in a pinch he is an acceptable short term replacement. Quick is expected back around Christmas, giving Scrivens ample time to prove his worth as a potential starter and an excellent safety net for a playoff contender in the Kings.
Falling
Craig Anderson– Ottawa Senators: We touched on Anderson last week, but his play has to be given another spot in this portion of the piece. He gave up 10 goals in 3 starts this past week, while back up Robin Lehner allowed 4 on 41 shots in his lone appearance. I don't want to believe that Anderson's arrow will continue to point due south, but it is important more now than ever to consider adding Lehner or dropping Anderson for another option.
Jimmy Howard– Detroit Red Wings: Howard continues to slowly fall down the list. Illness cost him Thursday night's start, and his relief Jonas Gustavsson helped end Detroit's losing streak. The walking wounded list in the Motor City is as long as a child's Christmas list, so temper expectations for wins and consistency with Howard for the remainder of 2013 just to be safe.