2013 Waiver Wire Outlook for Week 9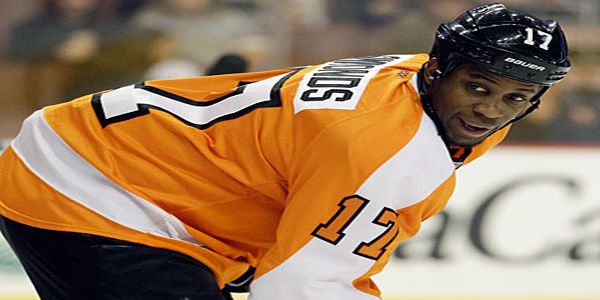 A couple of teams have done well for themselves and are rewarding fantasy teams. The Philadelphia Flyers and Edmonton Oilers put together good weeks during week eight of the fantasy hockey season. Players such as Taylor Hall, Claude Giroux, and Jakub Voracek, among others, have become relevant again as opposed to wasting away on your bench or killing your team's plus/minus category.
I have a hard time believing Edmonton has finally put the pieces together, and their blowout loss to Chicago Monday at home is case in point. The Oilers scored 14 unanswered goals against Columbus, Florida, and Calgary. All are equally as bad as the Oil. If you managed to catch on to the scoring spree, congrats. If not, proceed as normal.
Philly may be on to something. The Flyers are in the Metropolitan division, which is also known as the worst division in hockey. The Pittsburgh Penguins are currently atop the Met, which is all well and good until you realize their 31 points would only be good for fifth in either division out west. The Flyers could continue to slay the Metropolitan bums and give fantasy owners a group of players to pick up immediately.
Stay tuned, folks.
Forwards
Wayne Simmonds– Philadelphia Flyers (Owned in 65% of leagues: Simmonds is arguably the greatest benefactor of Philly's recent surge not named Claude Giroux. He has four goals and five points in his last five games, and while his plus/minus is still an ugly minus-7, but with points comes plusses. Simmonds has toned down the fighting this season as he only has 33 penalty minutes thus far. It is low for him, but he projects out to 100+ PIM's.
Matt Read– Philadelphia Flyers (50%): Four goals in two games are nice. Unsustainable, but nice. Read played well during the lockout shortened season and is finally playing like the player who was drafted towards the back end of fantasy drafts. Read is also averaging 19:29 per game on ice and nearly three shots per contest.
Carl Hagelin– New York Rangers (18%): After a demotion to the third line, Hagelin was practicing with Brad Richards and Rick Nash Tuesday at practice. If this line combo sticks, look for Hagelin's stats and ice time to jump. I like the idea of the speedier winger with the meditative Nash and Richards.
Andrew Shaw– Chicago Blackhawks (8%): Shaw's ice time is pushing 16 minutes and is playing well on one of the better power play units in hockey. He has four points in his last two games after going without a point in five straight. If Shaw continues to be Dino Ciccarelli– lite, add him. On even strength he is skating with improving rookie Brandon Pirri and a rejuvenated Kris Versteeg.
Defensemen
Andy Greene– New Jersey Devils (77%): Any defenseman that is pushing 25 minutes per game is a must own solely for that. Greene also has two goals and nine points on a Devils team that has been playing much better since the start of the season. Considering how poorly New Jersey has played, it is a very good sign to see Greene's plus/minus remaining steady and close to zero.
Jan Hejda– Colorado Avalanche (40%): Hejda's only blemish to this point is his zero power play points. If he was skating on the Avs' man advantage, there is no way that his ownership would be less than 90% in shallow leagues. He has amassed a robust plus-14 plus/minus and has seven points. Hejda's revelation has been just one of many reasons why Colorado is playing so well.
Chris Tanev– Vancouver Canucks (<1%): Tanev notched his first goal of the season Monday and has eight points on the season. His play has been more defensive than offensive, but any d-man scoring every third game should at least get a look. To be completely honest, if you're looking this low, why not?
Goaltenders
James Reimer– Toronto Maple Leafs (86%): His ugly start Monday dropped his save percentage from 94.7 to 93.4 and caused his goals against average to jump from 2.10 to 2.54. The start is an outlier considering how well Reimer has played since the start of last season. Reimer is good to go in all formats and should be in a good spot to win whenever he is in net.
Niklas Backstrom– Minnesota Wild (43%): Josh Harding is dealing a lower body injury, and Backstrom gets to play as long as he is out. If you need goalie relief, add Backstrom for the time being. Harding will start again once he is healthy, but Backstrom has been no slouch for much of the last five seasons.
Marek Mazanec– Nashville Predators (25%): Mazanec is arguably the hottest goalie in fantasy and giving Preds fans a break from worrying over Pekka Rinne's illness/injury. He has four wins in eight starts and only one start with a save percentage under 91%. Those four wins have come in his last five starts and is in no danger of losing the starting gig in the Music City.