Fantasy Hockey Advanced Analysis Saturday: Breaking Down the Blackhawks Penalty-Kill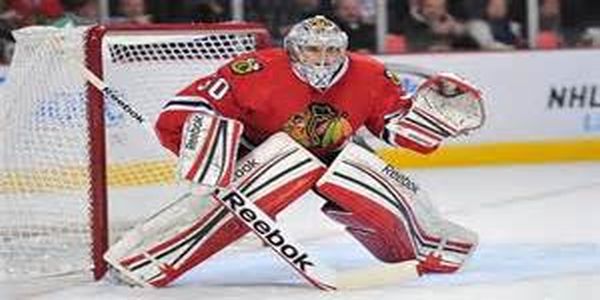 It's early in the season and overreactions are pouring in from fan bases across the National Hockey League. The best thing to do at this juncture is to look at actual game-tape since stats can be incredibly deceiving in such small sample sizes. Since today is "Special Teams Saturday", we decided it would bring great benefit to front office members to break down and analyze (with pictures and video), why certain teams are struggling on the power-play or the penalty-kill. This will be helpful in our quest for making sure that goalies are fairly treated for the purposes of fantasy hockey analysis.
[am4show have='p3;p4;p7;p9;' guest_error='Front Office' user_error='Front Office' ]
The Chicago Blackhawks sit with the worst penalty-kill percentage in the league at 44.6%.  While this hasn't played a huge factor in the Blackhawks regular season record, (1-1-1) due to the fact that the Washington Capitals account for three of the five goals the Blackhawks have given up on the power-play (a game which the Blackhawks won 6-4), it has made goaltender Corey Crawford seem less appealing. Crawford has not been playing as well Hawks fans would hope so far, as he sits with an even-strength save percentage that is ranked 20th in the league. His numbers are really made worse by his .706 save percentage when the Hawks are on the penalty-kill. This number is the second worst mark in the league for goalies that have faced ten or more power-play shots. Only Nashville Predators goalie Pekka Rinne has a worse mark, .686, allowing five goals on 11 shots compared to Crawford's five on 12 shots.
But as we can see here with this picture analysis of the first power-play goal the Blackhawks allowed on the season, clearly it's not on Corey Crawford.
FREEZE: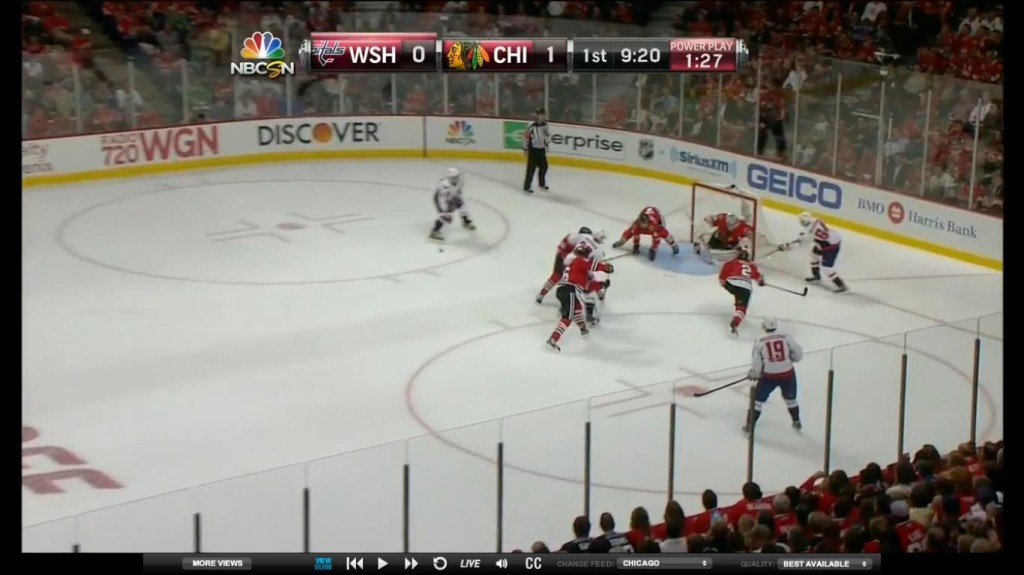 The goat on this play is without question Joakim Nordstrom. Seen in the middle of the screen, Nordstrom is the Blackhawks player on the left side of the Hawks sandwiching of Capitals forward Troy Brouwer. Nordstrom needs to be on eventual goal scorer Alex Ovechkin (far left). Notice here folks that goaltender Crawford is down in correct position as a scoring threat looms, with the puck on the stick of Marcus Johansson (side of the net). Nordstrom's poor positioning allows Johansson a lane to pass it to a wide open Ovechkin who rifles it past the helpless Crawford.
The second goal allowed in this game on the power-play for the Hawks was a tip-in by Mikhail Grabovski. Without a change in direction, Crawford makes the save. The third power-play goal scored by Washington, on the night, was a perfect showcase of how excellent their power-play spacing is, and just how poorly Nordstrom played in this game.
FREEZE: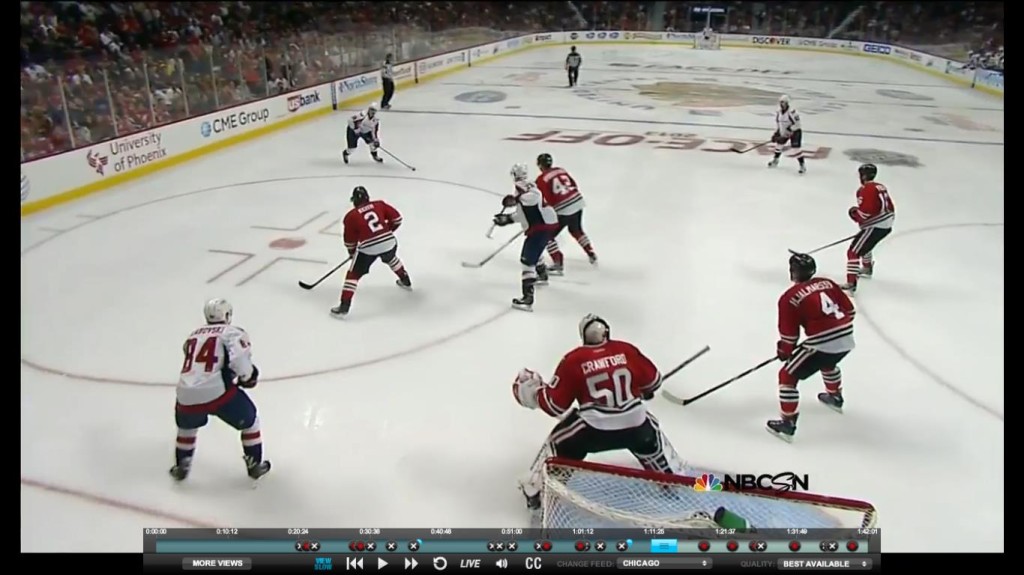 In the eyes of most hockey fans, this may look a simple set-up. However, this picture tells a thousand words, and also lies quite a bit. Un-pictured is sniper Alex Ovechkin, who has set up shop in his usual spot, the faceoff dot directly to the goaltenders right. Washington center Nicklas Backstrom currently holds the puck (playing the point). If Joakim Nordstrom (once again, number 42, pictured in the center of your screen), does not challenge the puck carrier Backstrom, the 25-year-old power-play ace has two options. First, he can shoot (this is best for the Blackhawks because Crawford is in position to make a stop), or he can pass to defenseman Mike Green.
But Backstrom is so savvy that he dangles the puck on his stick for a few seconds, and moves  in a few steps towards the goalie, getting even closer to the mistake-prone Nordstrom.
FREEZE: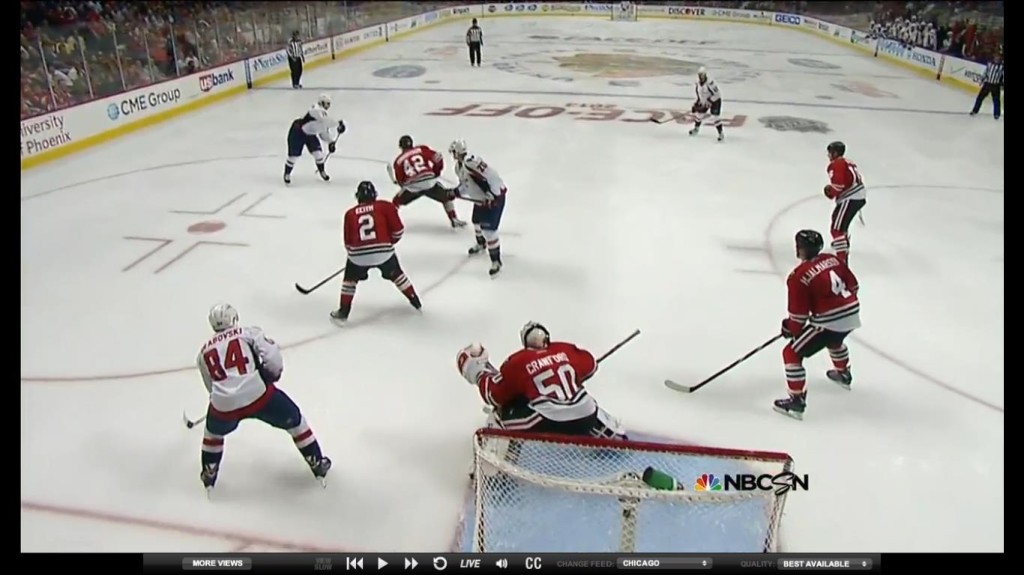 Up until this point, Blackhawks center Marcus Kruger had been playing perfect positioning by not challenging Mike Green in an attempt to prevent him from getting a pass and an open lane to shoot. This is because Backstrom up until right now, had the option to pass it down and across to Ovechkin who is once again, still waiting in a "one-timer" ready position on the un-pictured face-off dot. The problem is right here when Nordstrom steps up on Backstrom (like Backstrom wanted). Green's shooting lane is now wide open and in addition to drawing in Nordstrom, it will keep defender Duncan Keith (#2), stuck between Grabovski and Brouwer, with no clear solution as to which one to defend. It is now where Marcus Kruger must immediately rush forward towards the shooting lane to block Green's impending shot. The threat of a pass to Ovechkin (by Backstrom) is completely gone, given the way Backstrom has squared his chest for the pass to Green. The reason Kruger can do this now, without worrying about Ovechkin, is because since Ovechkin can only catch a pass in this immediately impending sequence from Mike Green, Ovechkin is less of a threat to score because it's much more difficult to square your body for a one-timer when the pass is coming from roughly the same side of the ice.
Kruger fails to even attempt to close the shooting lane, as he remains flat-footed. Also remaining flat-footed is Duncan Keith, who is now forced to defend two players. This allows Mikhail Grabovski to sneak in behind Keith and right in front of the net for a direct tip-in goal that Crawford could do nothing about.
If you are a Corey Crawford owner or a Chicago Blackhawks fan, your concerns are warranted since the Hawks lost penalty-kill expert Michael Frolik to the Winnipeg Jets this off-season. However, those concerns need to be directed at the Blackhawks penalty-kill and not the play of Corey Crawford. Sit tight on him and don't panic, but don't be surprised if it's a long year for the Chicago goaltender, should his penalty-killers keep playing like this.
[/am4show]