Daily Fantasy Hockey Strategy: November 28, 2015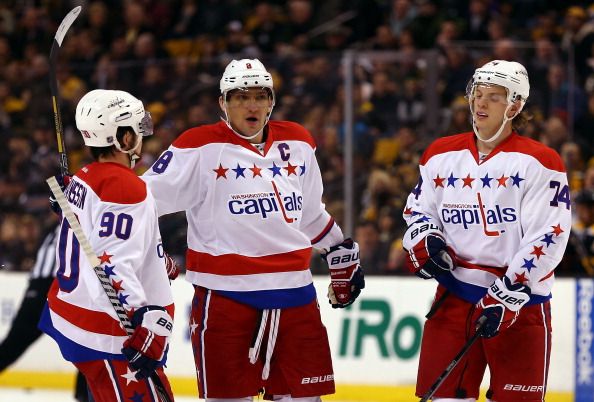 Welcome to The Fantasy Fix daily fantasy hockey strategy. Below you will find rankings and projections for tonight's NHL action. Building a winning lineup isn't easy, so we'll do our best to guide you in the right direction and help you win some serious cash. With that, let's take a look at some matchups you should be targeting tonight.
As always, make sure to check out LeftWingLock for goalie confirmations.
Teams To Target
[cointent_lockedcontent article_labels="hockey"]
Let's start with my favourite matchup of the night— the Dallas Stars in Minnesota. Both teams are playing back-to-back games, but the Wild haven't had much success over the last few games while the Stars continue to roll at the top of the Western Conference. Dallas will be heavily owned tonight, however, if you take the risk in fading them, that decision may come back to haunt you.
As always, the top line of Tyler Seguin ($9000), Jamie Benn ($8400) and Patrick Sharp ($6300) is always a good option. They are pricey, but with Darcy Kuemper expected to get the start, the Stars could very well score four or more by the time it's all said and done. You can stack the top line, but get ready to make some tough decisions later on to fill out your lineup.
On defense, John Klingberg ($5900) is a no brainer. If you don't want to go Dallas heavy, pair Klingberg with a forward for a reasonably priced mini-stack. If you want a secondary option on the blue line, Jason Demers ($3600) is back in the lineup and should be able to provide fantasy owners with some decent value.
My second favourite matchup of the night belongs to the Washington Capitals visiting the Toronto Maple Leafs. Toronto went on a mini surge thanks to James Reimer ($6600) and his strong play, but they're starting to regress, and I expect the Capitals to embarrass the Leafs on home ice. Just like Dallas, they will be heavily owned, but fading them may end up costing you some money.
Outside of Alex Ovechekin ($9400), the top line isn't where I'd spend my money. Don't get me wrong, Nicklas Backstrom ($6600) and T.J Oshie ($6000) are solid plays, but their price tags are just too high for me, especially if you want to get Ovechkin in your lineup. The second line of Justin Williams ($4800), Evgeny Kuznetsov ($5700) and Marcus Johansson ($4200) is the line I would stack if I had to pick one. Kuznetsov and company have been red hot as of late, and Toronto doesn't have the depth on defense to slow down that second unit. If I had to pick just two, I'd go with Kuznetsov/Johansson. Both are listed at center making it less than ideal, but they definitely offer the best bang for your buck.
On the back end, John Carlson ($6400) and Matt Niskanen ($4300) are the two options I would consider using. Niskanen has a nice price tag, so I'd probably lean his way if I had to pick one.
In goal, Philipp Grubauer ($6800) is expected to get the start, making him an excellent play. The Leafs are a better team at home, but they're still a below-average hockey team that doesn't scare me. Even if Grubauer gives up a few goals, it only gives Ovechkin one more chance to score another goal.
My third favourite matchup of the night belongs to the St. Louis Blues hosting the Columbus Blue Jackets. The Jackets are playing their second game in as many nights, meaning Curtis McElhinney ($6800) is likely to get the start. The Blue come into this game fully rested and ready to pick apart a very weak Columbus defense.
I would love to stack St. Louis' top line of Alexander Steen ($6400), Vladimir Tarasenko ($7800) and Paul Stastny ($5200), but I'm pretty sure the entire DFS community will want to do the same. If you want to roll with them in cash games, I'm fine with that, but if you want to go against the grain, a second line mini stack of Robby Fabbri ($2900) and Troy Brouwer ($4100) is the way to go. The value here is exceptional—almost unbeatable—meaning you can get exposure to St. Louis while still being able to target other studs in other more favourable matchups. The duo also plays together on the second power play unit, giving them an added boost in value.
As far as picking a defensemen goes, Kevin Shattenkirk ($5100) and Alex Pietrangelo ($5200) are two options I'd consider. Pietrangelo is a better play if you decide to go with Tarasenko/Steen, while Shattenkirk is better paired with Fabbri/Brouwer. Both are top quality defensemen, so there's really no wrong choice here.
As far as goaltending goes, Jake Allen ($7600) continues to be under priced on DraftKings. It's tempting on a night like tonight to go with a cheaper, more affordable back up goalie, but for a few hundred dollars more, Allen is a much safer play for both cash games and GPPs.
Player Rankings
 Ranking are price sensitive
Centers
 Wingers
Defensemen
Goalies
[/cointent_lockedcontent]