Daily Fantasy Baseball Strategy: August 9, 2016 – DraftKings & FanDuel Analysis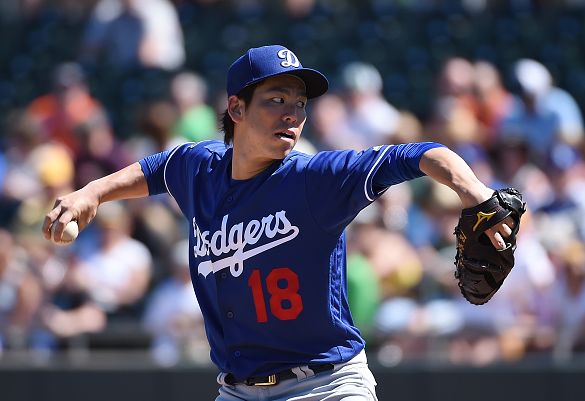 Below we've got breakdowns for each game of Tuesday's 14-game evening slate on DraftKings and FanDuel along with player rankings and a projections/research chart.
Game Breakdowns
Indians @ Nationals
This is an interesting matchup of strength against strength with Max Scherzer, who leads all pitchers in action tonight in both ERA and SIERA, taking on the Indians, who rank fifth in wRC+ vs. RHP with a slightly lower-than-average strikeout rate. You probably have to stay away from Indians, though Scherzer leans toward the fly ball end of the spectrum, so an Indian or two could be a GPP option. Mike Napoli has been going well and has hit right-handers well this season, and Jason Kipnis is good with the platoon advantage. I'm also inclined to shy away from Scherzer, though Washington being a big favorite at -190 makes him a cash option, and his 32.5 percent K% always makes him a GPP option.
Padres @ Pirates
This is an unappealing game for fantasy purposes. Perhaps Luis Perdomo could be a super cheap SP2 in an otherwise stacked GPP lineup on DK, or perhaps Matt Joyce could be a salary relief option on FD. But that's about the extent of fantasy relevance here.
Rays @ Blue Jays
There's some dong potential here for the Jays. They rank seventh in ISO vs. LHP this season and tonight they get LHP Drew Smyly who leans fly ball-heavy and has allowed 1.66 home runs per nine innings this season. Josh Donaldson and Edwin Encarnacion have the best numbers on the teams vs. LHP this season, and Donaldson has a 151 wRC+ in the last seven while E5 went 3-for-5 with a dong last night. Both guys are pleasantly affordable on DK. If you wanted to stack Jays, consider stacking Donaldson/E5 with guys who hit behind them like Troy Tulowitzki and Russell Martin. Melvin Upton could also be a part of that stack given his solid numbers vs. LHP this season, though the younger Upton has been in some kind of funk for a couple of weeks now.
D'Backs @ Mets
Zack Greinke will return from the DL tonight, and while he can't be trusted in cash games in his first start back, he could be an interesting GPP option given the matchup. The Mets have been below average vs. RHP this season and strikeout more than average. Greinke is a little more affordable relative to the cap on DK, so if you wanted to gamble with him, that would be the site on which to do it. Opposing Greinke will be Steven Matz who has struggled of late with a 4.50 ERA (4.10 SIERA) in his last five starts. The D'Backs have several right-handers with strong numbers vs. LHP this season, so Matz isn't in a great spot tonight. Of those Arizona right-handers, Yasmany Tomas is the only one hitting the ball well recently, and he's priced fairly well on FD.
Yankees @ Red Sox
Literally not one player in this game ended up being highlighted on my research sheet. Mookie Betts is always great with or without the platoon advantage (he's without it tonight), and he has been hitting the ball well recently. But he's just too pricey to make him worthy of being forced into your lineups.
Giants @ Marlins
The Marlins have a few bats with really good numbers against left-handed pitching: Martin Prado (193 wRC+ vs. LHP), Marcell Ozuna (181 wRC+), Giancarlo Stanton (147 wRC+). They'll face LHP Matt Moore tonight who has a 4.71 xFIP and 1.36 HR/9 vs. RHH this season. All three guys are priced better on FD than DK, so they'd make for a nice mini-stack there. Stanton is the best bet of the trio for use in cash games.
Angels @ Cubs
No starter in action tonight with more than a handful of starts this season has a SIERA higher than Jered Weaver's 5.55 mark. The Cubs rank ninth in wRC+ vs. RHP, and they have four hitters who own a wRC+ vs. RHP over 125: Anthony Rizzo, Ben Zobrist, Kris Bryant and Dexter Fowler. That quartet has hit 1-2-3-4 in the last four games for Chicago, so they're an excellent stack option this evening. In cash games, Anthony Rizzo is the man to pay up for with a 164 wRC+ vs. RHP and a 186 wRC+ in the last seven days.
Behind the paywall you'll find breakdowns of the remaining games, player rankings, suggested lineups and my projections/research chart.
[cointent_lockedcontent article_labels="baseball"]
Braves @ Brewers
Tyrell Jenkins gets the start for Atlanta tonight, and his 3.81 ERA in five starts this season is a complete mirage. He has eight more walks than he does strikeouts (19 compared to 11), and his SIERA is very ugly at 6.69. Collectively the Brewers are well below average vs. RHP, but Ryan Braun and Jonathan Villar own wRC+'s of 132 and 116 vs. RHP this season. Both have been swinging the bat well in the last two weeks and either would make sense in cash games where you can afford them. Villar is the slightly more affordable option of the two. Scooter Gennett and Kirk Nieuwenhuis are lefties who are average to slightly above average vs. RHP, and they're options to stack with Braun/Villar. Those four batters should be in the top six in the order and perhaps even all in the top five.
Astros @ Twins
The Astros offense is unquestionably struggling, but Hector Santiago has been known to cure some ills. Santiago has a 5.08 xFIP and a 1.7 HR/9 vs. RHP this season. Houston's best hitters hit from the right side, so this could be an evening for the Houston offense to get back on track a bit. Jose Altuve is by far the best option on the team with a 189 wRC+ vs. LHP and a 140 wRC+ in the last 14 days. He's more affordable relative to the cap on DK. Other Astros like George Springer and Evan Gattis have good numbers vs. LHP this year but have been struggling of late. As a result, they're only GPP options if you use an Astros stack. The same goes for Carlos Correa who has some reverse splits issues.
White Sox @ Royals
My projections embedded at the bottom of this post (which are based on the Depth Chart projections from Fangraphs) have Chris Sale as the highest projected pitcher of the evening. The projections even think his price tags on both sites are more than reasonable. But I'm finding myself going against the projections. Yeah, Sale has a 1.64 ERA in his last three starts, but he's getting by on some good fortune with a .222 BABIP and 88 percent strand rate in that stretch. His strikeout and walk rates have been merely average recently, and his SIERA is an unimpressive 4.08 in that stretch. His matchup with Kansas City isn't overly intimidating as the Royals rank 17th in wRC+ vs. LHP, but they strikeout well less than average. Given KC's tendency to make plenty of contact and Sale's stated purpose of pitching more to contact, there may not be a ton of strikeout upside here.
Reds @ Cardinals
No starter in action today has a better SIERA than Mike Leake (2.65) over the last 30 days. Of course, it's also true that only one starter in action today has an ERA higher than Leake (6.52) over the last 30 days. But I'm much more inclined to give weight to his SIERA given the misfortune he's had recently and the excellent strikeout and walk rates he has posted. In his last five starts he has a .398 BABIP and a paltry 53 percent strand rate. He could stand to generate a bit more soft contact, but he's not giving up a ton of hard contact. His BABIP is way too high based on hit batted ball allowances. As for the things he has more control over, he has 30 strikeouts compared to just one walk in his last 29 innings. That's all I need to hear. He has a fine matchup with the Reds who rank 27th in wRC+ vs. RHP and have only one tough bat to throw at Leake, left-handed Joey Votto. Leake is priced about right on FD, but he's priced so cheaply on DK ($4,500) that it will be hard to leave him out of any lineup in any contest type.
Orioles @ Athletics
There's probably not a player I've rostered more in GPPs this season than Pedro Alvarez simply because the projections always love him against a below average right-hander. He'll face just that tonight against RHP Zach Neal against whom 49 left-handed hitters this season have a combined wOBA of .409. Alvarez has been smoking hot going 14 for his last 36 with six home runs. His price has caught up to his recent production a bit, but he's still plenty reasonably priced on FD. Manny Machado has also been hot, going eight for his last 19 with four home runs in his last two games. He's a bit pricey on both sites but fine paying up for when you can.
Baltimore will send LHP Wade Miley to the hill, and Oakland has several right-handers with very good numbers vs. LHP: Jake Smolinksi, Danny Valencia, Marcus Semien, and, to a lesser extent, Billy Butler. A couple of those guys have struggled of late, but the only left-hander they've faced in the last week was Jon Lester, so they haven't exactly had favorable matchups like the one they'll have tonight. Those four guys all hit in the top five of the order when they faced Lester, so they'd make for a nice stack if that happens again. Semien is probably the best bet for cash games, while Smolinski is probably the best salary relief.
Tigers @ Mariners
Seattle has a couple of right-handers who hit left-handed pitching very well: Nelson Cruz and Franklin Gutierrez. They'll face LHP Daniel Norris tonight who has a 4.43 xFIP vs. RHP this season. Gute has a 176 wRC+ in the last 14 days and very good price tags on both sites, so he's the best option here. Cruz is struggling of late, but with a 163 wRC+ vs. LHP this season, he can't totally be ignored. Gute and Cruz are usually separated by Robinson Cano in the order, and those three could work as a mini-stack given that Cano is a bit better than average without the platoon advantage. Mike Zunino could also be a salary relief option on DK. He's been swinging it well with a 212 wRC+ in the last 14 days.
Phillies @ Dodgers
This one is all about Dodgers. Kenta Maeda will get the start, and he's been excellent of late with 31 strikeouts and just one walk in his last 29 innings, which is fueling a 2.85 xFIP in the last 30 days. The Phillies rank 29th in wRC+ with a slightly-higher-than-average strikeout rate against them. Maeda is priced more than reasonably on both sites and is my favorite pitcher of the day.
As for bats, Adrian Gonzalez and Yasmani Grandal both have above average numbers vs. RHP and have been swinging the bat well of late. Gonzalez is priced well enough on both sites, and Grandal is priced well enough on FD. Corey Seager has been struggling a bit, and Justin Turner is a bit pricey. But both have very good numbers vs. RHP and would be good options if you wanted to go with a Dodgers stack.
Player Rankings
**Players are listed according to their FD positional eligibility
Catcher
First Base
Edwin Encaracion (better price DK)
Second Base
Third Base
Shortstop
Outfield
Starting Pitcher
Research Chart
Download today's research chart from this Google Sheet. Projections are derived from Fangraphs Depth Chart projections, which are cut down to a per-game basis and then adjusted for ball park and matchup. A glossary for the columns in the 'hitter research' tab is included below the chart.
SP Adj. – Multiplier based on projected FIP (based on ZiPS) of opposing pitcher against hitters of that handedness
BP Adj. – Multiplier based on 2015 Fangraphs HR park factor for LHH or RHH
Pen Adj. – Multiplier based on xFIP of opposing bullpen against hitters of that handedness
Last 7 – Hitter's wRC+ in last seven days
Last 14 – Hitter's wRC+ in last 14 days
L/R – Hitter's 2015-2016 wRC+ against LHP or RHP
Projections and values are then included for each site.
[/cointent_lockedcontent]