Daily Fantasy Baseball Strategy: July 27, 2015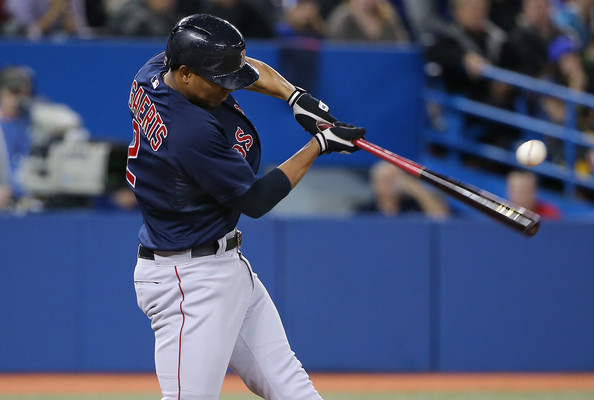 Welcome back to The Fix! I'm here to discuss the top plays and values for tonight's 9-game slate on DraftKings. I'll give you my thoughts on the slate, and at the bottom we have rankings of the top plays at each position. If you're on Twitter, you can find me @RyNoonan.
Forecast
It's difficult to nail down weather hours and hours before first pitch, but there could be some rain and high winds in the mix this evening. Given how often forecasts change between the time this post is written late the night before and when games actually start, make sure to follow @KevinRothWx for updates.
Pitching Perspective
Another Monday, another terrible pitching pool from which to begin your roster construction. If you're looking for 'value' here, you're barking up the wrong tree. The top options are all over-priced, but we have to play the hand we're dealt.
The Cardinals' Lance Lynn ($11,100) is the premier option on the board, and is an extremely safe cash game play today. He faces a Reds' lineup that's essentially neutral against right-handed pitching (97 wRC+), and Vegas has Cincinnati with the lowest implied run total of the day at 3.1. Vegas likes Lynn and the Cardinals quite a bit here (-200) but so will everyone else.
The other pitcher with a price tag north of $10,000 today is Detroit's Anibal Sanchez ($10,200). He has an even better matchup than Lance Lynn, as the Rays have 'passed' the Mets and Phillies and now have the league's worst wOBA against right-handed pitching (.289). That's quite a feat. This game is at the Trop, a pitcher-friendly park which suites Sanchez and his hefty fly-ball rate.
The discounted days of Chris Heston ($9,500) appear to be a thing of the past, and rightfully so. He's not a $9K+ pitcher, but he's solid, essentially league average in both walk and strikeout rates. His 56.8% ground ball rate is a beautiful thing, and he's been death to right-handed bats (.264 wOBA) which will help against the mostly right-handed Brewers lineup.
A pair of young lefties are going head-to-head in Seattle tonight, and both have some appeal tonight. I prefer Robbie Ray ($8,000) over Mike Montgomery ($7,300), especially in tournaments. The cost savings will likely drive most to Montgomery here, and lower ownership totals are always something I'm seeking out for GPP's, especially when the matchup and skills are comparable.
The one interesting 'punt' play today is Baltimore's Kevin Gausman ($4,300). The former first round pick has way too much talent and strike out upside (7.9 K/9) to be near min-sal, and the Braves are a below average offense against right-handed pitching (90 wRC+). I thought he was under-priced in his last start, and he's $1,900 cheaper here today.
Stack Options
According to Vegas, our best bets today are the Red Sox (4.8 implied-run total), Yankees (4.6) and Rangers (4.4)
The Red Sox are coming off of an 11-run outburst on Sunday night, and their gift for that success comes in the form of John Danks. The Red Sox have not exactly been left-handed killers this season (82 wRC+) but they have enough bats that are above average against southpaws that they're likely have their way with Danks tonight. Xander Bogaerts ($3,600) is extremely under-priced here, and his multi-position eligibility is a plus.
If you aren't using Yankees' OF Chris Young ($3,200) when they face a lefty, you're doing it wrong. He's great salary relief and is likely to hit near the top of the order, as well. Matt Harrison is taking the ball for the Rangers tonight, and his fly-ball tendencies will likely be an issue for him tonight.
Vegas likes the Rangers tonight too, and so do I. We haven't seen much of Ivan Nova (4.82 FIP) this season, but we know enough about who he's been in the past. He won't miss many bats, and the Rangers have been one of the league's better offenses' when facing right-handed pitching (.327 wOBA/105 wRC+).
Player Rankings
Catcher
1. Buster Posey – $4,300 San Francisco Giants
2. Caleb Joesph – $2,800 Baltimore Orioles
3. Nick Hundley -$3,500 Colorado Rockies
4. John Ryan Murphy -$2,400 New York Yankees
First Base
1. Mitch Moreland – $3,800 Texas Rangers
2. Prince Fielder – $4,500 Texas Rangers
3. Brandon Belt -$3,900 San Francisco Giants
4. Freddie Freeman – $4,300 Atlanta Braves
5. Paul Goldschmidt – $6,000 Arizona Diamondbacks
Second Base
1. Rougned Odor -$3,800 Texas Rangers
2. Jason Kipnis -$4,900 Cleveland Indians
3. Kolten Wong -$4,000 St. Louis Cardinals
4. Joe Panik -$3,700 San Francisco Giants
Third Base
1. Manny Machado -$4,600 Baltimore Orioles
2. Matt Carpenter -$4,100 St. Louis Cardinals
3. Matt Duffy– $3,600 San Francisco Giants
4. Kris Bryant – $4,600 Chicago Cubs
Shortstop
1. Xander Bogaerts $3,600 Boston Red Sox
2. Hanley Ramirez $4,200 Boston Red Sox (OF)
3. Nick Ahmed -$2,400 Arizona Diamondbacks
Outfield
1. Charlie Blackmon -$4,700 Colorado Rockies
2. Nelson Cruz – $5,000 Seattle Mariners
3. Chris Young – $3,200 New York Yankees
4. Yoenis Cespedes -$4,100 Detroit Tigers
5. Nolan Reimold – $2,000 Baltimore Orioles
6. Carlos Gonzalez – $4,100 Colorado Rockies
7. A.J. Pollock -$5,400 Arizona Diamondbacks
Starting Pitcher
1. Lance Lynn – $11,100 St. Louis Cardinals
2. Chris Heston – $9,500 San Francisco Giants
3. Anibal Sanchez $10,200 Detroit Tigers
4. Kevin Gausman – $4,300 Baltimore Orioles
5. Robbie Ray -$8,000 Arizona Diamondbacks