Daily Fantasy Baseball Strategy: September 25, 2015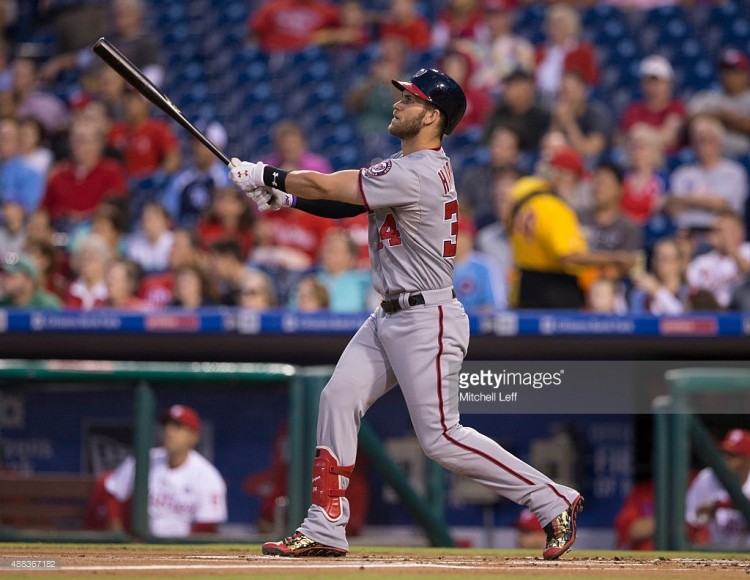 Welcome back to The Fix! The MLB regular season is winding down, so let's take advantage of one of our final weeks of MLB DFS. We have a 14-game slate tonight on DraftKings, ignoring the Cubs and Pirates matinee since the majority of the contests will skip that game. I'll give you my thoughts on the slate, and at the bottom we have rankings of the top plays at each position. If you're on Twitter, you can find me @RyNoonan.
Forecast
It's difficult to nail down weather hours and hours before first pitch. Given how often forecasts change between the time this post is written late the night before and when games actually start, make sure to follow @KevinRothWx for updates.
Pitching Perspective
We're in a strange point of the season where it's winding down and some teams have little to play for besides pride. Other clubs are still battling for a playoff spot while others are just trying to keep their pitchers healthy as we enter the offseason. It makes the DFS waters muddy in terms of pitcher selection tonight.
Our top dog tonight is Jose Fernandez ($12,700) against the Braves in Miami. Rostering one of the game's best pitchers against one of the league's worst offenses is an easy play, but not when that pitcher isn't allowed to work past 6-7 innings or 100 pitches. The Marlins are being extra cautious with Jose Fernandez (2.18 ERA/1.93 FIP), limiting his work after his recent bicep strain. I don't have to go on and on about how he's a great play against the Braves, but he'll be hard press to reach 25-30 DraftKings points if he can't work deep in to the game.
It's always frustrating to have one of the slate's best strikeout pitchers going up against the Royals.Kansas City has displayed some of the best contact skills that we've ever seen over the course of entire season. They rarely strike out (15.9%) and never walk (6.4%), limiting the upside of the opposing pitcher and putting extra pressure on their opponent's defense. Carrasco has had some success against them this season though, striking out nine Royals just 1o days ago. There's a lot of capped upside in the slate tonight, but I like Carrasco because he doesn't appear to be on a pitch/innings limit at all.
We can't say the same about Noah Syndergaard ($10,900). While Terry Collins hasn't come out and flat out said that, he appears that the Mets are being cautious with his usage down the stretch. The matchup against the Reds (92 wRC+) is decent, but again we're dealing with capped upside.
Rarely am I ever excited about using Jordan Zimmermann ($8,600) but I think he's an excellent cash game play tonight. He's has pitched well of late, accumulating some often-nowhere-to-be-found strikeout numbers. His K/9 was under 7 for much of the season, but has climbed up to a serviceable 7.41 over the past few weeks. He's home against the Phillies who have been especially terrible of late (.277 wOBA/71 wRC+). We're also getting Zimmermann for $600 less than he was in his last start. He feels like a solid cash game play for $8,600.
Another viable option tonight is Carlos Martinez ($9,800) who's taking the ball against the Brewers in St. Louis. Walks can still be an issue at times (3.22 BB/9), but he induces a ton of ground balls (54.7%) for a pitcher with a strong strikeout rate (9.23 K/9). Milwaukee has been solid of late, 101 wRC+, but nothing that we should be shying away from. Their low walk rate (6.9%) helps minimize Martinez's glaring weakness.
The last pitcher that needs to be mentioned is Rich Hill ($4,300). Yes, THAT Rich Hill. The one that was a sneaky fantasy pick and up-and-coming starter nearly 10 seasons ago with the Chicago Cubs. Despite striking out 10 batters in both of his starts this season, his price only jumped a little, up to $4,300. His 20 strikeouts have come against two of the best left-handed hitting teams in the game as well, the Blue Jays and Rays. Tonight's matchup against the Orioles is much more favorable given the O's propensity to swing and miss (23.2% K-rate). I'm not sure I trust Hill a ton, (why should we?) but he's definitely in play here.
Stack Options
According to Vegas, our best bets today are the Rockies (6.1 implied-runs), Dodgers (5.4), and Tigers (4.8)
Ah yes, Coors Field. A slate is always a bit different when Coors is in play and tonight will be no different. The Rockies are the clear cash game play tonight, and they really aren't that expensive compared to what we've seen from them earlier in the year. Corey Dickerson is just $4,000 and even Nolan Arenado is just $4,900.
The Rockies will throw David Hale against the Dodgers and we're seeing more of a Coors-induced price bump there. Even with a implied-run total that's quite a bit higher than the Rockies, you'll have to pay up to stack the Dodgers. Wait and see what their lineup looks like today and then try and get some cheap exposure instead of stacking.
Matt Boyd is a very generous pitching, giving up hits and runs to everyone. The Twins' right-handed and left-handed bats are in play against Boyd.
Other offensive notes:
The Cardinals bats are in play tonight against Ariel Pena. Pena has shown extreme fly ball tendencies in his limited innings this season, and left-handed bats have feasted on him as well.
I'm not sure targeting a potential Cy Young candidate is a great play, but Sonny Gray has been terrible lately. You can get the Giants for a deep discount and Gray's name will keep ownership down. Love them for tournaments.
I don't know which Anthony DeSclafani that we're going to get, but I feel like I know which Mets team we'll get. The one that's been destroying the ball in the second half of the season. They have a .340 wOBA and 119 wRC+ over the past 30 days, and most of their bats have neutral handedness splits.
Player Rankings
Catcher
1. Tom Murphy – Colorado Rockies $2,800
2. Travis D'Arnaud – New York Mets – $4,300
3. Buster Posey – San Francisco Giants -$4,000
First Base
1. Justin Morneau – Colorado Rockies $3,900
2. David Ortiz – Boston Red Sox $4,500
3. Mark Canha – Oakland Athletics $3,700
4. Jose Abreu -Chicago White Sox $4,800
Second Base
1. Brian Dozier– Minnesota Twins $4,600
2. Daniel Murphy – New York Mets $4,100
3. Kolten Wong – St. Louis Cardinals $3,800
Third Base
1. Nolan Arenado – Colorado Rockies $4,900
2. Matt Carpenter – St. Louis $5,000
3. Miguel Sano – Minnesota Twins $5,000
Shortstop
1. Carlos Correa – Houston Astros 4,600
2. Jose Reyes – Colorado Rockies $4,200
3. Cristhian Adames– Colorado Rockies $2,000
Outfield
1. Carlos Gonzalez – Colorado Rockies $4,500
2. Charlie Blackmon – Colorado Rockies 5,100
3. Yoenis Cespedes – New York Mets $4,800
4. Corey Dickerson – Colorado Rockies $4,000
5. Bryce Harper – Washington Nationals $6,100
Starting Pitcher
1. Rich Hill – Boston Red Sox $4,300
2. Carlos Carrasco – Cleveland Indians $10,300
3. Jordan Zimmermann – Washington Nationals $8,600
4. Carlos Martinez – St. Louis Cardinals $9,800
5. Jose Fernandez – Miami Marlins $12,700