Daily Fantasy Baseball Strategy: September 29, 2015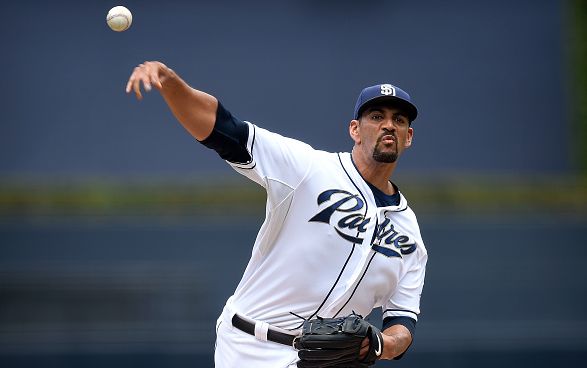 Below we've got a discussion of the starting pitching situation as well as the best teams to use for stacks for Tuesday's 15-game evening slate on DraftKings.We've also got projections derived from Dan Szymborski's ZiPS projections and rankings of the top plays at each position.
Pitching Perspective
Unless you go super cheap at pitching today (like $5,000 or less cheap), you're going to have a hard tie finding much value. According to my model (embedded below), none of the 15 most expensive pitchers today are noticeably underpriced. There are plenty of guys on the other end of the spectrum who are overpriced, which is why I'm not on some big names today like Clayton Kershaw and Cole Hamels as well as mid-price guys like Jeff Samardzija, Cody Anderson and Kyle Gibson.
With most guys so appropriately priced, I'm simply looking for guys I can count on, and a big part of me trusting someone is how well they have been pitching lately. That's why Tyson Ross ($10,300) is probably my favorite pitcher of the day. Ross has a 1.97 ERA in his last five starts, and it's backed up by a 2.99 xFIP. He also has a very good matchup with the Brewers who have fifth lowest wRC+ and ninth highest strikeout rate in the league against right-handed pitching.
Madison Bumgarner ($12,400) has also been pitching well lately, though when is he ever really pitching poorly? The Dodgers offense is sputtering of late with the eighth lowest wRC+ in the league over the last 30 days. I wouldn't choose to roster Bumgarner instead of Ross, but, if you could make it work with cheaper bats, I could see rostering Bumgarner along with Ross in cash games.
If you want to talk bargains, again, you've got to go quite a ways down the pricing list. The first value option I see is Adam Conley at $6,300. Conley has a 2.42 ERA in his last five starts, though he's likely pitching above his head somewhat as his xFIP is 3.64 in those four starts. But a 3.64 xFIP is more than respectable. Conley also has some strikeout upside as his K/9 over his last four starts is a tick over 10. The matchup with Tampa is tough as the Rays hit lefties pretty well, but his form is good and his price is accessible.
Opposing Conley is Matt Moore, who also looks like a value option. Moore ($4,900) was not good at all in his first six starts back from the DL starting in July, but he has found his way a bit in his last four starts. In that time frame he has a 3.86 ERA backed up by a 3.81 xFIP and a solid K/9 of 8.49. His matchup against Miami is just average, but it's better than Conley's. Conley is probably the better pitcher at this point, but Moore is probably the better value today.
The other cheap option is Nick Tropeano ($4,700). Trop has a 3.29 ERA and 9.88 K/9 in his last three starts, which looks pretty good. But his xFIP in that time frame is just 4.22 due to a shaky 3.95 BB/9. I don't love his matchup against the A's who strikeout infrequently, but he's cheap enough to warrant consideration.
Here are our projections for today's starters. You'll see each starter's salary, the average number of fantasy points the starter is projected to score per game and how far above or below average his projection is compared to his salary in the value column. You'll also see adjustments being made for matchup and ballpark. As for the colors, they rank as follows from good to bad: purple, blue, green, yellow, orange, red, burgundy.
Stack Options
If you're looking for a team-heavy stack, I'd lean towards the Mets or the Cubs. The Mets would be my first choice if they play their starters. They sat all their starters on Sunday after clinching the division on Saturday, but presumably they're not going to sit everyone all week until the playoffs start. They may sit a guy or two each day, which could prevent you from loading up on Mets, but whatever lefties they have in the lineup are options today. They'll face David Buchanan who has a 6.24 xFIP against lefties this year. Lucas Duda, Curtis Granderson and Daniel Murphy are all very, very good options. Kelly Johnson is also a nice value option if in the lineup, and Yoenis Cespedes could be used along with the lefties to connect a stack.
As for the Cubs, a lot of their guys have been scuffling of late, but they have a great matchup against Josh Smith who has a 7.23 ERA and 5.70 xFIP this year. It's a tiny sample size, but he has been especially bad against left-handers as he has a 7.06 xFIP against them. Vegas loves the Cubbies today placing them in a virtual tie with Arizona for the highest implied run total of the day (the Mets have the third highest implied run total).  Anthony Rizzo, Kyle Schwarber, Chris Coghlan, Miguel Montero and Dexter Fowler are all options and reasonably priced. Like Cespedes with the Mets, Kris Bryant could also be used to connect a team-heavy stack.
As for the D'Backs, I see why Vegas likes them against Christian Bergman who owns a 5.24 ERA in exactly 500 career batters faced. I don't see a team-heavy stack with Arizona, but A.J. Pollock, Paul Goldschmidt and Yasmany Tomas could make for a good mini-stack. Other mini-stack options include LA's Kole Calhoun, Mike Trout and Albert Pujols against Chris Bassitt with Calhoun being a nice value option as Bassitt has a 4.93 xFIP against lefties. The middle of the Toronto lineup in Josh Donaldson, Jose Bautista and Edwin Encarnacion is almost always an option if you can afford it, but I doubt you can today.
You can view and download our hitter projections here. These projections are an average of what each hitter is projected to do on a per game basis according to the ZiPS rest-of-season projections. The projections have then been adjusted for splits, quality of the opposing starting pitcher and ballpark.
Player Rankings
Catcher
Wilin Rosario – $2,600 – Colorado Rockies
Kyle Schwarber – $4,400 – Chicago Cubs
Miguel Montero – $3,500 – Chicago Cubs
First Base
Lucas Duda – $4,700 – New York Mets
Freddie Freeman – $4,400 – Atlanta Braves
Anthony Rizzo – $5,200 – Chicago Cubs
Second Base
Daniel Murphy – $4,300 – New York Mets
Jose Altuve – $4,500 – Houston Astros
Chris Coghlan – $3,600 – Chicago Cubs
Third Base
Adrian Beltre – $4,600 – Texas Rangers
Kelly Johnson – $3,000 – New York Mets
Derek Dietrich – $2,500 – Miami Marlins
Shortstop
Carlos Correa – $4,800 – Houston Astros
Elvis Andrus – $3,800 – Texas Rangers
Addison Russell – $3,300 – Chicago Cubs
Outfield
Starting Pitcher