2020 Fantasy Baseball: Fun with PECOTA– Third Basemen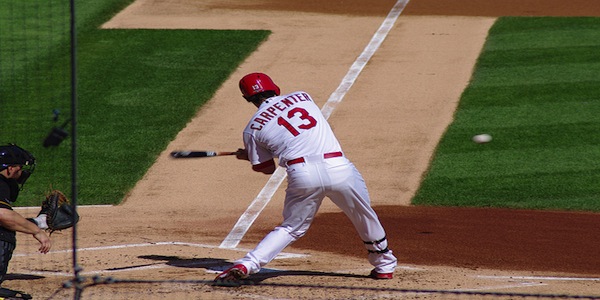 This time around we are going to combine a couple of different features into one article. We had started a variation of the three to keep, add, and drop when I shifted gears to fun with PECOTA. So, we will combine those here. We are taking a look at three third basemen that typically went undrafted (drafted by less than 50 percent of Yahoo leagues), but are somehow rated highly by PECOTA. We will add in the Steamer and Rotowire projections to offer a basis of comparison.
PECOTA comes from Baseball Prospectus and is one of the few things I look forward to every Spring. Unfortunately, supply chains and delivery delays brought this series a little later than I normally would like. Fortunately, we have plenty of time until the season actually begins. All projections are based on a 162 game schedule. As we know, that is highly unlikely. The current estimates are a 100 game season. Numbers can be adjsted there, but we will keep to 162 game projections to keep things easier to comprehend.
Rankings for third basemen for Baseball Prospectus are based on two points. First, we use Value Over Replacement Player (VORP). That compares all third basemen with the typical AAA second basemen. Secondly, we took the top 25 third basemen that will primarily play third base. There will be players that are eligible at third base than will be used elsewhere because that is where they will play most of the time this year.
Three to Add
Brian Anderson– Miami Marlins
VORP: 15.2 (17th)
Yahoo Owned: 25%
Yahoo 5: 18
Yahoo 6: 19
PECOTA: .248/20 HR/67 Runs/73 RBI/2 SB/51 BB
Rotowire: .267/16 HR/71 Runs/67 RBI/7 SB/53 BB
Steamer: .260/21 HR/76 Runs/76 RBI/5 SB/59 BB
Rankings are one thing and Yahoo seems to have him pegged accurately there, but Anderson is one of those rare guys that has infield and outfield eligiility. Interestingly enough, the other two systems seem to be even more bullish on Anderson. He may not be starter material, but the eligibility alone means he should be owned in more than 25 percent of leagues.
Austin Riley–Atlanta Braves
VORP: 13.8 (18th)
Yahoo Owned: 16%
Yahoo 5: 23rd
Yahoo 6: 25th
PECOTA: .243/31 HR/69 Runs/85 RBI/1 SB/36 BB
Rotowire: .258/22 HR/59 Runs/66 RBI/0 SB/26 BB
Steamer: .250/15 HR/35 Runs/43 RBI/1 SB/20 BB
Again, we are talking multi-positional flexibility. The question is going to be how much he gets to play. If they allow him to play third and the outfield then he could get enough plate appearances to put up the numbers that PECOTA is projecting. It's hard to leave a 30 home run guy on the waiver wire. I suppose it is wise to leave him there for the time being, but he should be on the short list.
Matt Carpenter–St. Louis Cardinals
VORP: 12.4 (19th)
Yahoo Owned: 14%
Yahoo 5: 20th
Yahoo 6: 16th
PECOTA: .227/17 HR/56 Runs/58 RBI/3 SB/65 BB
Rotowire: .240/23 HR/82 Runs/62 RBI/4 SB/84 BB
Steamer: .237//22 HR/74 Runs/61 RBI/5 SB/78 BB
There was a time in August of 2018 when Carpenter looked like he would be the NL MVP. It's been downhill since then. If you are looking for a bouneback candidate you could do a lot worse. I wouldn't expect 2018 numbers again, but he is an intriguing option in six category leagues. Like most of these guys, it's a bench role, but you could do a lot worse.
Three to Avoid
Miguel Andujar–New York Yankees
VORP: 8.4 (22nd)
Yahoo Owned: 69%
Yahoo 5: 15th
Yahoo 6: 18th
PECOTA: .257/20 HR/51 Runs/62 RBI/2 SB/22 BB
Rotowire: .284/19 HR/66 Runs/63 RBI/1 SB/26 BB
Steamer: .270/22 HR/63 Runs/73 RBI/3 SB/26 BB
Wally Pipp was an all-star first baseman until Lou Gehrig came along. Andujar was brilliant in 2018 until D.J. LeMahieu and Gio Urshella stepped in last season and filled the void. Neither of them are a disaster with the glove like Andujar. Andujar may get time at first base, so maybe he will have the plate appearances and multipositional flexibility.
Josh Donaldson–Minnesota Twins
VORP: 16.1 (16th)
Yahoo Owned: 96%
Yahoo 5: 11th
Yahoo 6: 7th
PECOTA: .249/31 HR/83 Runs/90 RBI/5 SB/85 BB
Rotowire: .259/36 HR/92 Runs/91 RBI/3 SB/97 BB
Steamer: .268/35 HR/98 Runs/101 RBI/4 SB/91 BB
It would be insane not to own Donaldson. It might be an overreach at this point to make him a starter at this position. This is particularly true in five category formats. He is one of those players that will fall over the hill at some point. It might not be this season, but it's coming.
Jean Segura–Philadelphia Phillies
VORP: 16.7 (15th)
Yahoo Owned: 76%
Yahoo 5: 16th
Yahoo 6: 17th
PECOTA: .273/12 HR/59 Runs/62 RBI/20 SB/30 BB
Rotowire: .291/13 HR/83 Runs.59 RBI/15 SB/33 BB
Steamer: .288/14 HR/74 Runs/62 RBI/12 SB/33 BB
This one has many layers. Segura is eligible at short in most formats, so he has a tremendous amount of value as a bench player. The problem is that speed is his main strength and speed is the first thing to go. I can't remember the second. He is especially shaky in six category formats. He is a nice guy to have on your bench, but he shouldn't be in anyone's starting lineup anymore.
Author's Note: The Hall of Fame Index Part II is available at Amazon.com. It was rated the number one new release in teen and young adult baseball nonfiction by Amazon.com. It's fun and entertaining for older adults as well.