2013 Fantasy Football Daily Fix, October 30 – Week 9 – Tight Ends and Kickers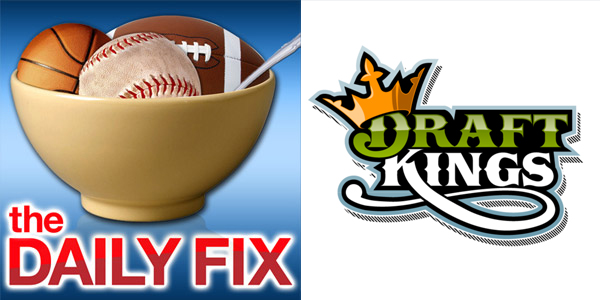 I'm back with the Week 9 DraftKings daily fantasy strategy for Tight Ends and Kickers. Are there any daily fantasy sleepers this week? I'll help you sort through the mix. But, first a note about DraftKings. New depositors will get a free ticket into a Millionaire Grand Final qualifier.  So you can get a free game with any deposit you make.  What are you waiting for?

News and Notes
Teams on bye for Week 9: Arizona Cardinals, Denver Broncos, Detroit Lions, Jacksonville Jaguars, New York Giants and San Francisco 49ers so we lose Julius Thomas and Vernon Davis who have been viable options most weeks. We also lose the friendliest team to TEs in the Arizona Cardinals. Indeed, half of the bottom eight teams against TEs are on bye (and Miami is also "out" due to the Thursday game), so we'll need to dig a bit deeper this week.
Thursday night game: Cincinnati Bengals at Miami Dolphins – so we lose the duo of Jermaine Gresham/Tyler Eifert and Charles Clay who all have been reasonable cheap options in past weeks.
Zac Stacy is not yet out of the woods as he is still undergoing tests on his injured ankle. Daryl Richardson would be the fill in for the Rams this week if Stacy can't go.
Andre Brown is due back next week for the Giants and could be put right into the starting lineup if he is indeed healthy. The Giants' duo of Brandon Jacobs and Peyton Hillis won't keep him from being a useful RB in deeper leagues.
Sidney Rice has a torn ACL and is done for the season as the Seattle Seahawks prepare for the return of Percy Harvin.
Nick Foles looks like he'll be the QB for the Eagles this week with Michael Vick out with an injury and Matt Barkley not good at football.
DraftKings Tight End Recommendations
If you've never played on DraftKings before, you can get a deposit bonus by signing up. And there are different options to pick from at DraftKings for any skill level.
Did you know that you can qualify for a million dollar top prize starting with just a $2 investment? It's all right here at the DraftKings Millionaire Grand Final. Wait. Did I already mention that?
Finally, a gentle reminder on the scoring for Tight Ends – this is a PPR site so remember that when selecting players.
10 Receiving Yards = +1PT (+0.1PT per yard is awarded)
Reception = +1PT
Receiving TD = +6PTs
100+ Yard Receiving Game = +3PTs
Fumble Lost = -1PT
2 Point Conversion (Pass, Run, or Catch) = +2PTs
The full DraftKings scoring system is here.
Tight Ends can also be used in the flex position at DraftKings. However, with the entire world of RBs and WRs at your disposal, it would be unlikely you'd have to head to the TEs to pick up a flex play. Jimmy Graham is always in play as a flex option.
Let's take a look at a couple of options at each price point. I'll mention Football Outsiders a lot – the passes per game and yards per game stats I use are from Football Outsiders. Here is the link to Football Outsiders' 2012 stats. FO has updated their stats for 2013 and you can find them here.
The Graham Tier
Jimmy Graham was iffy to play last week and it showed as he only played 18 snaps after averaging 52.5 entering the game. Even with that, he decided to score two TDs and total 18.7 points on DraftKings. That said, he's probably going to be limited in the near future and be used mostly in red zone situations. So, the yards won't be there, but he'll still get his TDs. At $7,600 this week, I will stay away as he has a tough matchup with the Jets.
The Jeffersons
Antonio Gates | Chargers | $6,000 – Gates is elderly so his week off will hopefully help his old bones a bit. He gets a pretty good matchup against a Washington defense that gives up points in bunches. Washington is giving up an average of 13.2 points per game to TEs in DraftKings
Jordan Cameron | Browns | $5,100 – The yardage was there last week for Cameron even with Jason Campbell at the helm. Cameron's production has been solid the last three weeks (double digits in each) and should provide solid production this week against a Ravens defense that is relatively friendly (13.8 point per game average).
All in the Family
Jordan Reed | Washington | $5,000 – Reed's salary continues to creep upward, but his production continues to follow along. The matchup isn't great as the Chargers give up only 10.3 points per game. However, Reed is clearly the number two option in the passing game for Robert Griffin III.
Good Times
Martellus Bennett | Bears | $3,900 – Bennett gets a cherry matchup this week against a Green Bay defense that is hurting at linebacker. They give up 17.2 points per game to TEs on Draftkings (second highest in the league). The downside for Bennett is that Josh McCown is in at QB now for the Bears though they did hook up for a TD against Washington with McCown on in relief of Jay Cutler.
Kyle Rudolph | Vikings | $3,600 – Rudolph's QB situation is murky as well as the Vikings have gone through Christian Ponder, Matt Cassel and Josh Freeman. Is Joe Webb far behind?
From Way Downtown
Anthony Fasano | Chiefs | $3,000 – Fasano isn't great and the Chiefs offense isn't exactly dynamic. However, Jamaal Charles is nursing a bit of an injury and Fasano could be a red zone option against a middle Bills' defense.
DraftKings Kicker Recommendations
Your weekly update on this guy is that he's still not on a roster. Sadly.
A reminder of the DraftKings scoring is below.
There are distance-based bonuses for kickers and no penalties for misses so you can take on risk without penalty.
Extra Point = +1PT
Field Goal 0-39 Yards = +3 PTs
Field Goal 40-49 Yards = +4PTs
Field Goal 50+ Yards = +5PTs
We have the same spread as last week as the most expensive kickers are at $4,000 and the bottom sits at $3,000. A few hundred dollars may not sound like a lot, but every bit counts when assembling your roster. Again, I can't suggest paying too much for a kicker so we'll look at the options further down the line.
Billy Cundiff | Browns | $3,000 – The Ravens are back on the docket and they give up three FG attempts per game. The Browns don't have much of a running game, so Cundiff could see some opportunities against his former squad.
Dan Bailey | Cowboys | $3,400 – Bailey's output last week was stupendous and he gets a Vikings team that doesn't give up a lot of FGAs per game (less than 2), but sure likes to give up TDs (almost four per game) so Bailey could be in for another double digit performance.