Daily Fantasy Baseball Strategy: April 8, 2016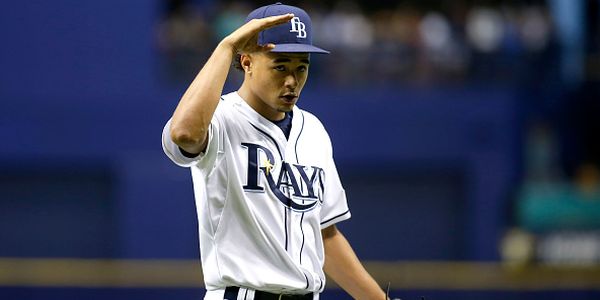 Below we've got a discussion of the starting pitching situation as well as the best teams to use for stacks for Friday night's ten-game slate. We've also added a few quick tutorials for you to check out from our partners at RotoQL to help guide your research for today's games.
The weather outlook isn't as bad today as it was yesterday, but be sure to check your sources for weather updates prior to lineup locks to make sure all of your players will get some play. Many times you can follow each team's Twitter feed, but I think Kevin Roth really does a fine job and think you could give him a follow if you don't already.
Before we get started, I wanted to share a quick look into what our partner RotoQL can provide for you when building your lineups. Below, you can see a look at their games tab page. While here, you can see the weather (like we discussed yesterday), implied team totals and over/unders. But what I really like using this page for is setting up stacks. To the left of each player's name you can click on the "stack" button and the page will automatically update with your stack's cost and price per projected point. Really, really helpful. To learn more about RotoQL or to take a look at the packages they have to offer, please follow this link – it will truly help you become a better daily fantasy baseball player.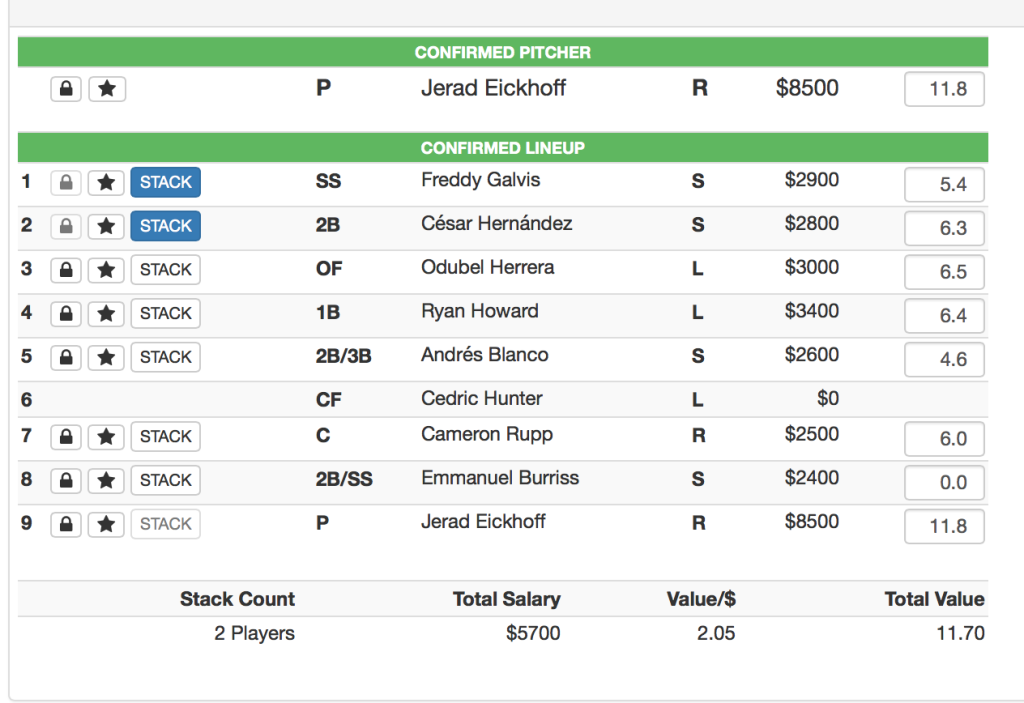 PITCHING PERSPECTIVE
[cointent_lockedcontent article_labels="baseball"]
With a ten-game slate on the docket we have more than a handful of fine pitching options to select from. There are only two pitchers that come in more than $10,000 (Chris Archer, Francisco Liriano), but we have six hurlers above the $9,000 threshold.
The first arm I'm looking at is the high risk/high reward right-hander, Yordano Ventura. Ventura comes in at $9,200 at DraftKings and could hope to replicate what Ubaldo Jimenez did against the Twins last evening. Again, the Twins fall in the bottom five among MLB teams in wOBA against right-handed hurlers since the start of 2015. As a team, they're also among the ten teams that strikeout most against righties at 21.4%. This game features one of the lower run scoring totals of the night at 7.5 and the weather currently shows the wind blowing in towards first base. All things considered, Ventura should be a candidate for both cash and tournament lineups.
Jaime Garcia comes into tonight as the slate's second biggest favorite at -160 to pair with the lowest run total (7) of the evening. The Braves are a team that doesn't strikeout a whole lot in general — they whiff 20.6% against left-handers — so there's not exactly a high ceiling in that respect. But the Braves can also be found last among all MLB teams in wOBA against left-handed pitchers. Feel free to roster Garcia in both cash and tournaments, but you may want to limit your exposure in tournaments as many will likely be on the same page.
Chris Archer is on the hill for the Rays at Camden Yards with a total of 7.5 and the wind blowing out to right field. It's a hitter's park to begin with and the Orioles are the third best team in the league in terms of wOBA (.325) since the start of 2015, so that's a decent reason to avoid him if you like some cheaper options on two-pitcher sites. The Orioles also posted the league's fourth best ISO (.180) and sixth-best hadr contact rate (30.9% Hard%) against RHP since last season. But there is a ton of strikeout upside with Archer as the O's whiff the fifth most in the majors against right-handers. Archer is more of a tournament option and is expensive enough that his ownership in tournaments could be lower than guys like Garcia due to some of the items noted above.
The largest favorite of the night at the time of this writing is Taijuan Walker. He's sitting at -164 right now and has some strikeout upside that shouldn't be ignored in tournaments. Matt Shoemaker faces the Athletics (24th in wOBA vs. RHP) in Anaheim. Like the Braves, the Athletics don't whiff too much against righties so strikeouts may be limited, but at $6,200 he presents a nice value with a nice chance to get the victory at a -133 favorite. Two of the arms that will probably be higher owned tonight are Francisco Liriano and Marcus Stroman, but should be considered in both cash and tournaments considering their high ceilings if you want to afford them.
STACK OPTIONS
Tampa Bay Rays – Lots to like here with a team that may be stacked less for tournaments. If you're not into stacking the Rays against Tillman, there's plenty of singleton options to consider as featured in our rankings below.
Pittsburgh Pirates – In a hitter's park with a nice total of eight runs against Alfredo Simon of the Reds.
Chicago Cubs/Toronto Blue Jays – This is an everyday thing, folks. Not sure we need much explanation here.
Houston Astros  – Lots to like here with the Astros who are second-best in baseball against RHPs in wOBA. This is the highest total of the night at 9 runs, so expect this to be somewhat chalky of a stack. If you're looking to get some exposure to the run line, the Brewers will likely be a stack that is lesser owned. They're someone to consider in tournaments.
San Francisco Giants – The Giants face Dodgers' right-hander Ross Stripling in San Francisco. The game features an 8.5 run total with the Giants implied coming in at five runs. Lefties Denard Span, Joe Panik, Brandon Belt and Brandon Crawford are to be considered. Hunter Pence and Buster Posey also sport excellent wOBAs against right-handed pitchers if you'd like to throw out six Giants at AT&T.  
PLAYER RANKINGS
DRAFTKINGS
CATCHER
Jonathan Lucroy – $3,800

Russell Martin – $3,700

Steven Vogt – $3,200

Devin Mesoraco – $3,100

Chris Ianetta – $3,200
FIRST BASE
Adrian Gonzalez – $4,100

Paul Goldschmidt – $5,100

Anthony Rizzo – $4,900

Eric Hosmer – $4,200

Albert Pujols – $4,200
SECOND BASE
Robinson Cano – $4,200

Chase Utley – $3,500

Scooter Gennett – $3,200

Joe Panik – $3,800

Kolten Wong – $3,600
THIRD BASE
Matt Carpenter – $4,200

Manny Machado – $4,400

Evan Longoria – $4,000

Jonathan Villar – $3,500

Luis Valbuena – $3,600
SHORTSTOP
Carlos Correa – $4,800

Brandon Crawford – $3,800

Eugenio Suarez – $3,400

Troy Tulowitzki – $4,100

Jordy Mercer – $3,000
OUTFIELD
Nelson Cruz – $4,700

John Jaso – $3,300

Mike Trout – $5,200

Corey Dickerson – $3,700

Jose Bautista – $4,800

David Peralta – $3,600

Andrew McCutchen – $5,000

Preston Tucker – $3,300

Gregory Polanco – $4,300

Colby Rasmus – $3,400

Steven Souza, Jr. – $4,000
STARTING PITCHER
Yordano Ventura – $9,200

Jaime Garcia – $9,400

Chris Archer – $10,700

Matt Shoemaker – $6,200

Francisco Liriano – $10,300
[/cointent_lockedcontent]