2013 Fantasy Baseball Rookie Report, Week 7: Miller vs. Ryu for Rookie of the Year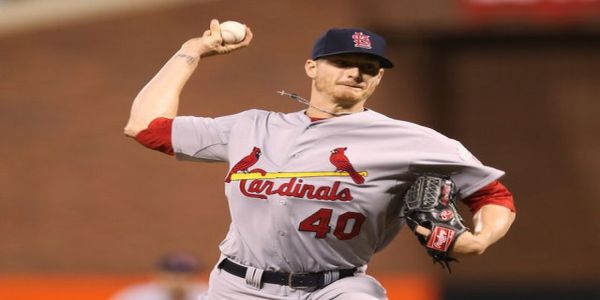 Two clear front-runners for the National League Rookie of the Year award have emerged through the first quarter of the season, St. Louis's Shelby Miller and the Dodgers' Hyun-Jin Ryu. Both started the season well. Ryu has had a couple rough outings and bounced back from them, and Miller has been dominant in every start except two where he failed to get out of the sixth inning both times but just allowed two and three runs, respectively.
The two rookies are similar in classification alone. Miller throws basically only two pitches – a four-seam fastball that hitters have a .216 True Average against this year and a curveball that's limited hitters to a .131 True Average. The four-seamer averages just under 94 mph, and the curve sits at just above 80 mph. By now you've heard and read all about Miller's near-perfect game from Friday night, where he struck out 13 Rockies and didn't allow a base runner after allowing a lead-off bloop single in the first inning. It was obviously Miller's best start as a major leaguer as he averaged 94.76 mph on his fastball and topped out at over 97. He got 12 swinging strikes on only 93 pitches that were fastballs and also painted both corners to strike out several Rockies looking. His curveball was also working as he was locating it down in the zone all night long, throwing 14 of his 18 curveballs for strikes. He only gave up a couple hard-hit balls all night, and he struck out Dexter Fowler, Carlos Gonzalez and Troy Tulowitzki a combined seven times.
Ironically, Ryu's best start of the season also came against the Rockies, who are the second highest scoring NL team. Ryu struck out 12 in that game while throwing all four of his pitches at least 13 times. He got 16 swings and misses on only 105 pitches, which is a 15.2 swinging strike rate and is really freaking good. Ryu's fastball only averages 91 mph, and I was skeptical at the beginning of the season about his outlook because he didn't throw very hard. But Ryu's four-pitch arsenal has proven more than capable of shutting down lineups. He throws his fastball just 52 percent of the time, his changeup 25 percent of the time and his slider and curve 14 and 9 percent of the time, respectively. Against the Rockies five of Ryu's 12 strikeouts came on his curveball, which usually ends up below the zone and in the dirt but still gets a bunch of swings and misses – almost 15 percent of the time it's thrown. Ryu's fastball is hittable – opponents have a .274 TAv against it – but his other three plus offerings have limited hitters to a .225 TAv or worse.
Both pitchers should continue to have success, and we shouldn't worry about them being shutdown early. Miller threw 139.2 innings in 2011 and 153.2 last year so while he may get a start skipped here or there he should be good for at least 170 innings this year. Ryu pitched from 2006 to 2012 in the Korea Baseball Organization so it's not like he's never handled a large workload throughout a season.
Tony Cingrani's taken a step back since his stellar three-start stretch to open his 2013 campaign. Cingrani's allowed six earned runs in his last two starts stretching 10 innings. He's still struck out nine and walked only three, but he failed to pitch into the fifth inning in his last start against the Brewers. He's given up four home runs in May while still throwing mostly fastballs. In his two May starts he's throwing 88 percent fastballs and hitters have a .274 TAv and a .531 slugging percentage against it. The Cincinnati Enquirer reported Tuesday that Cingrani was given an extra day of rest due to shoulder soreness. The soreness is thought to be nothing major. Johnny Cueto is rehabbing and should return to Cincinnati next week, and Cingrani might get sent down once Cueto returns.
Adam Eaton has played in 11 games in the minors as a rehab stint in preparation to come back from his two-month long DL stay. Eaton only has three hits in 39 at-bats, but Arizona manager Kirk Gibson, talking to Sarah McLellan of The Arizona Republic, said Eaton is almost ready to report to the D-backs:
"He's not swinging the bat very well," Gibson said. "Actually I think he's probably pretty bored with the process and frustrated with the process.

…

"He's getting really close," Gibson said. "We'll have him start throwing longer, and then he'll start throwing relays and stuff like that and then we'll get him in the game."
Filling in for Eaton through the first few weeks of the season has been A.J. Pollock, who's leading the NL in doubles with 14. He's hit four home runs and stolen five bases, too, but his 5:26 BB:K has kept his OBP below .300. I haven't mentioned Pollock in the Rookie Report yet because I thought Eaton would be back a little sooner and his OBP had turned me off. But until Eaton comes back Pollock should probably be rostered in any five-outfielder league or any league with 14 or more teams.