2015 Fantasy Baseball: May First Base Tiers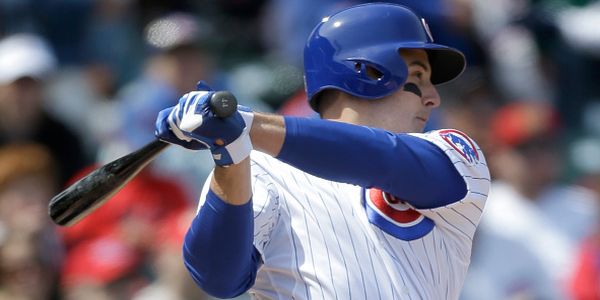 Below I've ranked 27 first basemen in five tiers. These are the guys I think will provide the most value going forward. Most of these guys play primarily at first base with the exception of Buster Posey and Stephen Vogt. I didn't want to list any other catchers because a) most haven't been good enough, and b) I think it'd be very rare that you'd be playing any of them at first base.
Tier 1: Studs
Rizzo has hit safely in six straight games, including two home runs and one steal. He's scored in four straight. He's stolen seven bases – a career-high already – and is one one-thousandth of a point behind Miguel Cabrera for the on-base percentage lead among first basemen. I don't think Rizzo will keep up his 40-steal pace, but he's getting great jumps and beating the throws easily. He's been a part of two double steals – one as the lead runner and one as the trail runner. The Cubs are third in the Majors in steals, and I think Rizzo has a legitimate chance of hitting the 20-steal mark this season.
Gonzalez leads all first basemen in extra-base hits with 18, and his .362 isolated slugging is second – 72 points in front of the third place mark. In the past three years Gonzalez hasn't posted an ISO above .206, which doesn't top any mark he posted from 2007 to 2011. So the .362 ISO is well above what he'll end up at. His fly-ball rate is right at his career average, though, and he's actually hitting more infield fly balls this season, so his home run total won't continue to ascend so rapdily as the season wears on. His BABIP is also 40 points higher than his career so expect a lower average, too. With that said I wouldn't suggest trading him unless you're getting a surefire stud at another position.
Tier 2: Maybe One Flaw
With Abreu we're still dealing with a limited career sample, so it's hard to judge him, especially after his power-heavy (29 homers) first half of 2014 and his average-laden (.350) second half. That's why I have him in the second tier, especially considering the guys in the first tier. He's gotten off to a slow start average-wise, and his walk rate has been cut in half from last season. But if his BABIP (.286) can get halfway up to what it was last year (.356) he'll be fine. His isolated power is within eight points of his 2014 mark.
Frazier is tied with Mark Teixeira for the home-run lead with nine. It's good that he's hitting homers, because his BABIP is a cold .182. But the reason for more home runs: he's hitting more fly balls (48 percent compared to a career 40 percent mark) and he's pulling 50 percent of balls in play. Every homer he hit prior to Tuesday night was pulled to left field. He's improved his walk and strikeout rates this season, so once his balls in play start to fall he should continue to be one of the most well-rounded first-base options.
Tier 3: Some Surprises
Even though he's tied with Frazier for most home runs at the position, Teix is also hitting below .200 on balls in play at .127! He's never been a high-BABIP guy, but even last year he hit .233 on balls in play. He's walking more than he's striking out, so the average should come around soon. But I don't think he continues hitting nine homers a month even with an improved fly-ball rate. If you can find a buyer, I'd try to sell him on his chance for an opportunity to combine the power and average rebound.
Vogt is just going crazy, hitting .372/.462/.718 and leading the league in OPS. His 25 RBI are second behind Nelson Cruz. His power stats are propped up by a three-homer, nine-RBI two-game stretch on the third and fourth of the month. I don't think you'd get much traction trying to sell here, so I recommend just enjoying the ride and seeing how hot he can continue to be.
Tier 4: Some Underperformers
I don't know what happened to Prince Fielder. His injury problem was seemingly in the past coming into this season, but he's turned into Dee Gordon at the plate. He has two home runs and what would be career-worst full-season isolated slugging and walk rates. But he is batting .354/.413/.485 thanks to a .384 BABIP. He's hitting fly balls seven percentage points lower than his career average – and that's a better rate than last year. So something's still wrong with him and it's not a good bet to think he'll keep up his slash line with that crazy-high BABIP.
Tier 5: Boring Options
Carter's gotten off to a slow start – his .116 ISO makes Fielder look like his old self – but he does have two home runs in the past eight games, which has tripled his season total. On this date last year he was hitting .167 with four home runs, but he went on to hit 33 home runs with an .813 OPS the rest of the season. If he's been dropped in your league I'd pick him up even in 10-teamers, and I'd send out an offer to his owner in your league.
Alvarez is actually having arguably his best season yet. His 117 wRC+ is his best yet, and through 24 games he has career-bests in walk rate (12%), strikeout rate (24%) and isolated slugging (.253). He's actually hitting over 50 percent grounders and a well below-average amount of fly balls. But I'm thinking that he's going to continue to be able to hit homers, because that's what he does. His last four years HR/FB rates: 25, 26, 16, 33. Thirty-three is too high for this season, but 16 is too low from last year. He should settle right in around the mid-20s and be able to produce like he has in the past with 25-30 bombs.
Disagree? Have another idea? Hit me up on Twitter and tell me about it. As always, thanks to Fangraphs and Brooks Baseball for the data.