2016 Fantasy Baseball: Tiered Outfield Rankings – May Update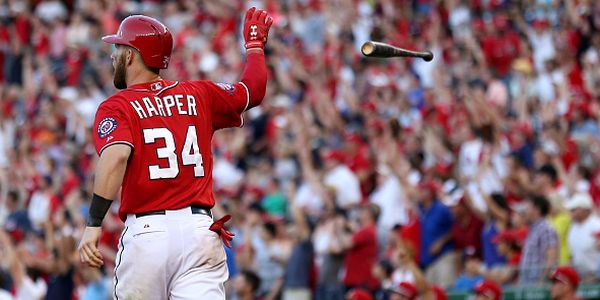 Major League Baseball players ranked according to their Taco Bell menu equivalent in 3, 2, 1… Just because I have a player listed above another player in the same tier doesn't mean I rank that player higher than the player below him. The reason for using tiers is because the wide variety of leagues (roto, categories, points) and sizes. The tiers give you a better idea how to evaluate players in a vacuum, while too much league-specific information would be needed for "Player A is better than Player B" analysis.
Tier 1: Steak Quesadilla
Bryce Harper
Mike Trout
Giancarlo Stanton
You might argue that Stanton doesn't belong in this first tier, but his prodigious power is the only rebuttal I need. His eight homers are tied for fifth in the Majors and second among outfielders. His power puts him in this tier.
Tier 2: Cheesy Gordita Crunch
Jose Bautista
Kris Bryant
Mookie Betts
Ryan Braun
J.D. Martinez
George Springer
Andrew McCutchen
Carlos Gonzalez
Chris Davis
Starling Marte
Yoenis Cespedes
I condensed my second and third tiers from the preseason to make one mega tier, because these guys are really good, plain and simple. I'm buying Cespedes, because his power breakout from 2015 has carried over and he's got a .382 Isolated power mark buoyed by seven homers. Even with a 35-homer 2015 he hit 41 percent ground balls. This year, that number is 23 percent, and he's upped his fly ball rate to 50 percent, which is 7 percentage points higher than his career rate. His HR/FB rate is an almost unsustainable 30 percent, but with the increase in fly balls the power can be here to stay.
He's also pulling the ball more this year, and benefiting from it: His Iso on balls to left field is .864. That obviously won't continue, but his BABIP to that side is .313, which is below his career .320 mark there. So there will be some give and take here, but mostly it's reason to believe in Yo.
Tier 3: Nacho Cheese Doritos Loco Taco
Michael Conforto
Dexter Fowler
Nelson Cruz
Justin Upton
Gregory Polanco
I'm all-in on Conforto and Fowler. It may come back to bite me, but I've been riding these guys since draft season and they haven't let me down yet. The main reason I'm getting greedy is that they are 1-2 in wRC+ among outfielders. They also rank fifth and 10th, respectively, among outfielders in isolated power, and they're both in the top 25 in walk/strikeout rate. Conforto has the pedigree, and he showed last year down the stretch that he was ready for the Majors. It took a while for Fowler to put it all together, but since he's been in Chicago he's been an absolute stud.
Tier 4: Crunchwrap Supreme
Christian Yelich
Colby Rasmus
Stephen Piscotty
Hunter Pence
Matt Kemp
Adam Eaton
Miguel Sano
Yelich doesn't get the attention that other players do because of his lack of power. But the 24-year-old is hitting .346/.471/.481 with those first two numbers ranking eighth and second among all qualified hitters – not just outfielders. Yelich has shown some signs of growth already this year. He's striking out at a career-low rate, while walking at a career-best. He's barely missing any pitches when he swings, and when he does it's almost always at good pitches; his 13.2 percent O-swing rate is second in the league. He only has one home run, but his .136 Iso would be a career-high. He's more valuable in points leagues, but the potential is here for a breakout season for Yelich.
Tier 5: Beefy Crunch Burrito
Odubel Herrera
Gerardo Parra
Josh Harrison
Lorenzo Cain
Joc Pederson
Corey Dickerson
Adam Jones
David Peralta
Michael Saunders
Ian Desmond
Yasiel Puig
In his last 10 games, Saunders has hit leadoff in nine of them, scoring nine runs and putting up some monster numbers across the board. He's hitting .311/.370/.581 overall. Saunders hit 19 home runs and stole 21 bases in 2012, and at just 29 he's not finished yet. His Iso (.270) and BABIP (.380) are well above his career norms, but he should stay atop the Toronto lineup due to his 10 percent walk rate. That is close to all you need to be fantasy-relevant.
Tier 6: Quesarito
Mark Trumbo
Billy Burns
Jacoby Ellsbury
Yasmany Tomas
Randal Grichuk
Wil Myers
Hanley Ramirez
Josh Reddick
Curtis Granderson
Domingo Santana
Matt Holliday
Jason Heyward
Marcell Ozuna
Brett Gardner
Kevin Kiermaier
Khris Davis
Jackie Bradley Jr.
Coco Crisp
Kiermaier is hitting eighth for the Rays, but he's making the most of it. He's got three homers and steals apiece, and if it weren't for a .260 BABIP, which is 40 points below his career rate, he'd have an average around .290 thanks to a 9 percent walk rate that's almost doubled his previous rate. Double K hit 10 home runs and stole 16 bases last year, so he's again on his way to double-digits in both stats. I think the power breakout is real here; his .219 Iso isn't that much out of whack with his career rate (.172), and he's also hitting plenty more fly balls than usual (41 percent, up from 30 percent for his career).
Tier 7: Hard-shell Taco
Nomar Mazara
Steven Souza
Kole Calhoun
Ben Zobrist
Michael Taylor
If you're in a regular 5×5 league, Taylor may be someone you want to monitor. He hit 14 bombs and stole 16 bags last year, and he's already at three apiece this year. He's hitting leadoff despite a .218 OBP, and I think that'll go up soon as his plate discipline numbers are either A) only just a little worse than his career marks and B) better than his career rates (his swinging strike, contact, and O-swing rates are all better than normal). His BABIP is .231 after a .311 mark last year, and with his speed he should see that rise. If you can stash him on your bench and let him get going he should be able to contribute to your squad this year.