Daily Fantasy Hockey Strategy: November 18, 2015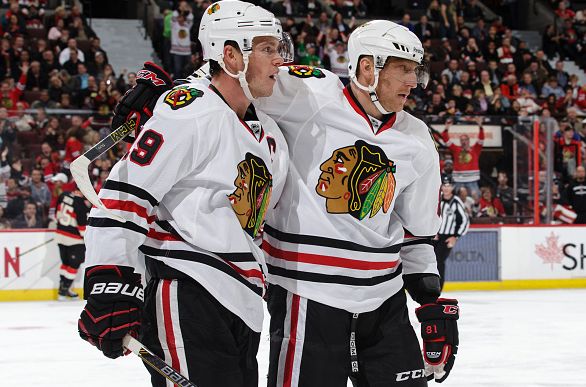 There's a very short three-game slate in the NHL tonight. For that reason, today's post will not resemble our normal DFS posts. First of all, I'm not putting it behind a paywall today. That's in large part due to the fact that we're not including the normal research chart or player rankings. But I took a look at the matchups, so I figured I'd go ahead and write up a breakdown of each game. We'll be back to normal the next few days as the league goes back to decent sized slates. As always, the analysis is geared toward DraftKings.
Vancouver Canucks at Winnipeg Jets
This is the trickiest game of the slate to parse. These teams are somewhat evenly matched, and, as a result, this game should probably be avoided as much as possible if you're playing on a site where +/- is a scoring statistic. But +/- is not an issue on DraftKings, so it's possible there are some usable options here.
Looking at their team possession numbers, Winnipeg ranks ninth in shot attempts per 60 (all shot attempt numbers are at even strength, score-adjusted) and allows the 10th fewest shot attempts per 60. Vancouver ranks 20th in shot attempts per 60 and allows the seventh fewest shot attempts per 60. Neither team allows of ton of shot attempts, which could mean this is not a high-scoring affair. In terms of goaltending, Vancouver has the edge, so Vancouver is better at suppressing the opposition's offense while Winnipeg is better at generating offense. You can see why this game is hard to parse.
On an individual level, the best forwards in terms of possession are the Sedin twins and basically everyone on Winnipeg's top two lines, but Vancouver's second line, centered by Bo Horvat, is a below average possession unit. As for blue liners, Dustin Byfuglien is a great possession player relative to the other defensemen in this game, while Vancouver's second pair of Dan Hamhuis and Yannick Weber are a good possession pair. On the other end, Vancouver's top pair of Alexander Edler and Christopher Tanev are a below average possession pair.
To recap, the only individual spots to target are Vancouver's second line and top D pair. Unfortunately, the top D pair plays predominantly with the Sedins. However, Vancouver's second line does not play primarily with the Hamhuis/Weber pair, playing with Vancouver's third D pair most often.
Because this game is in Winnipeg, the Jets will have the advantage of last change, so their recent history at home can give us an idea about who is most likely to face the Horvat line. Winnipeg routinely matches up their top line with the opposition's top line, so expect Bryan Little's line to see the Sedins while Mark Scheifele's line should get the good matchup against the depth lines. Joining Scheifele on the second line right now are Mathieu Perrault and Drew Stafford. Scheifele and Stafford remain together on the power play, so they're probably my preferred mini-stack from this game. On the blue line, Byfuglien is obviously preferable if you can afford him. If you need value there, Tyler Myers is an option on the second PP unit.
One thing I should mention is that being contrarian can be important on these short slates, and that's probably the best argument for using players from this game. Everyone will likely be heavy on the big favorite, Chicago. That's what makes Ondrej Pavelec or Michael Hutchinson a consideration as Corey Crawford, and probably even Braden Holtby, should be highly owned.
Washington Capitals at Detroit Red Wings
This game isn't as tough to figure out. Washington ranks seventh in shot attempts per 60 while Detroit ranks 27th. And Detroit allows the 16th most shot attempts per 60 while Washington allows the fewest shot attempts per 60 in the league. Washington also has a decent sized advantage in net. Outside of being contrarian for contrarian's sake, I see little reason to roster Red Wings.
Looking at the individual players to pick on from Detroit, their second line (Datsyuk) is a better possession line than their first (Zetterberg), and their second D pair of Danny DeKeyser and Jonathan Ericsson is definitely their worst in terms of possession, though their top D pair is only average in terms of possession (relatively speaking). That second D pair probably plays the most with the Datsyuk line, which somewhat mutes the potential advantage of picking on them. But in recent games the Detroit D pairs have played some with each forward line, and the second D pair certainly doesn't play exclusively with the Datsyuk line. For that reason, I'd still try to pick on that pair.
Detroit actually hosted the Caps just nine days ago, and the Washington line that saw the most of that second defensive pair was easily Washington's top line. To improve matters, of their forward lines, it was Detroit's checking line that faced off the most against the Ovechkin line. That recipe somehow worked as the Wings shut out the Caps, so I would expect them to try the same formula. I'm dubious that they'll have the same success.
The problem with the Ovechkin line is, of course, price. Ovi will cost you a crazy $9,600 today and will be hard to fit in. That said, I'm sure plenty will find a way to work him in given the lack of options on this short slate. I'm not opposed to Ovi, but I prefer his linemates, Nicklas Backstrom and T.J. Oshie. They're over-priced but not outrageously so. John Carlson is also a bit over-priced, but he joins Backstrom and Oshie on the top power play unit, so that's the trio I'd try to fit into your lineup.
Chicago Blackhawks at Edmonton Oilers
This, too, is not a difficult game to parse. The Blackhawks rank sixth in shot attempts per 60 while Edmonton ranks 22nd. Edmonton allows the sixth most shot attempts per 60 while Chicago allows the eighth fewest. Throw in Edmonton's fifth worst team save percentage and the matchup swings even more Chicago's way. They're unsurprisingly the biggest favorite of the night at -150 and should be the most popular team tonight.
There's not a huge difference between Edmonton's first line (Draisaitl) and second (Nugent-Hopkins) in terms or relative possession, but the RNH line does have a tendency to allow more goals. As for their blue liners, there's also no clear distinction showing which pairing is the worst in terms of possession and goals allowed. Gun to my head, I'd probably choose to pick on the RNH line.
For whatever reason, the Oilers have chosen to match RNH's line up against the opposition's best line in recent home games, so I would guess that Chicago's top line, centered by Jonathan Toews, has the better individual matchup. That works out because the Toews line probably represents the most value tonight. Toews and Marian Hossa make plenty of sense as a mini-stack because they stay together on the power play. Their even strength linemate, Marko Dano, does not see power play time, but the trio could be used in GPPs. On the blue line, I would lean towards Trevor Daley who joins Toews/Hossa on the power play.
As mentioned, Crawford will probably be very popular in net. For that reason I'd be more inclined to go with Braden Holtby, or, if you can handle a little risk, you could go with Winnipeg's starter.