2013 Fantasy Baseball Daily Fix: June 1, 2013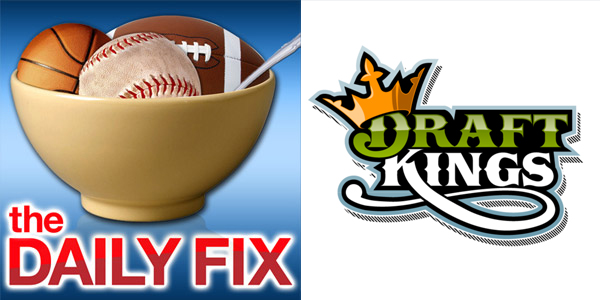 I'm Pinch hitting here for my buddy Josh Kay today so go easy on me.
Today, we are also going to participate in the MLB $500 Moon Shot (Early Only) [$1,000 Guaranteed] for just a $2 entry you can pick up $100 for a first place finish. The top 50 score some green in this contest. Don't forget to claim your deposit bonus!
Rotoinfo.com provides excellent updates as lineups roll in. I've got some fun choices below – read along and enjoy.
DraftKings.com Team of the Day:

Justin Verlander | P | Tigers| $11,900 – Verlander has a career 7-0 record and a 2.85 ERA against the Orioles in 79 IP with 71 strikeouts. The O's are hot and Verlander hasn't quite been himself, but the career record is too much to ignore.
Nick Tepesch | P | Rangers | $6,300 – Tepesch has not faced the Royals in his short career. However, he's put together a solid last three starts striking about 15 batters over 16 2/3 innings. The Royals' offense has been anemic lately and the Rangers should be able to put up enough offense to overcome whatever offense the Royals can muster.
I would also consider Dan Straily ($6,200) against the middling White Sox at home. I'd stay away from Jason Hammel who looked good in his last start. Hammel has a career 6.17 ERA against the Tigers.
Ryan Doumit | C | Twins | $3,500 – Defense doesn't count, so Doumit's glove doesn't factor into this equation. However, he's 10-29 against Aaron Harang in his career with three home runs. Harang is coming off his best pitching performance of the season so he's more than likely to turn back into a pumpkin.
Nate Freiman | 1B | A's| $2,000– Who? With a lefty on the hill, Freiman should get the start at first for the A's. His slash line so far this year against left handing pitching? 340/407/553 for a .961 OPS with two HRs.
Kelly Johnson | 2B | Blue Jays | $3,600 – Johnson has scored points in seven of his last ten games in DraftKings reaching double digits in four of those matchups. He's also 8-30 in his career against Ubaldo Jimenez with four doubles.
Josh Donaldson | 3B | A's | $3,900 – I mean, really. He's a must start every day at this price. He's got a 1.365 OP over his last seven days. And, again, versus a lefty his OPS is nearly 200 points higher (.903 versus .719). He's a must start.
Jhonny Peralta | SS | Tigers | $3,500 – Peralta has also been hot lately picking up five double digit scores in DraftKings over his last ten games. He's 5-13 with a HR and 1.121 OPS in his career against Jason Hammel. Elvis Andurs is also an option if you don't like Peralta.
Domonic Brown | OF | Phillies | $5,600 – Brown leads the majors in HRs. He's the hottest hitter in the majors right now.  He hasn't faced Wily Peralta in his career, but at this point it hardly matters.
Carlos Gonzalez | OF | Rockies | $6,200 – Gonzalez is 3-9 against struggling Dodgers' starter Zack Greinke which isn't great. However, he's put up four performances in the last ten days of 19 points or more in DraftKings.
Raul Ibanez | OF | Mariners | $3,800 – Ibanez is 4-7 with 1 HR against Kevin Correia. Also, Kevin Correia. Look for the Mariners to pound Correia.
Other options in the outfield include Josh Willingham or Michael Morse – both of solid (if short) records against the starters they are facing.
If you are looking for stacking options I'd look at the Mariners against the Twin or the Twins against the Mariners. I can see a lot of offense in that game.
The First Pitch:
Stephen Strasburg left in the second inning of an eventual 3-2 win over the Atlanta Braves. The diagnosis is a strained right oblique. These types of injuries can linger so I assume Stras is headed for the DL, though it doesn't seem that the Nationals employ any real doctors. Maybe just this guy. I'm going to take this forum to go in depth a bit on the Nationals and their GM Mike Rizzo. Here in the DC area, it's Trust in Rizzo. Nationals fans have a blind faith in Rizzo and his moves are unquestioned. Let me run through a few items with regard to Rizzo and your 2013 World Series champion (well, at least in their minds and the minds of many of their fans).
Drafting Bryce Harper and Strasburg were gimmes. The Nats were terrible and perhaps that was a conscious decision, but Jim Bowden probably gets as much credit for the awful state he left the Nats in as Rizzo gets for drafting. Harper is likely a generational talent and Stras (if he can stay healthy) has a chance to be an All-Star for many years. Rizzo made the correct picks, but I don't think there was any discussion – any GM in that situation would have done the same.
Rizzo signed Jayson Werth to a big deal that looks worse every day (full no-trade clause, paying him $21M per year in his age 36, 37 and 38 season). The talk was that the Nats had to overpay someone in order to be a legitimate force in free agency in the future so that players would want to come and play in Washington. Werth played half a season last year due to injury and he's on the DL again this year.
Rizzo re-signed Adam LaRoche to a two-year deal which has effectively blocked their best farm hand (Anthony Rendon) from the majors. No one else was after LaRoche and they could have signed him to a one-year deal (or retained Michael Morse).
Ryan Zimmerman's deal may end up looking like Bobby Bonilla's Mets' deal as Zimmerman continues to deal with bursts of errors. Zimmerman has a career .833 OPS and he's in his age 28 season primed for a decline soon. He'll make $20M in his age 35 season.
Rizzo allowed (or someone has) Danny Espinosa and Bryce Harper (to a lesser degree) to eschew standard doctor's recommendations to play when it would have likely been best to rest or hit the DL.
Rizzo signed Dan Haren when no one else wanted him especially at the $13M/year he's being pad. (Maybe he's just not good at free agency). Luckily, it's just for one year.
If the Nats were going to win the WS this year, Rizzo did a poor job of stockpiling extra pitching at AAA (Chris Young?, Yunesky Maya? Ross Ohelndorf? Ryan Perry?)
Rizzo made the decision to shut down his best pitcher last season when the Nats had a great chance to advance to the World Series. The Nats may never get that close again. Just ask Cal Ripken – he probably thought he'd get back every year. It didn't quite work out that way.
For each of these points above, I'm sure there is a counter argument for how great he's been. Which, when you take it as a whole, he's probably been a bit better than average at his job as a major league baseball GM and that's nothing to sneeze at. But, he's not the second coming of Red Auerbach or Pat Gillick or Walt Jocketty. He still has a lot to learn and for his sake, one hopes that the Lerners will be patient as Rizzo spends their money.
In other notes from around the league….
Jose Valverde blew a save tonight. Nothing to worry about for now as Jim Leyland loves him.
Scott Hairston hit a grand slam this afternoon as the wind was blowing out at Wrigley.
Bartolo Colon threw a five hit shutout against the White Sox. Colon is 40 and overweight and throws his fastball more than 80% of the time. You can't predict baseball.
Jonathan Lucroy went 5-5 and hit two homeruns. He's a great buy low candidate – I'd target him now as he's bound to heat up soon. Read this to see why.
Johnny Cueto was sharp over eight innings striking out six Pirates (though everyone is striking out Pirates lately).
Domonic Brown hit two more home runs to take the major league lead. He's finally putting all of his talent together and actualizing right in front of our eyes.