2014 Fantasy Baseball Daily Fix: August 7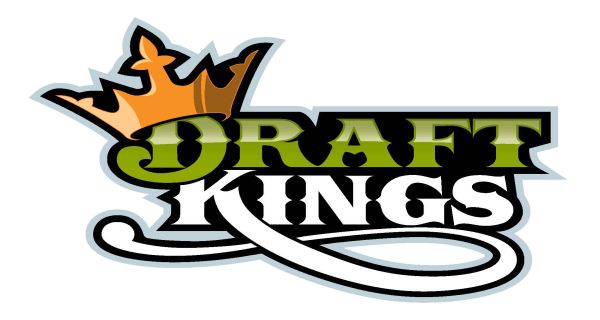 Welcome back to the Daily Fix here at the Fantasy Fix. It's baseball time over at DraftKings. For those who aren't yet Daily Fantasy baseball players at DraftKings head over there via this link and join. They will double your initial deposit up to $600.
I will again skip the early games and focus on the late slate for the contests starting at 7:05pm eastern.
Follow me on Twitter with any changes as lineups roll in.
DraftKings gives you $50,000 to draft eight hitters (one at each position)and two pitchers. DraftKings features the following scoring settings for its daily fantasy baseball games:
DraftKings Team of the Day
Pitchers
Collin McHugh | RHP | Astros | $8,400 – McHugh is Cy Young on the road with a 1.95 ERA and 1.07 WHIP averaging more than a strikeout per inning. The Phillies are just playing out the string at this point and are 29th against right handed pitching this season.
Jeremy Guthrie | RHP | Royals | $5,800 – Guthrie? Really? Hear me out – there are a lot of poor pitching plays today. Guthrie has a matchup against a Diamondbacks team that recently lost its best hitter and is trotting out a lineup that looks more like a AAA lineup than an MLB one. The D'backs are 16th against righties in wOBA and that's before losing Paul Goldschmidt.
Alternative: Jon Lester ($11,100) is the most expensive pitcher on the board and his matchup is solid against the Twins (18th in wOBA versus lefties). If you can fit him on your squad by taking some of the value plays in the hitting ranks then do it as he's a safer play.
Roenis Elias' ($7,500) matchup is good, but oddly he's a poorer pitcher at home than on the road.
Scott Carroll ($5,800) has been a much better pitcher on the road than at home this season 21 st rated (in wOBA versus righties) Mariners in Seattle. In his last three road starts he's averaged 20.9 DraftKings points.
C.J. Wilson ($6,300) was crushed in his return from the DL, but today he gets a poor Dodgers squad against lefties (25 th in wOBA).
Brian Flynn ($6,500) has just been recalled to make a start today in place of Jarred Cosart against the Pirates. He hasn't pitched great at AAA, but the Pirates are 26 th against lefties and are missing Andrew McCutchen. He's a deep play only.
Catcher
Dioner Navarro | Blue Jays | $3,800 – Navarro continues to hit cleanup for the Jays and the game against the Orioles has a chance to be a barn burner. Navarro's opposite number Caleb Joseph ($2,600) has three straight double digit games going into Wednesday and makes a good punt option. Devin Mesoraco ($4,100) makes a more expensive option, but he's worth it with his numbers against lefties (.386 wOBA).
First baseman
Jose Abreu ($5,100) against a lefthander is almost always the way to go with his .419 wOBA against left handed pitching.
Second baseman
Kyle Seager | Mariners | $3,900 – Seager also qualifies at third, but I'll slot him here. When he's at home, he's almost always a target as he has a .440 wOBA at home and a .379 against wOBA righties. His mate Robinson Cano ($4,800) has similarly grand numbers against righties.
Third baseman
Josh Harrison | Pirates | $4,600 – Harrison has been white hot over the last few weeks and gets recent recall Brian Flynn to pick on from the leadoff spot. He can also slot in the OF if you prefer him there.
Todd Frazier ($4,200) is a solid play against lefty T.J. House as he's got a .359 wOBA against left handed pitching.
Shortstop
Hanley Ramirez |Dodgers | $4,500 – I'm a little dubious of the options at shortstop today – no one jumps out at me today and I find myself gravitating to the expensive, safe options. Ramirez has a good matchup as he has a .412 wOBA, but he hasn't done a lot lately. Jose Reyes ($4,600) is another option with a solid matchup with his .348 wOBA against righties.
Kris Negron ($2,400) continues to get regular playing time and has been solid lately. A great punt option either here at shortstop or in the outfield. Chris Taylor ($2,700) is also getting regular playing time and makes a solid choice as well.
Outfielder
Adam Jones | Orioles | $4,400 – Jones is another lefty killer (.469 wOBA) and faces J.A. Happ who likes to give up HRs from time to time. Jones' outfield partner Nelson Cruz ($4,100) also likes to crush lefties, though he's cooled considerably in the second half.
Scott Van Slyke | Dodgers | $3,200 – Van Slyke mashes lefties (.461 wOBA against lefties this year) and gets the struggling C.J. Wilson.
Matt Kemp | Dodgers | $4,700 – Kemp has been a changed man over the last month with a wOBA of .428 against all competitors. His season line against lefties doesn't look that outstanding, but he's a career .402 wOBA hitter against them.
Moises Sierra | White Sox | $2,200 – Sierra will probably be in the lineup as the Sox face a lefty. And he had back to back double digit games at the end of July/beginning of August. He makes a good punt play if he's in the lineup.
Stacking options
The Blue Jays (who own the best wOBA against righties) look like a tasty stack against Miguel Gonzalez. The Orioles are also a good option against a lefty.  The Royals are a sneaky option against Vidal Nuno.
Here's what my lineup looks like right now. Good luck today!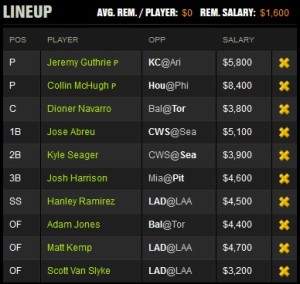 Check out DraftKings scoring here.