2014 Fantasy Golf Daily Fix: Quicken Loans National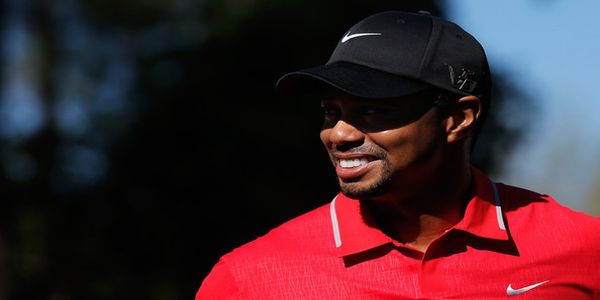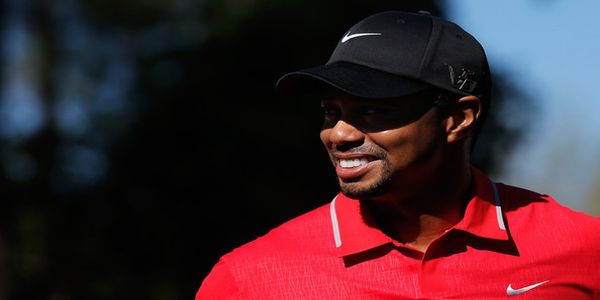 Tiger Woods is back! All of golfdom rejoice! Tiger is back for his tournament held in the suburbs of Washington, DC. The tournament has a new sponsor, but most folks watching the Quicken Loans National at Congressional Country Club will be focused squarely on Eldrick "Tiger" Woods. Below you will find my DraftStreet daily fantasy picks for the tournament this week. Come on and join me for a round!
Tour Stop
The Quick Loans National is held in Bethesda, Maryland at Congressional Country Club (Congo for the locals) on the Congressional Blue Course. The Blue Course is a 7,569 yard par 71 challenge all the way around – it is one of the longest courses on tour and big bombers are rewarded.
The course was built in 1924 and redesigned in 1957 and then again in 1989 and 2009. The Blue is one of the finest courses on Tour and in the country. I've had the pleasure of walking it a few times for a U.S. Open as well as Tiger's tournament. The vantage points are wonderful all around ant the mature trees all along the course envelop the players and block out all distractions.
Field
It's a thin field (even thinner than last week) with 13 of the top 50 in the Overall World Golf Rankings in the field this year. With Tiger only announcing this week that he was playing, that probably kept the quality of the field down a bit. It's a pretty soft landing spot for Tiger.
Injuries
Tiger Woods is back. I wouldn't use him this week (as I wouldn't with any golfer coming off of an injury of that nature). He also noted he probably wouldn't be back this week if it wasn't for his foundation. Jason Kokrak had sports hernia surgery and is out for a month or two. Briny Baird continues to remain out and there is still no news on Lucas Glover's absence.  Robert Garrigus is in the early field for this week after a wrist injury and it looks like Thomas Bjorn and Peter Uihelein will both tee it up this week in Europe after some nagging injuries.
2013 Tournament Results
Below you'll find the top 20 from the 2013 AT&T National (now Quicken Loans):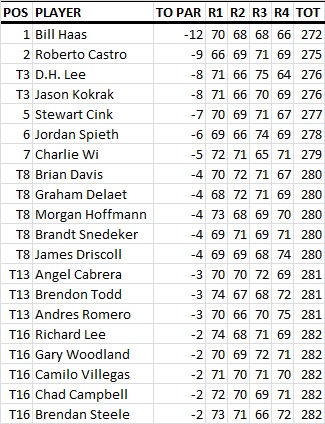 And an added bonus – the 2011 U.S. Open results (also from Congo's blue course):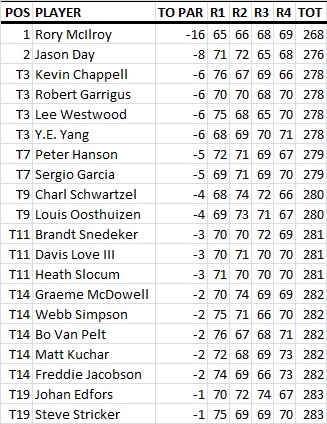 When looking at historical data, remember that this tourney has been played here only since 2007 and the 2010 and 2011 tournaments weren't held here as the course prepped for the 2011 U.S. Open.
Let's look at a few options this week.
DraftStreet Expert Picks
Bud Cauley | $12,410 – He's made three cuts in three appearances at Congo. He's got three top 21 finishes in his last six tourneys (with two missed cuts thrown in there).
Kevin Chappell | $14,187 – Chappell was tied for third here in the 2011 U.S. Open. He's struggling a bit so this is a riskier play as he's not quite in form.
Stewart Cink | – $11,503 – Cink has made nine straight cuts and finished fifth here last year. He's got course experience and he's playing well going into the tourney. Sign me up.
Jason Day | $26,545 – Since his return, Day has reminded us what we were missing when he was out with an injury. He was tied for eighth in 2012 and 21 st in 2013. He also finished in solo second here for the U.S. Open closing with a 65-68. He's the most expensive player, but well worth it if you can shoehorn in some cheaper players.
Martin Flores | $13,061 – Flores has eight straight cuts made. He also bombs the ball. He's also cheap. He's also in my lineup.
Russell Henley | $12,734 – Henley is on here partially because we followed him in 2011 after bumping into his roommate or brother or friend or some relation of his on the course. He finished four over as the second highest amateur at the U.S. Open in 2011. He's been up and down this year, but did have a tie for 17 th at the difficult PLAYERS Championship this year.  
J.B. Holmes | – $15,433 – He finished in a tie for 17 th at the U.S Open two weeks ago. Holmes is a bomber who can make the course shorter and avoid many of the hazards along the fairways.
Billy Hurley III | – $11,328 – Local guy done good. He's a Naval Academy grad and always has a big following.  He was fourth here in 2012 (his best finish on the PGA Tour).  He's also made five straight cuts.
Brandt Snedeker | $20,869 – Snedeker is back. Nine cuts made in his last ten tourneys and he's been in the top 11 in four of his five trips to Congo.
Y.E. Yang | $8,803 – If you want a deep play, Yang is your man. He's missed four straight cuts, but he was tied for third here at the 2011 U.S. Open.
Ok….a couple of other el cheapo options – Arjun Atwal ($7,312) was a PGA tour regular, but hasn't been recently. However, he's Tiger Woods' neighbor and practice partner so maybe some good luck rubs off. Patrick Cantlay ($8,489) was the low amateur (EVEN) in the 2011 U.S. Open.
Check out my lineup as it sits right now.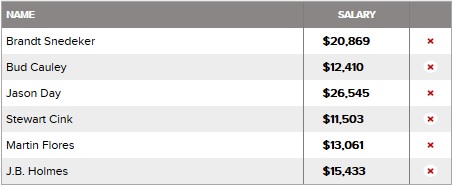 Good luck this week! Head over to DraftStreet to choose your squad for this week.
DraftStreet Scoring
Roster size: 6 Golfers
Points Scoring
ALBA*   4.5 pts
EAG       2 pts
BRD        1 pt
PAR        0.2 pts
BGY        -0.6 pts
2BGY+   -1.6 pts
*ALBA = Albatross or double eagle
PLACE
1st                          8 pts
2nd                        5 pts
3rd                         4 pts
4th-10th               3 pts
11th-25th            2 pts
26th-50th            1 pt
Round Bonuses
BFR*      1 pt
LROD**                2 pts
*BFR = Bogey-free round
*LROD = Low round
Note :
1. Ties will not affect "PLACE" bonus. For example, if three players tie for 2nd they will all receive the 5 point bonus for 2nd place.
2. Playoff holes will not count towards scoring but can impact the place a golfer finishes.
3. Golfers who withdraw or are disqualified in the middle of a round will receive 0 fantasy points for that round.
4. If multiple golfers tie for low round of the day, full bonus points will be awarded to all of them.