2013 Fantasy Baseball, Week 15 Plate Discipline: Right Fielders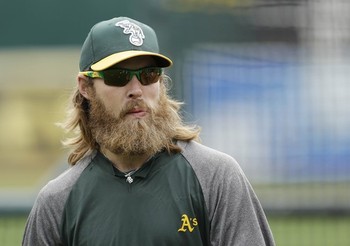 We reach the end of the plate discipline series today. Of course, this is always something that can be revisited later, but when we see the results here we see how important plate discipline really is. There is a larger separation between the good, bad, and ugly in right field than any other position on the diamond. In particular, many of the secondary indicators of plate discipline show some really stark differences.

So, as we did once before, we will look at the whole table instead of focusing on a couple of key players. When we look at the top half by itself and the bottom half by itself you will see some similarities within the two groupings. Those similarities can help you when looking at other players to know who you should pick up and who you should try to get rid of between now and the playoffs.
The biggest difference between the top half and the bottom half comes in the strikeout to walk ratios. Unfortunately, we will not see the second table yet, but when you do you immediately see the difference. The worst strikeout to walk ratio belongs to Jayson Werth. When you consider the overall performances of the above group it would make perfect sense that Werth would end up on the bottom.
Aoki might be a bigger surprise than anyone and probably someone that is under appreciated in some leagues. He may not have the sizzle of a Giancarlo Stanton or Jose Bautista, but he produces across the board in all of the categories. More importantly, he makes contact at a level of consistency we don't normally see. Players that make consistent contact won't suffer in slumps for very long.
Most of the right fielders also swung at less than 30 percent of balls outside the zone. All of them were under 35 percent. That will be a stark difference with the right fielders on the bottom list. Swing rate on balls is not something most fantasy fans would look at, but it does provide some indication of whether you will be successful in the future.
I have to admit, I am really disappointed in Jerry Dipoto. When he took on the job in Anaheim, most people thought he was going to be a part of the new wave of sabermetrically minded general managers. Instead, he has thrown money around like a drunken sailor. He threw a ton of money at Albert Pujols last year and then Josh Hamilton this season.
I wish I could say I knew Hamilton was going to be this bad, but the signs were definitely there. He swings at too many balls outside the zone and that was the same last season when he was putting up huge numbers. Unfortunately, you can't sustain that for too long. Four players above swing at forty percent or worse on balls outside the zone. More than half swung at 35 percent or worse. Not surprisingly, all of those players have struggles for long stretches this season at the plate.
Giancarlo Stanton provides us with the most hope because of the small sample size involved. You always have to be careful when making too much out of guys with less than 200 at bats. Stanton is healthy for the first time and has only had a few weeks of health on his side. He is a guy that could get dealt at the deadline and whoever gets him will likely get a much better Stanton than the one we are seeing here.