2013 Fantasy Baseball, Total Run Series: Starting Pitchers, Group B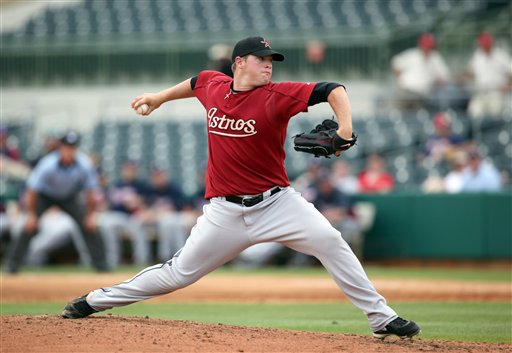 Fantasy players can go blind tracking down all of the starting pitchers. I'm cutting off the mark at 60. I do this knowing full well that there are probably an additional 30 to 40 viable starting pitchers in fantasy terms. Some of them have limited numbers because of injury while others may be rookies that have just been called up or guys that run hot or cold. Either way, the top 60 (counting Group A) represent the pitchers that really matter when it comes to the trade deadline.
There will be a lot of pitchers that change addresses, but the ones in Group A and B are impact pitchers that could change the course of a pennant race. Also, when they change addresses from a struggling team to a contending team it tends to have a positive impact on their fantasy value. So, just like we did last time, we will take a look at guys that could possibly change addresses before the end of the summer.
Bud Norris– Houston Astros
With some players, it's not a question of if, but a question of when to who and for how much. The Astros have been on a hot streak lately, but it's only enough to elevate them out of the overall baseball cellar. Bud Norris has been a big reason for that as he has stepped up his game another notch. A guy who never seemed to last beyond the sixth inning is now routinely going through seven.
The key to his game has been the ability to consistently throw strikes and avoid the free pass. Stick him on a team that fields better than most (the Astros are in the bottom third defensively) and he may take another step. He's not more than a third starter on good teams, but there are a few teams out there that could use someone like him.
Kevin Correia– Minnesota Twins
Correia is on the other end of the spectrum. He has followed this pattern for several seasons now and the Twins would be wise to acknowledge it. At the end of the season, no one wants to give him a job because he has been blitzed something fierce. Yet, another team will give him a chance and he will pitch brilliantly through July. Then, the proverbial wheels fall off.
The truth is that there is nothing special about what Correia does. He gets by on guile and pinpoint control when he has it. He will eventually get hit and get hit hard. If the Twins are smart they will look to unload him in about a month and collect a couple of prospects for their trouble. The recieving team will be fine as long as they understand they are getting a fifth starter or long reliever.
Ricky Nolasco– Miami Marlins
Nolasco is probably the only other arm on the market that is comparable to Bud Norris at this point. He's not an ace (like some we saw in Group A), but he is a solid middle of the rotation starter. His situation would be considerably better if he had any run support. With Giancarlo Stanton on the shelf, the Marlins pack about as much wallop as a mosquito. Furthermore, Nolasco is their highest paid player.
The Marlins know full well that Nolasco (and any other significant player) will leave Miami as soon as he is eligible for free agency. This fact motivates them to shop Nolasco to see what they can get in return. He's not one of the elite pitchers on the market, but a team searching for a third or fourth starter would do well to look his direction.
Kevin Slowey– Miami Marlins
Kevin Slowey is a cross between Bud Norris, Ricky Nolasco, and Kevin Correia. Correia gets by completely on smoke and mirrors while Slowey has solid stuff, but he is not on par with Norris or Nolasco. Right now, he is a fourth or fifth starter that is pitching a little above his pay grade. As a fantasy player, he has virtually zero value because he is a solid pitcher on a very bad team. If you stuck him on a contender he would become a fringe fantasy prospect because at least he would have the opportunity to rack up wins.
Carlos Villanueva– Chicago Cubs
The Cubs and Astros had similar strategies coming into the season. The Cubs had a little more money to spend, so they brought in a few veterans on short-term contracts in the hopes they could unload them at the deadline for prospects. Naturally, these gambles sometimes pay off and sometimes they don't. Villanueva is one of the few cases where it seems the Cubs made the right call.
The whole idea is to bring in a player who performs well. You trade them in July and get two or three prospects you can add to the farm. If you're successful, you can do that with two or three guys and continually replenish your farm system. Like his peers above, Villanueva is a fringe fantasy prospect right now mainly because he pitches on a bad team. Give him a new address and he becomes a lot more viable.