2014 Fantasy Baseball Week 10 Waiver Wire: 3 to Catch, 3 to Cut, 3 to Keep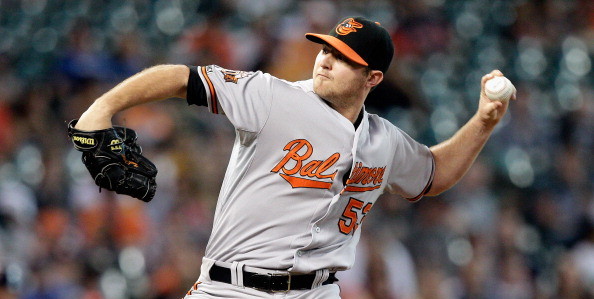 In the Week 10 edition of fantasy baseball 3×3, we're staying the course with Zach Britton, letting reality set in for Nelson Cruz, and blindly following Domonic Brown.
There are plenty of waiver wire columns out there that provide an exhaustive list of the most added players in fantasy leagues. This isn't one of them. Here, we'll run down a few lesser-known, lesser-considered, or lesser-owned players, with perspective on who deserves a your attention, who deserves your patience, and who deserves to go straight to bed without dessert.
Any questions, thoughts, Stanley Cup Finals predictions? Hit me in the comments or on Twitter.
3 TO CATCH
Zach Britton | Baltimore Orioles | RP
Tommy Hunter is on his way back, but are the Orioles really counting down the days until they can re-install a pitcher with a 6.06 ERA and 4.72 FIP as their closer? Hunter has been bitten by the BABIP dragons, but there's no excuse for his 1.65 HR/9. He's made some progress on limiting his fly balls overall, but I'll lean on his airborne history more than one 16-inning sample. Fly ball pitchers make for nervy closers even when they are effective.
Hunter's teammate seems to have taken that bit to heart. Zach Britton has turned himself into the bullpen version of Dallas Keuchel. He's coaxed hitters into grounders on 79% of balls in play. He's faced 112 batters this season and allowed a grand total of six fly balls. He's only struck out 19, but with an infield manned by elite defenders like Manny Machado and J.J. Hardy, a ground ball seems almost as good as a swing-and-miss. He doesn't have the typical closer profile, but he's been excellent since taking over the role in Baltimore.
Even when he's on, Hunter has fans wearing out the front edges of every seat in Camden Yards. A lead is never quite safe; the risk of a home run looms, especially when Hunter puts a man on base. Britton, conversely, bears down in tight situations. His strikeout rate is a bit better with the bases empty, but as we've established, that's not the right way to judge Zach Britton. In high leverage situations, his ground ball rate spikes to more than 82%. With men in scoring position, it jumps to an outrageous 90%!
Britton has converted four of his five save chances and surrendered a run just once in his last 14 outings. Hunter hasn't had the role long enough to earn the "proven closer" tag; I don't think Britton just hands this job back to him. Owning both is best, but even if I don't have Hunter, I'm grabbing Britton where he's available.
To pick him up, I'd drop: Mark Melancon, Cody Allen, Joe Smith
There's no non-financial reason that Jon Singleton didn't break camp with the Houston Astros. His historic contract is proof of that. As soon as the 'Stros got him locked up long term, Singleton suddenly didn't have anything left to learn in the minor leagues.
Funny how that works, eh?
All sarcasm aside, the last part of that sentence is absolutely true. There's nothing left for Singleton in Triple-A. He's maintained the fantastic batting eye he's displayed throughout his minor league career (Singleton walked more often and struck out less at Triple-A than his new-again teammate George Springer) and he's continued to slug home runs. He popped 14 homers in just 195 plate appearances at Oklahoma City.
For the rest of this season, Singleton is an upper middle class man's Chris Carter, with upside for more. He's probably going to strike out a bunch and won't hit for much average, but he'll walk enough to maintain a solid OBP. The power should translate quickly. Steamer projected him for 7 dingers in 210 plate appearances. With something closer to 300 plate appearances likely the rest of the way, I'll pencil him in for about 12 home runs. That's not quite enough for me to unilaterally recommend him, but that kind of production has value in just about every format.
To pick him up, I'd drop: Mark Teixeira, Billy Butler, Ryan Howard
Don't look now, but the Miami Marlins are one of the best offenses in baseball. Their .327 team wOBA ranks fourth in baseball, better than the Angels, Dodgers, and Tigers. Yet beyond the incomparable Giancarlo Stanton, there really aren't any stars to speak of. In a very Oakland A's-ian way, they've assembled an outstanding offense, largely using other teams' spare parts. Notably, in this case, Garrett Jones.
Jones couldn't earn a long term gig in Pittsburgh after his line slumped to .233/.289/.419 last season, but he's rediscovered his power stroke in Miami. His plate discipline has improved; Jones is laying off pitches outside the zone and squaring up offerings inside the zone. His fly ball rate is up and his HR/FB rate still has room to grow. The rising fly ball rate will eventually take a bite out of Jones' batting average, but the power and run production numbers aren't going anywhere.
Jones isn't a fantasy star, but he's a very solid corner infield option for teams in need of home runs.
To pick him up, I'd drop: Chris Johnson, Juan Francisco, Chris Carter
3 TO CUT
Nelson Cruz | Baltimore Orioles | OF
If you drafted Nelson Cruz, you've pretty much gotten what you paid for already. In only 232 plate appearances (about half as many as he logged last season), he's already delivered more than two-thirds of last year's home run total, 80% of his runs scored total, and almost 70% of his RBI total. It's a huge win for a player who was undervalued just as much by fantasy owners as he was by MLB general managers. His walk rate is up, his strikeout rate is down, and his BABIP just a hair over his career average. He's having an incredible season.
And now is the time to sell, sell, sell.
In the expansion era, only nine players have posted a full season with an ISO that can match or better Cruz' current .358 mark. Among those players, only Barry Bonds and Mark McGwire cracked the barrier multiple times, so I suppose it's generally a one-time occurrence. It isn't, however, a complete outlier. Of the seven players remaining, six would qualify as elite power hitters; only Luis Gonzalez has a worse career ISO than Cruz' .236. His power transformation was widely rumored to be powered by PEDs and while we all know that Cruz has a history there, he'd have to have some super-sized stones and an equally ballsy supplier to immediately jump back in that game.
Cruz is a good, but not elite, power hitter, the numbers prove that out. If he is taking something (and I have no empirical evidence to suggest that he is), I'm not sure it's improved his strength much. His average home run distance is actually down a few feet from last season. Six of his dingers qualify as "Just Enough" on the ESPN Home Run Tracker and only four of his 20 bombs would've left every yard in baseball. For comparison, six out of Jose Abreu's 15 homers and ten out of Stanton's 16 jacks would have been gone regardless of the park in which they were clobbered.
Cruz is still going to hit home runs (although his hand injury certainly won't help things), but he's not going to hit them at anything close to the rate he's maintained so far. Eighty cents on the dollar is plenty right now; it'll turn out to be a win in the long run.
I'd trade/drop him for: Brandon Moss, Jason Heyward, Michael Cuddyer
Jake Peavy | Boston Red Sox | SP
Things are beginning to unravel for Jake Peavy. His fastball velocity is down and his home run rate is near a career high. His swinging strike and chase rates are both career worsts; his strikeout and walk rates are unsurprisingly poor as well. He's actually corralled the walks lately, but it's been at the expense of putaway stuff; Peavy hasn't whiffed more than five batters in a start since April and has given up at least five earned runs in three of his last four outings.
His fastball just isn't effective anymore. Both his four-seamer and sinker have been tuned up for an ISO better than .200. The offspeed stuff hasn't exactly been his salvation either; hitters have smoked his changeup for an ISO better than .300.
It won't be this bad forever, but at 33 years old with an injury past you could play chess on, I don't see much reason to predict a bounceback.
I'd trade/drop him for: Drew Pomeranz, Marcus Stroman, Drew Hutchison
Unless your league rewards pitchers for hitting, I'd try to avoid owing Yovani Gallardo. He developed a reputation as a strikeout artist when he first entered the big leagues, but he isn't that guy anymore. Gallardo's strikeout rate is down for the fifth consecutive season; it's been below average for the past two years.
When he entered the league, Gallardo could work ahead in the count with a lively fastball, then put hitters away with a BASE jumper of a curveball and a very good slider. His fastball velocity is down and just like all of his other pitches, it's not missing bats like it used to. Gallardo's overall swinging strike rate is down to just 5.5%.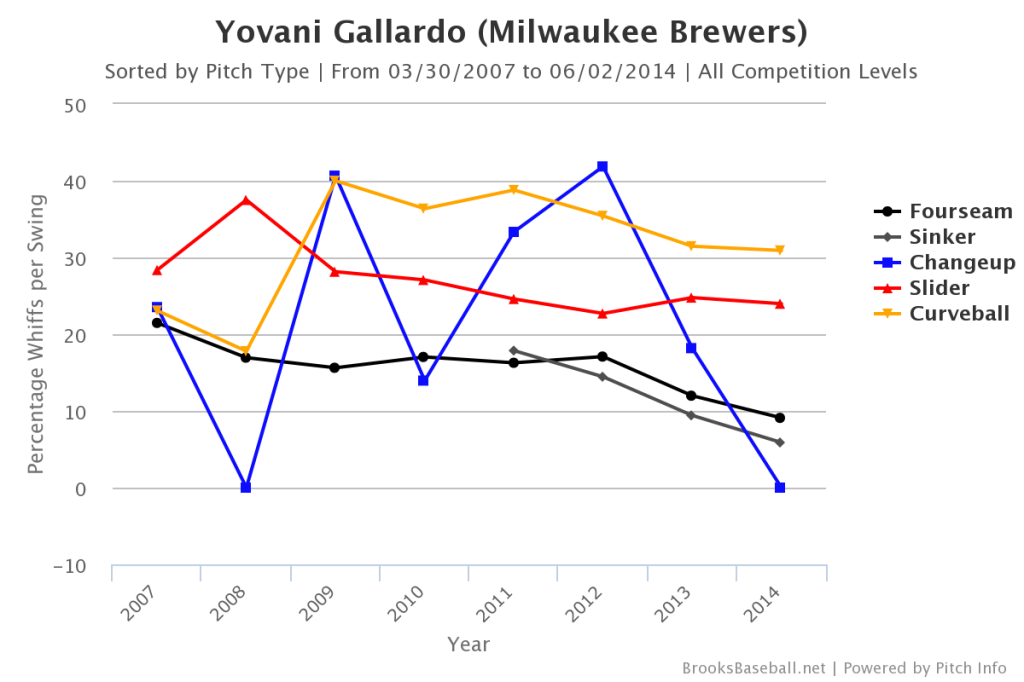 The effectiveness of his slider as a putaway pitch has waned a bit. It looks like the curve is still sharp, but whiff rates alone can be deceiving. While Gallardo's yakker still has terrific downward movement, hitters have learned to pick it up and lay off.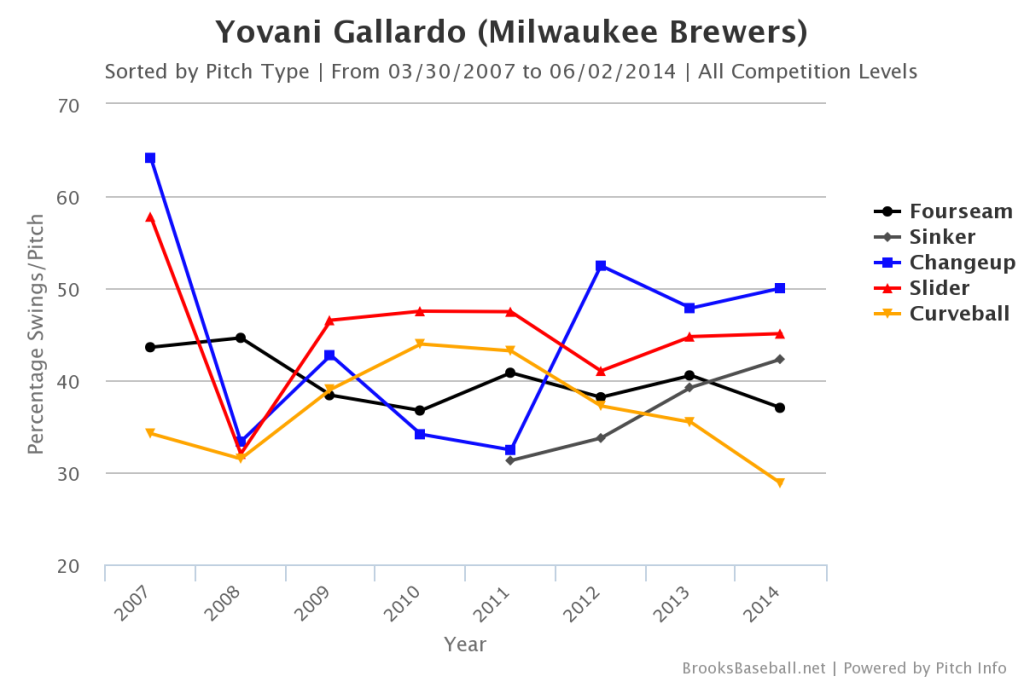 Gallardo's next move should be to occasionally throw his curveball for strikes, but over the years, the vertical location of his breaking ball has actually dropped. Even as hitters increasingly refuse to offer, Gallardo keeps burying his curve at their shoe tops.
Unless there's a big change in approach, the old Gallardo isn't coming back. Trade him while his ERA still looks palatable.
I'd trade/drop him for: Phil Hughes, Nathan Eovaldi, Collin McHugh
3 TO KEEP
Domonic Brown | Philadelphia Phillies | OF
He's been nothing less than a crushing disappointment as a fantasy commodity, but from the right angle, Domonic Brown's 2014 is almost identical to his breakout 2013 season.
His approach at the plate looks almost exactly the same. He's swinging at the same pitches and making contact just about as often as he did last season. He's walking slightly more and striking out slightly less.
Many of the plate discipline indicators we use to track whether a hitter's performance is sustainable show that last year's improvements are here to stay, but the numbers that matter most tell a very different story. His ISO has dropped by more than half, as has his HR/FB rate. He's managed only 11 extra base hits in 201 plate appearances.
Hmm, half… Interesting… Are we sure he's not hitting with one hand tied behind his back? Plate discipline numbers don't track that, right?
Ok, I'm grasping at straws. This recommendation certainly isn't bulletproof, but I believe that hitters who succeed based on superlative athleticism rather than technical consistency will be prone to streaks both hot and cold. It's not a matter of Brown needing to make a mechanical adjustment or lay off a certain pitch, it's just that he needs to start hammering the same stuff he hammered last season. Pitchers aren't approaching him much differently, he's actually seeing slightly more of the hard stuff that he punished for a .509 slugging percentage last season. He's slugging .311 against hard stuff this year.
Brown is an immensely talented player and, in my opinion, a worthwhile risk. He can be acquired for damn near nothing at this point and there's huge potential for him to deliver above and beyond whatever you pay to get him.
I wouldn't trade/drop him for: Nick Markakis, Marcell Ozuna, Garrett Jones
It's tough to find a more consistent power producer than Brian McCann. He's coming off six consecutive seasons with a HR/FB rate of 12% or better, peaking at a career-high 16.3% last season. The 10.3% mark he's sporting right now isn't going to stick around for long.
While the move to the AL East (and the increased shifting that's come along with it) is taking a bite of out of his batting average, McCann seems to be adjusting well to Yankee Stadium. His home run total doesn't show it yet, but check out his April spray chart: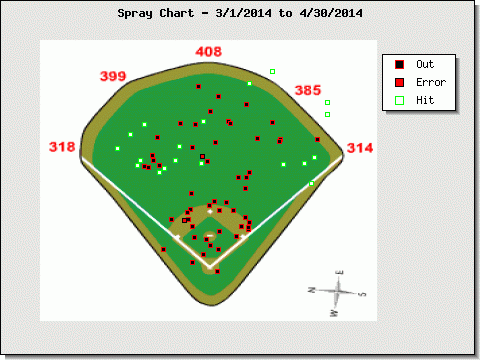 Now May: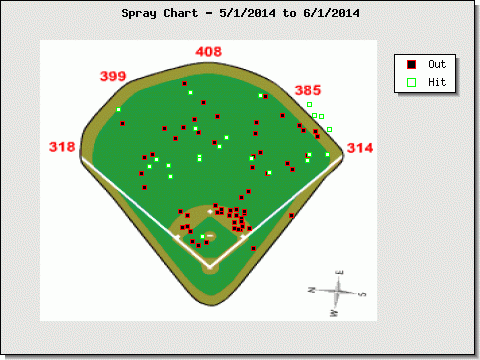 He's pulling the ball more and hitting it farther when he does. There's no better environment for lefty power than "The House Next Door to the Parking Lot Ruth Built" and McCann is just starting to tap into its benefits.
I wouldn't trade/drop him for: Evan Gattis, Devin Mesoraco, Salvador Perez
Corey Kluber | Cleveland Indians | SP
If you read this column at all last year, you know my stance on Corey Kluber. He turns my knees to Jell-O. If I had less self-control, I'd put him in this section every week. I don't own him in any leagues this year specifically because everyone I play with bidded him up artificially just to mess with me.
I've always believed that Kluber had the potential to be an ace and this season, he's fully realizing that potential. He's coaxed hitters into chasing more (and missing more often) while throwing strike one even more frequently than he did last season. He's third in baseball in K%-BB%, trailing only David Price and Masahiro Tanaka. His BABIP remains elevated, as always, but he's fought through the back luck, fanning more than a batter per inning with men on base and to producing a 3.04 ERA that still trails his FIP by 0.83.
Like I said, an ace. A dreamy, dreamy ace.
I wouldn't trade/drop him for: Julio Teheran, Johnny Cueto, Sonny Gray