2014 Fantasy Baseball Week 21 Waiver Wire: 3 to Catch, 3 to Cut, 3 to Keep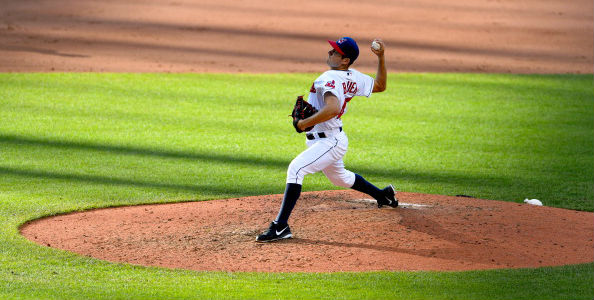 In the Week 21 edition of fantasy baseball 3×3, we're buying in on Trevor Bauer, calming down on Dustin Ackley, and being realistic about Troy Tulowitzki.
There are plenty of waiver wire columns out there that provide an exhaustive list of the most added players in fantasy leagues. This isn't one of them. Here, we'll run down a few of the most interesting players for fantasy owners, with perspective on who deserves a your attention, who deserves your patience, and who deserves to go straight to bed without dessert.
Any questions, thoughts, anything that can console me while my Tigers plummet out of the playoffs? Hit me in the comments or on Twitter.
Oh, and here's The Fantasy Fix Football Draft Guide.
3 TO CATCH
Players to be picked up; available in most standard leagues
Trevor Bauer | Cleveland Indians | SP
I somehow just stumbled on this fantastic SB Nation longform on effective velocity a few days ago; it's made me completely rethink my stance on Trevor Bauer.
If you're not familiar with effective velocity, the piece well worth your time. The intricacies take much longer to comprehend, but the basic tenets of effective velocity are very simple. Anybody who's ever played baseball can understand that it's tough to catch up to hard stuff up and in and tough to stay back on soft stuff down and away.
It's an intuitive approach, and one that Bauer has clearly taken to heart. Check out where he focuses his fastball against right-handed hitters.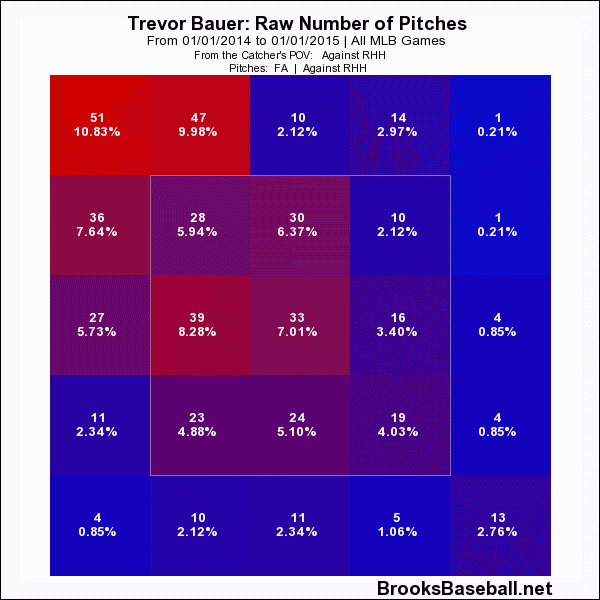 And now his slider against righties.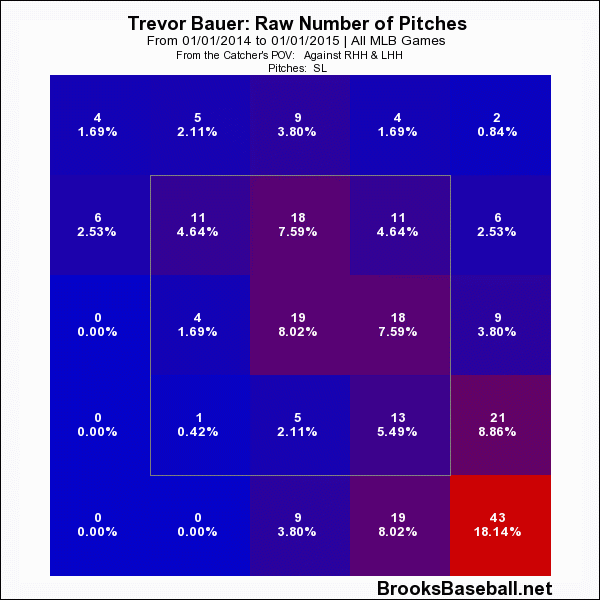 Burying the slider down and away isn't exactly a revolutionary development in baseball, so let's dig in more on the performance of Bauer's fastball. The breaking ball was his finishing move against the Diamondbacks, but he was able to induce whiffs on breakers in the dirt because coming out of his hand, those pitches looked exactly like the high fastballs that Bauer was pouring in all game long. This is the first season in which Bauer has consistently pitched at 95-plus with his heater; he's used that velocity to pitch up in the strike zone while limiting power, particularly against righties.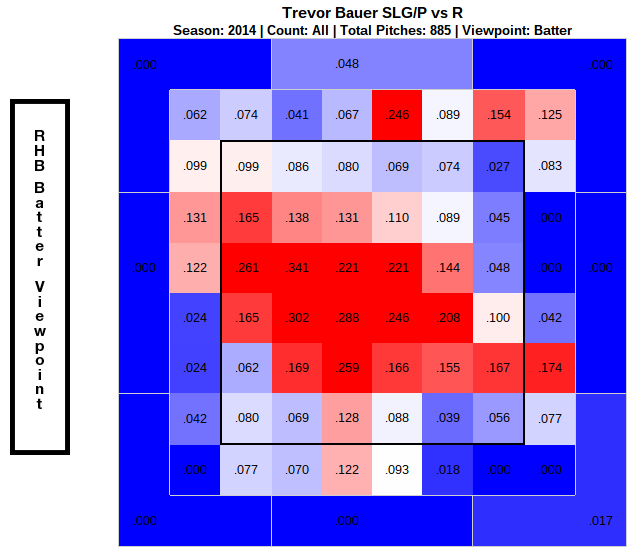 Of course, I don't think Bauer is going to go out and repeat his performance from last week over and over again, but it definitely means something. He was billed as a sure-thing dominant starter coming out of college; this was the first time in 26 MLB starts that he's really looked the part. He'd had a ten strikeout game before, but a messy pitch count forced him out of that game in the seventh inning. Last Wednesday was the first time in Bauer's career that he'd finished the eighth inning, the second time he'd struck out at least nine batters, and fourth-best FIP he's ever had in a single start. He might be on to something here…
He might not be, but I'd pick him up anyway, just in case. Young pitchers are volatile and it looks like this one might be ready to blow up.
To pick him up, I'd drop: Ubaldo Jimenez, Jake Peavy, Danny Salazar
Very, very quietly, Michael Cuddyer has returned from the shoulder injury that kept him out for more than two months and plopped right back into the two-hole in the Colorado Rockies order on Sunday afternoon. He then proceeded to completely ruin that narrative by hitting for the cycle on Sunday night.
Cuddyer's lineup slot is significantly less lucrative when it's not followed by Troy Tulowitzki and Carlos Gonzalez, but it's still quite a cozy spot. And Cuddyer is still quite a good hitter. Since joining the Rockies in 2012, he's slashed .303/.360/.511 with 41 homers and 21 steals in just under two seasons' worth of playing time.
And therein lies the rub. The reason that nobody seemed to notice Cuddyer's return is that he's a 35 year old player with a very checkered injury history and no defensive position. That's enough to throw a healthy bit of shade on his preseason value, but right now, none of that matters. The injury bug that ravaged the Rockies has opened up slots at first base and corner outfield, so he's got a place to play. There's nothing I can say to change what we know about his injury history, but it's August 18th. With such little time left in the season and so few major contributors left on the waiver wire, there's not much of an opportunity cost to picking up the oft-injured Cuddyer. Even if he gets hurt in a couple of weeks, you've at least reaped a few dozen plate appearances of production, and you're probably going back to a waiver wire that looks a lot like the one you're looking at right now. He needs to be owned in every format.
To pick him up, I'd drop: Matt Adams, Pedro Alvarez, Jay Bruce
Matt Shoemaker doesn't quite have enough innings to qualify for the ERA title, but if he did, he'd be tied with Madison Bumgarner for the 13th-best K%-BB% among qualified starters. If you cut the time period down to just the second half, when Shoemaker does have enough innings to qualify, his 22.6% K%-BB% ranks seventh in the league, ahead of reliable aces (David Price, Stephen Strasburg, Cole Hamels) and streaky starters (Brandon McCarthy, Francisco Liriano) alike.
For the full season, his 3.84 ERA isn't particularly impressive, but given the way he's dominating in the areas he can control (and now that Tyler Skaggs' injury has completely solidified Shoemaker's rotation slot), he's a must-own in 10 and 12-team leagues. I hope you were listening a few weeks ago.
Shoemaker is on a roll in the present and with 23 of the Angels' next 34 games coming against the Rangers, Red Sox, Mariners, Twins, Astros, and Marlins, he's poised for an excellent future. Not a single one of those teams has a wRC+ better than 100; the Twins, whose current 3-4-5 hitters have combined for 13 home runs this season, are the best of the bunch with a wRC+ of 97. Half of those games are at home and of the road games, only three-gamers in Fenway and Arlington pose big threats for Shoemaker's fly balling style. Good thing the Red Sox and Rangers have been the two worst offenses in the American League this season. Add him everywhere and start him with confidence for the next month.
To pick him up, I'd drop: Mike Minor, Justin Masterson, C.J. Wilson
3 TO CUT
Players to be traded or dropped, depending on the depth of your league
Dustin Ackley | Seattle Mariners | 2B/OF
Dustin Ackley has been spectacular in the second half, and that spectacularity has been driven almost completely by a BABIP that's 65 points higher than his first half mark. His plate discipline, which was never great to begin with, has ventured toward Juan Pierre territory; he rarely strikes out and downright refuses to take a walk. His batted ball profile couldn't be less like Juan Pierre, however. He's not the type of speedy, grounder-heavy hitter than tends to maintain a high BABIP over the long term.
It's not necessarily a bad thing to see Ackley hitting more balls in the air, but when an uptick in BABIP accompanies an uptick in fly balls, I'm looking for a huge boost in power to support it. Ackley has vastly improved his HR/FB rate, but it's still not great. The 11.8% HR/FB rate he's posted in the second half would rate 54th among qualified hitters. If that's what a Dustin Ackley hot streak looks like, I can't get too excited.
It's great to see Ackley improving, but this is a hot streak, not a breakout. He's spent nearly four full seasons in the big leagues; we pretty much know what he is. He'll hit for a decent average, but without a hefty serving of BABIP luck, he's not approaching .300. He won't steal more than 15 bases or hit more than 15 home runs. Unless his situation changes significantly, I'm not interested in him in 10-team leagues.
I'd trade/drop him for: Javier Baez, Martin Prado, Aaron Hill
It's hard to shake off the memory of his spectacular 2013 season, but Clay Buchholz is a mess right now. He'll continue to pitch because the Red Sox have no other options and not much interest in winning this season, but don't be misdirected by his last two starts. He benefitted from either a very low BABIP or very high strand rate in each, and let's be honest, striking out nine Astros in seven innings really isn't much of a feat these days.
Buchholz's success has been attributed to an increase in the use of his curveball. While the curve was a bit better in his past two starts, getting a whiff rate around 15% both times, his problems aren't that simple. He got a near-12% whiff rate on his curve against the Yankees on August 3 and was smoked for seven runs on eight hits and five walks. Buchholz' issue isn't his ability to snap off a breaker, it's his inability to consistently locate his fastball. Yes, his F-Strike% and Zone% are up in those last two starts, but I'm much more concerned with how Buchholz hits his spots than I am with his capability just throw the ball over the plate. How consistently a pitcher hits his catcher's glove is tough to quantify, but after watching some of his starts this season, it'll take more than two good outings to prove to me that he's solved it.
This kind of blip isn't new for Buchholz, he's flashed a twinkle in his eye before. In two starts in early July, Buchholz went 16 innings, allowed only four runs, and fanned 19 against one walk. It wasn't a turning point. He gave up 22 runs in his next four starts, which came immediately before he kicked off his most recent two-game rebound.
I'd trade/drop him for: Collin McHugh, Drew Smyly, James Paxton
It took quite a bit longer than I expected, but it's finally happened. Regression has come calling for Alfredo Simon; it showed up immediately after the All-Star break. He's made it into the sixth inning just once in his last six starts, earning every bit of his 5.46 ERA and 5.14 FIP. His already poor strikeout to walk rate has somehow gotten worse, sinking to 1.31 in the second half. Simon deserves credit for his phenomenal first half line, but that 2.70 ERA isn't coming back, nor are the 85% strand rate and .232 BABIP
I'd trade/drop him for: Yovani Gallardo, Marcus Stroman, Jose Quintana
3 TO KEEP
Players to hold or trade for; owned in most standard leagues
Troy Tulowitzki | Colorado Rockies | SS
Obviously, owners in redraft leagues should cut Troy Tulowitzki immediately, but with the pattern that he's established so far in his career, it's fair to wonder whether keeper owners should consider cutting bait as well. His fantastic batting average and outstanding production in counting categories are great on a game-to-game basis, but consistently tallying 100 fewer plate appearances than his contemporaries at shortstop has to take it's toll, right?
Not really, no. Last season, 16 shortstops bested Tulo's total of 512 plate appearances. None slugged more homers, drove in more runs, or hit for a better batting average. In 2011, nine shortstops had more plate appearances, but again, none hit more homers or drove in more runs; only Jose Reyes and Starlin Castro beat out Tulowitzki in batting average. In 2010, 19 shortstops came to the plate more often than Tulo. Once again, he led all players at his position in homers, RBI, and batting average, despite his limited playing time.
Tulo is going to get banged up, and he's going to miss time, but as long as he gets to about 400 plate appearances, he's pretty much guaranteed to be a top five fantasy shortstop. Injury prone or not, there's not another player who can consistently perform that well relative to his peers; 400 plate appearances of Mike Trout would still be great, but it's not enough to contend with full seasons from other top outfielders. As frustrating as it is to lose Tulo for a few weeks every season, he's so much better than the other top players at his position that the injuries really don't hurt as much as the seem to.
I wouldn't trade/drop him (in a keeper league) for: Hanley Ramirez, Jose Reyes, Ian Desmond
Nelson Cruz | Baltimore Orioles | OF
Nelson Cruz has regressed significantly (and predictably) since his early season hot streak, but the misfortune has gone a bit too far in recent weeks. Just as simple as it was to see that he wasn't going to keep up the ridiculously high HR/FB rate he posted in April and May, it's just as simple to see that the 7.5% HR/FB rate he's maintained since the All-Star break can't possibly persist.
Nothing has changed in Cruz' batted ball profile or plate discipline that would indicate a lack of power, aside from a slight increase in pop ups. He's actually hitting more fly balls now than he did earlier in the season. I thought maybe his bat speed was sagging a bit, but that doesn't seem to be the reason for his loss of power. It looks like he struggled to pull the ball a bit in June, but since then, he's returned to the same fly ball spray angle that led to 28 first half homers.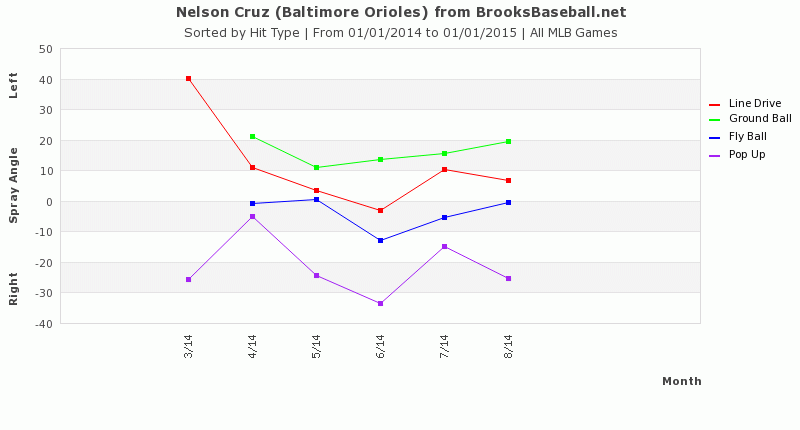 Cruz still isn't a great long term bet for elite power production, but in redraft leagues, he's a great buy low opportunity for owners in need of power.
I wouldn't trade/drop him for: Brandon Moss, Chris Carter, Charlie Blackmon
If you own Justin Verlander, there's nothing to do right now but hope. It was wonderful to hear that there's no evidence of structural damage in his shoulder, but even so, his results this season speak for themselves. Something's just not right.
This is almost certainly wishful thinking, but it's possible that the guy just needed some rest. No pitcher has put in more work over the last few seasons. Since 2009, only Felix Hernandez has thrown more innings and nobody has faced more batters. Verlander has squared off with 5,451 hitters over the last six seasons, and that's not including the Tigers' frequent trips to the playoffs. I'm exhausted just typing that paragraph.
Whether it's a career-changing injury, another athlete cursed by a famous girlfriend, or just the culmination  of a half decade of wear and tear, Verlander's probably not going to be fully resolved this season. But if you own him, what's your recourse? His trade value couldn't possibly be lower, but can you really drop a guy who was so recently one of the best pitchers in the game? Maybe there's a stray breakout pitcher left on the waiver wire in your league, but if you're in a format deeper than 12 teams, there's likely not anybody available with even half of the upside of a healthy Verlander. Even if there's just a 20% chance that a bit of rest gets him back to something like his old self, you've got to hang on. Unless you can pick up a sure thing, there's just too much uncertainty to drop Verlander right now.
I wouldn't trade/drop him for: Wily Peralta, Zack Wheeler, Chris Tillman