2015 Fantasy Baseball: Deep League Digging, Week 7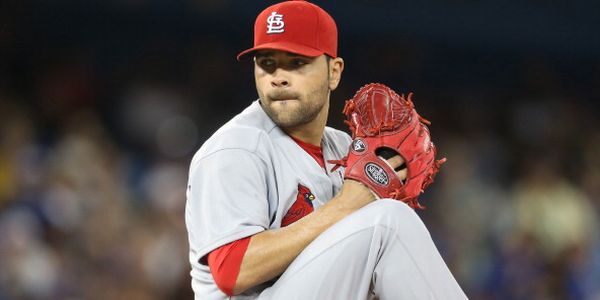 For the past two weeks, I've covered the top lesser-owned players I deemed fit for fantasy rosters in deeper leagues. In most cases, the players I suggested were hitters. But today, I wanted to change things up a bit, so I'm going to be recommending some pitchers that can help your fantasy team at this very moment.
As per usual, I will be selecting guys that are under 10 percent owned in ESPN.com leagues. As most of you whp play on that site already know, they've changed things up a bit in regards to how they display ownership percentages. I, myself, am not a fan. I feel like it's the reverse of the way it should be and that the percentages should've have gone up, rather than down, which is what they're doing now. It seems like instead of eliminating the dead leagues or zombie mocks, they've gone and done the opposite. Chris Sale at 98.5 percent ownership? Stephen Strasburg at 97.1 percent? I can see someone possibly dropping those guys in frustration, but having them just sit on the wire unclaimed, too? C'mon. That means that Strasburg is just chillin' on waivers in 29 of every 1,000 leagues.
Anyways, the point I was trying to make, before stepping onto my podium, was that even though ESPN has changed things up, I will still be using their percentages as a gauge for this article. Hey, it may even allow more players to squeeze into my parameters.
Once every 100,000 years, Earth's axis aligns with the seventh sun of Neptune, and when that day occurs, Jaime Garcia will make a start for the St. Louis Cardinals.
That day is today.
I joke, but it has gotten to that point with the talented left-hander. Injuries have derailed Garcia's career, and that's an understatement. From 2010-2011, the 28-year-old went 26-15 with a 3.17 ERA and 288 strikeouts, but he's started only 36 games in the three years since, including just 16 over the past two seasons. A shoulder injury is to blame for his absence, but he's been working hard to get back to the majors, and that moment will arrive at 1:10 pm ET, when Garcia faces the New York Mets — his first time on an MLB mound since May 18 of last year.
No one really knows whether Garcia will be able to stay healthy or not. A betting man would probably wager against it. But as long as he's active, he remains an intriguing pitcher to roster. His past successes are nothing to scoff at and the Cardinals have a wide open spot in their rotation. Tyler Lyons and Tim Cooney were given shots at filling Adam Wainwright's vacated slot, but both have fared rather poorly, creating an opportunity for Garcia.
The Mets' offense has struggled lately, with a team wOBA of .292 over the past two weeks. Only four teams have been worse in that span. Yet, despite a good matchup, it's not my preference to immediately start pitchers fresh off the DL, so I don't recommend throwing Garcia into your lineup for his debut. Should he perform well, though, adding him now will give you a jump on the competition.
Make sure to add Garcia and hope that his shoulder holds up, because if it does, you may have found yourself a good No. 4/5 fantasy starter for the rest of the season.
After spending some years in Japan, Vogelsong broke back onto the scene with the Giants in 2011, and he did so in a big way. He finished that year with a 13-7 record and a 2.71 ERA and was named to the NL All-Star team. He followed that up with a great 2013 (14 wins, 3.37 ERA), but 2014-2015 were not kind to him. And neither were his first few appearance this year. In fact, if you exclude his last three starts, Vogelsong had a 7.14 ERA over his last 10 appearances dating back to last year, two of which were in relief.
So why am I recommending him?
If you noticed, I wrote "if you exclude his last three starts", and I did that for a reason. That's because he's been outstanding in those outings, compiling a 1.37 ERA and striking out 11 in 19.2 innings pitched.
This add is not for streaming purposes this week, but rather for the next. The Giants travel to Denver to take on the Colorado Rockies this weekend, so you'll want to avoid starting Vogelsong then, but he'll have a prime matchup in Milwaukee next Wednesday. The Brewers' team wOBA (weighted on-base average) of .293 is 27th overall and they have been one of the biggest disappointments in baseball this year, going 15-25 to begin the 2015 season.
Vogelsong seems to be getting his groove back, and while he's prone to big highs and lower lows, he remains a steady asset in the Giants' rotation. Jake Peavy and Matt Cain will be back at some point, muddling things a bit, but riding Vogelsong while he, and the Giants are hot, is a smart move to make.
Other pitchers worth adding: Charlie Morton, Pirates (1.7% owned), Trevor May, Twins (1.7%), Roenis Elias, Mariners (4.1%)