2015 Fantasy Baseball: Expectations for Jose Fernandez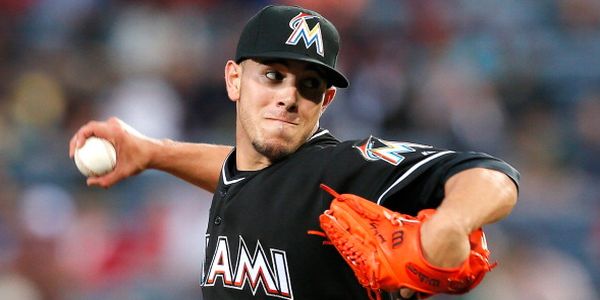 The time is almost here: Jose Fernandez will be making his 2015 debut on Thursday, July 2 against the San Francisco Giants. Let the fantasy world rejoice!
There is a lot of excitement in the air with the 2013 National League Rookie of the Year set to return in a week, but should fantasy owners be tempering their expectations a bit? To some degree, yes. It really depends on how you view the situation.
To many owners, Fernandez's return from last year's Tommy John surgery is a godsend to their team. After all, being able to insert a Cy Young-caliber starting pitcher into your lineup is a huge boost to any squad. That goes without saying. The problem is that many people are overlooking the fact that, yes, he did have Tommy John surgery. The pedigree of a pitcher doesn't have any effect on whether their elbow heals any faster (or better) than the next guy. This is something that has jaded many fantasy owners. Having a 99 mph fastball and career 2.25 ERA doesn't mean he'll have more success than any other player that has undergone the operation.
If you look at the past five years, there are many post-Tommy John success stories. Adam Wainwright, Stephen Strasburg, Joakim Soria and John Lackey have all gone on to enjoy successful post-surgery careers. But what about guys like Danny Duffy, Ben Sheets, Brian Wilson and Dylan Bundy?
Duffy has struggled to regain the velocity he had prior to his 2012 operation. Sheets was coming off a fantastic season in 2008 — posting a 3.09 ERA and starting the All-Star Game — but his first surgery led to a second, and he had to retire in 2012. Wilson? His 48 saves in 2010 were tops in the league, and he was an instrumental part of the Giants' World Series championship. But he had the operation in 2012, and his 2014 performance with the Dodgers (4.66 ERA, 0.9 HR/9) has kept him a free agent since. Even Bundy, whose prospect star once shone as bright as Fernandez's, has been reduced to an afterthought. Jeremy Hefner and Joel Hanrahan — a 2011 and 2012 All-Star — were both supposed to return clean as whistle, but we've never heard from them again (Hanrahan needed a second operation without ever pitching in a single MLB game).
There are countless others who have succumbed to Tommy John surgery, and some returning this year that know good and well how difficult the road back can be. Brandon Beachy and Kris Medlen are set to join their teams' staffs this July. They've both had two elbow operations. Jarrod Parker successfully recovered from TJ, only to fracture his elbow just weeks away from returning to the A's rotation.
Tommy John surgery has proven to prolong careers for many pitchers that wouldn't have had that option many years ago, but folks, the operation isn't a miracle cure. During the procedure, holes are drilled through the ulna and humerus bones in the elbow, and the ulnar collateral ligament is replaced with a tendon from a different part of the body. This is not your average nip and tuck. It's a traumatic surgery for the body, and for pitchers, it occurs in the very place where they derive their craft from.
Fernandez is an extremely talented pitcher, that goes without saying. If he makes a full recovery, I do believe he'll be of value to fantasy owners down the stretch. But will he be the top 10 pitcher that we saw in his rookie year and even in his shortened 2014 season? The honest answer anyone can really give is: I don't know. There is no way to know. Once we see him pitch in a Major League game, we can make deductions. But that still doesn't prevent him from soreness or fatigue, much like the Mets' Matt Harvey experienced a couple of weeks ago.
I've been asked quite a few questions regarding Fernandez on Twitter. "Would you trade Player A (an established, healthy ace) for Fernandez?" No, I would not. That thought wouldn't even cross my mind. At this point, I'm not trading any of the perennial top 20 pitchers for him. Why mess with something that carries so much risk? You already have a SP1 that is contributing to your team.
Even if Fernandez comes back strong, and I hope he does, he also carries the risk of being shut down early. We saw the Marlins do this during his rookie season, limiting him to 172.2 innings pitched and sending him home for the winter in early September. There has also been speculation that the team would consider a six-man rotation when Fernandez returns. The Marlins are currently 12 games under .500 and 10 1/2 games back of the final Wild Card spot. Needless to say, there's a pretty good chance they are eliminated from any sort of playoff race long before the season ends. A six-man rotation would allow them to manage Fernandez's innings, as well as get injured starters like Jarred Cosart and Henderson Alvarez back into the mix.
If you drafted Fernandez and stashed him on your DL, then I commend you on your patience. I know I did this on a handful of teams. If he happens to be on your wire, then go grab him immediately. Owners just need to temper their expectations with him.
Season 2 of True Detective premiered Sunday night, and I don't want to give away any spoilers, but let's just say the early reviews aren't good. Had this been a standalone project, audiences may have enjoyed it more, but it's not, and people are already comparing it to its phenomenal predecessor. It's really not fair to do so, but how can you not? Unless we are exposed to a mind-erasing beam of light, we can't un-remember events that happened in recent years. The same goes for Fernandez. We've seen what he can do with a baseball — it's amazing — but we must also be open to the possibility that Version 2.0 may not be like the original.
Only time will tell.