2015 Fantasy Baseball: Giancarlo Stanton, Home Runs and the Hamate Bone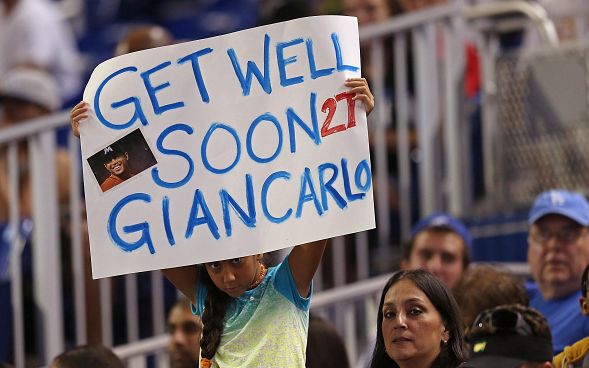 Last week I covered a handful of Washington Nationals players on the mend, and one of them — Anthony Rendon — finally made his return over the weekend. Today we'll look at another high-profile player that you can expect back in the near future: the Miami Marlins' Giancarlo Stanton.
Stanton's the big fish (pun intended) on the disabled list. He was leading all of Earth in homers before suffering a fracture of the hamate bone in his left wrist. As discussed in last week's piece when I covered Jayson Werth, wrist/hand injuries are brutal for power hitters. Now, Stanton isn't just any old slugger, he is the best pure power hitter on the planet, but he's still human (I think).
He's begun hitting off a tee, which is the first step to getting him back in the Marlins lineup. But, while his best-case timetable puts him back in South Beach by mid-August, there's no guarantee that his patented power stroke will be unleashed immediately.
Hamate fractures are something that usually progresses over time. It is a bone below the pinkie finger on the outside of your hand, and is a common injury among baseball players (or any athlete that swings a racket or club) because it rests directly on the bat when swinging. The photo below shows the bone in gray, and exactly how difficult it is to grip a bat with this injury.
Now try to envision the pain caused by this fracture, and imagine how tender and painful that area would be to swing a bat after the surgery. Oh, you don't have to imagine it, because I have a photo for you…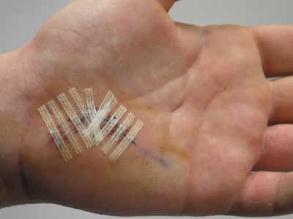 It certainly doesn't look comfortable for anyone, let alone an athlete that requires the use of his hands and wrists to make his livelihood.
So, when can we expect Giancarlo Stanton to #StantonSmash again? There's a good chance we'll see bits of that pop throughout his first 2-3 weeks back, but he may not go binging on baseballs till late-August/early-September. If we look at the recent history of players with hamate bone removal surgery, it can give us a better understanding of his outlook.
PABLO SANDOVAL – surgery May 3, 2012
Home runs prior to surgery: 5 HR in 104 PA
Homer drought upon returning: 75 PA
Games before first HR: 19
NICK MARKAKIS – surgery June 1, 2012
Home runs prior to surgery: 8 HR in 225 PA
Homer drought upon returning: 74 PA
Games before first HR: 16
WILSON RAMOS – surgery April 2, 2014
Home runs prior to surgery: 0, though he had only played one game
Homer drought upon returning: 64 PA
Games before first HR: 15
Okay, so Pablo Sandoval, Nick Markakis and Wilson Ramos aren't anywhere near the level that Stanton is when it comes to launching balls into the bleachers. But it gives you an idea. All three players hit their first home run a little over two weeks after returning to the field.
The mantra doesn't apply to everyone, though. It's not an expiration date on a carton of milk. It only took Mike Zunino 10 games to hit his first dinger after his fracture in 2013. Of course, he went 6-for-33 with nine strikeouts before his first big fly, so it's not like he was raking.
Troy Tulowitzki is one example of a player who did the complete opposite. The Rockies Blue Jays shortstop missed 33 games after undergoing hamate bone surgery on June 19, 2010, and all he did was hit .389 with three homers and 17 RBI in 18 games following his activation. Tulowitzki and Stanton are in a league of their own in terms of baseball talent. But like Tulowitzki, Stanton has suffered numerous injuries since entering the league just six years ago. Stanton's proneness to injury doesn't mean he'll fade down the stretch, but there's a chance he takes longer to heal.
What does all of this tell us? Does hamate removal surgery really impact a player's power potential? Or is the sapping of strength just a myth?
There really is no way to officially know this, nor can we determine whether Stanton will suffer from a power outage or not, but it's a situation worth monitoring and one fantasy owners need to pay attention to. The Marlins' 325 Million Dollar Man could return within the next few weeks, but if his power doesn't come back right away, is that something owners can wait for? Now may be the time to trade him while he can still net you a haul. It's also an excellent time to buy low-ish in keeper leagues. Sometimes you gotta think "big picture".
//