2015 Fantasy Baseball: Mid-Season Deep League All-Stars, Part 1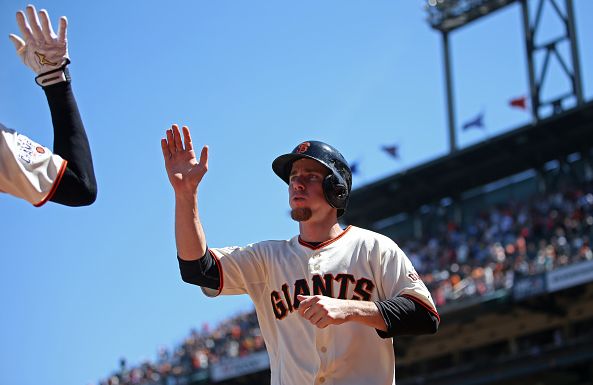 The (unofficial) midway point in the season is here. Some of baseball's best players will spend the next few days galavanting around Cincinnati hobnobbing with southern Ohio's finest and stuffing their faces with chili. Fantasy owners get a little respite as well, so now is the perfect time to assess the first half.
I've decided to create my own All-Star team, but since this is a deep league column, you won't see Mike Trout or Max Scherzer on my squad. Instead, I'll be awarding deep league All-Star berths to players that fell out of the top 350 according to their average draft position (ADP), which basically puts them at 14-team league status (or deeper).
I won't be stacking my team with Royals either, though many deserve to be on on this list rather than in the actual All-Star Game. Without further ado, here is Part 1 of my 2015 Mid-Season Deep League All-Stars*, which will cover the infielders. Check back later this week for my outfield and pitcher selections.
(*all ballots were checked for hanging chads)
Catcher – Nick Hundley, Rockies (ADP #450)
Playing half your games at Coors Field always does wonders for a player's stats, and Hundley has been no exception to the rule. Hundley was signed this off-season to bring valuable defensive support to the Rockies' pitching staff, but he's been a nice surprise on the offensive side of things. The 31-year-old was a career .238/.294/.386 hitter prior to landing in Denver, but he has hit .309/.349/.466 with six homers and 30 RBI this season. A .309 BA would shatter his career average, and his RBI total puts him on pace to break his previous high of 44, set in in 2013 while with the Padres.
Hundley is currently ranked eighth in standard leagues according to ESPN's player rater, putting him ahead of such notables as Yan Gomes (45th, 111 ADP) and Yadier Molina (13th, 130 ADP).
First Base – Mitch Moreland, Rangers (ADP #475)
Moreland had an injury-plagued 2014 season, but now that he's healthy, the Rangers first baseman is putting on a hitting display.
Moreland, a Mississippi native, had a career season in 2013, smacking 23 HR and knocking in 60. Unfortunately, ankle surgery limited him to 184 plate appearances last year. But he's back now, and in a big way. The 29-year-old has 16 homers with 46 RBI and is sporting a career high .286 batting average, leading the Rangers in long balls and trailing only Prince Fielder in RBI. He's been a great guy to own in head-to-head leagues, as his last six homers have all come in pairs — he hit two homers on Saturday, two on June 30 and two on June 29.
As of Saturday, Moreland was the 17th-ranked first baseman in standard leagues, placing him ahead of guys like Edwin Encarnacion (18th, 11 ADP) and Victor Martinez (37th, 59 ADP).
Second Base – Logan Forsythe, Rays (ADP #743)
You would have to be in a 30-team league to have drafted the Rays' utilityman, so it's most likely that his owners grabbed him off waivers, but that doesn't change his sheer awesomeness in the first half.
Forsythe never found a role in San Diego, and the Rays were lucky enough to have scooped him up last year. His 2015 season has been the best of his career, and we're just at the All-Star break, which shows how well he's performed (though it may be more of a case of how poorly he had performed in previous years). Through 88 games, the former Arkansas Razorback has career highs in batting average (.274), home runs (9), RBI (35) and walks (31), and his seven stolen bases are just one off his his career-best of eight set back in 2012.
The Rays have been able to move him all over the field, giving him eligibility at 1B and eventual eligibility at 3B (he needs just two more games there), making him very valuable to fantasy owners. His No. 9 ranking at the keystone has him ahead of Ian Kinsler (11th, 56 ADP), Robinson Cano (27th, 17 ADP) and Ben Zobrist (29th, 132 ADP).
Third Base – Matt Duffy, Giants (ADP #787)
There are a few players I could have selected as my deep league starting third basemen. Luis Valbuena, Maikel Franco and Yunel Escobar have all had great seasons, but I chose Duffy because he's brought zero negatives to the table. Valbuena has hit 19 bombs; Franco has been a top rookie, with 10 HR and 34 RBI; Escobar has been solid all round, contributing in batting average and runs. But each has a downside: Valbuena is hitting .199, Escobar is a bit deficient in the power department and Franco is on a bad Phillies team that has led to a personal 11-game RBI drought.
Duffy has been the perfect fantasy third baseman. He's hitting for average (.293), driving in runs (41) and has eight big flies. The Giants have to be pretty pleased with the way this rookie has played, and fantasy owners are thinking the same. His dual eligibility at 2B makes him an even more appetizing addition to this All-Star team, and his No. 11 ranking has him ahead of perennial All-Stars Evan Longoria (12th, 57 ADP), Pablo Sandoval (32nd, 120 ADP) and Adrian Beltre (34th, 27 ADP).
Shortstop – Brad Miller, Mariners (ADP #413)
There aren't many offensive heroes from this current Mariners team, but Miller has been a bright spot in their middle infield.  The 25-year-old is having a solid 2015 campaign after a couple of very disappointing seasons in which he failed to live up to the hype.
A true post-hype sleeper, Miller has earned an everyday spot in the M's lineup by hitting .247 with eight home runs, 27 RBI and nine stolen bases. The shortstop position has been the weakest in fantasy this year, and if you picked up Miller, you have to be pretty satisfied. He's on pace for 15 HR, 49 RBI and 16 SB, and has put his former competition Chris Taylor in the rear view.
Miller is currently ranked 15th among shortstops, besting the likes of Jimmy Rollins (25th, 135 ADP) and Ian Desmond (32nd, 28 ADP).