2015 Fantasy Baseball: Week 21 Two-Start Pitchers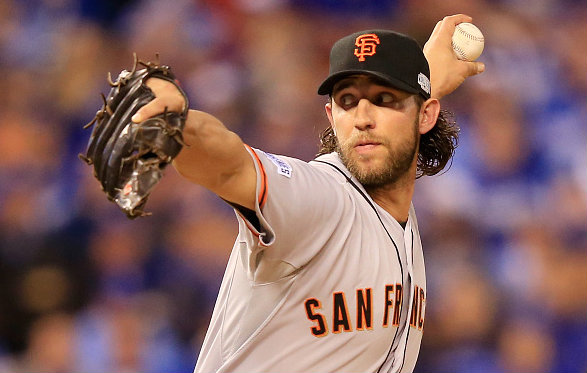 A fantasy owner's best friend is the waiver wire—where finding value can make the difference between a great week and a very disappointing week. Most pitchers see the mound once a week, but if you want to maximize the number of starts per week, it's important to look for pitchers pitching twice and exploit favorable matchups if they exist. With that being said, let's take a look at some pitchers you should be starting this week, and some you should just leave on your bench.
Elite
Madison Bumgarner | San Francisco Giants
Opponents: Zack Greinke (LAD), Jon Gray (COL)
I'm aware that Bumgarner is taking on Greinke on Tuesday, and I'm aware that he has to pitch at Coors Field on Sunday, but I really don't care. The 26-year-old lefty has been dominant all season long, and he's been extremely hot in his last four starts allowing just five earned runs in 30.1 innings with two complete game wins. He's also struck out 44 batters in those starts and just seems locked in. The Giants are going to need to make a serious push if they want to play baseball in October, and their ace will continue to be "lights out" from now till the end of the year.
David Price | Toronto Blue Jays
Opponents: Danny Salazar-probable (CLE), Miguel Gonzalez (BAL)
The only thing hotter than the Blue Jays right now is Drake's new girlfriend Serena Williams. Celebrity news aside, the Jays are on fire and Price has a lot to do with that. He's 4-0 since being traded from Detroit and has pitched at least six innings in every start. The Indians have the third best team batting average in August (.279), but they are just above average against lefties and Baltimore just isn't that good of a baseball team. Price and the Blue Jays are unbeatable right now, and I expect that trend to continue this week. Lock him in and don't worry about it.
Zack Greinke | Los Angeles Dodgers
Opponents: Madison Bumgarner (LAD), Andrew Cashner (SD)
If it weren't for Bumgarner, Greinke would probably win the N.L Cy Young award. The 31-year-old has the lowest ERA in baseball at 1.61 and a 0.85 WHIP in 26 starts this season. He's elite, no doubt about it, and he should continue to be elite this week. The Florida native has been the most consistent pitcher in baseball this season and despite having a tough matchup against the Giants, he's pretty much a guarantee for seven-plus innings and two or less earned runs. Lock him in and enjoy the week.
Other must start pitchers: Johnny Cueto, Chris Sale, Chris Archer.
Mediocre
Justin Verlander | Detroit Tigers
Opponents: Johnny Cueto (KC), Danny Salazar-probable (CLE)
If you've ever read any of my articles, you know that I haven't been a fan of Verlander this season. He was horrible at the beginning of the year, but he seems to have found his game in the second half. The former Cy Young award winner is coming off a one hit complete game against the Angels and has given up just one earned run in his last four starts. The last time he had a terrible outing was against the Royals, the team he will be facing Tuesday. I would love to hate on him, but he's proven he can pitch again at an elite level. His start against the Royals will be a tough one, so don't expect another complete game performance, but he won't get blown open like he did last time. He's still a risky start, but I'd throw him in there and hope he continues this hot trend.
Joe Ross | Washington Nationals
Opponents: Carlos Martinez (STL), Shelby Miller (ATL)
Ross is my sleeper player of the week. He's had his struggles at the big league level, but over his last two starts, he's given up one earned run in 13 innings pitched. The Cardinals have the best record in baseball (84-46), but haven't been spectacular in the month of August, hitting .247 as a team (third worst in the A.L). The Braves have been hitting better as a team over the last few weeks, but their pitching hasn't been stellar as of late and the Nationals have a ton of power in their lineup. If he's available on the waiver wire, scoop him up before anyone else does.
Felix Hernandez | Seattle Mariners
Opponents: Dallas Keuchel (HOU), Felix Dubront (OAK)
I like Felix a lot, but he just hasn't been himself over the past two months. As good as he can be on any given night, he's also been able to get absolutely lit up by opponents. His start against Oakland doesn't worry me, but his start against Houston isn't ideal. Let's face it, the Astros are a hit-or-miss kind of team; either they pound you with the long ball or strikeout a million times. Felix has the stuff to make hitters swing and miss, but Houston can make pitchers pay if they don't locate their pitches. Despite his poor Monday night matchup, I wouldn't recommend benching him, especially for fantasy owners who are still on the bubble to make the playoffs. He's still an elite pitcher, but don't be surprised if the Astros hit him hard.
Other Pitchers to consider: Shelby Miller, Tyson Ross, Jimmy Nelson, Marco Estrada, Bartolo Colon.
Bench
Eduardo Rodriguez | Boston Red Sox
Opponents: Ivan Nova (NYY), Jerad Eickhoff (PHI)
The 22-year-old rookie has had an up and down season to say the least. He gets a difficult matchup with the Yankees on Monday and another tough matchup against the Phillies. The Yankees destroyed the Braves over the weekend, outscoring them 38-11 in a clean sweep. With the Jays refusing to lose, New York needs to keep winning to not fall behind in the A.L East. Yankees Stadium is a hitter's ballpark and Rodriguez has given up some homers over his last few starts. The Phillies, for their part, have been a much better team over the last month, hitting .261 as a team (4th best in the N.L). If you're a Rodriguez owner, you might want to consider benching him and looking for other options.
Robbie Ray | Arizona Diamondbacks
Opponents: Chad Bettis (COL), Jake Arrieta (CHC)
If you're looking for a pitcher to stream this week, Robbie Ray is not your guy. The lefty has a date with the Rockies in Colorado on Monday and with the Cubs on Saturday, both on the road. Both parks are hitter friendly and Ray hasn't been consistent over his last five starts, pitching below six innings three times. He hasn't won a game since July 7th and has seen his ERA go from 2.16 to 3.86 in eight starts. Stay away from him and look for help somewhere else.
Other pitchers to avoid: Tyler Duffey, Ivan Nova, Patrick Corbin, Felix Dubront, Dave Holmberg, Jerad Eickhoff, Jake Peavy, Jeff Locke, Mike Foltynewicz