In the Week 22 edition of fantasy baseball 3×3, we're sticking with Ian Kennedy, moving on from Travis Shaw, and settling in with Francisco Lindor.
There are plenty of waiver wire columns out there that provide an exhaustive list of the most added players in fantasy leagues. This isn't one of them. Here, we'll run down a few of the most interesting players for fantasy owners, with perspective on who deserves your attention, who deserves your patience, and who deserves to go straight to bed without dessert.
Any questions, thoughts? Hit me in the comments or on Twitter.
3 TO CATCH
Players to be picked up; available in most standard leagues
Francisco Lindor | Cleveland Indians | SS
Francisco Lindor has actually been playing pretty well ever since his call-up back in June, but in recent weeks, his BABIP luck is finally catching up to his considerable talent.
There hasn't been a huge evolution in his plate discipline alongside this breakout; he's always been pretty aggressive and always made a good deal of contact. That said, he's worked counts better in the second half, with significant improvements in both his walk rate and strikeout rate. That refined approach has generated more effective (if not necessarily harder) contact, which, in turn, has driven up his batting average. His .412 second half BABIP is more than 150 points higher than his .256 first half BABIP. That'll likely come down in the long run, but Lindor has the kind of speed to maintain a number well above .300.
He's still not running a ton, but he is regularly hitting at the top of a pretty solid Indians lineup. With Cleveland essentially out of the playoff race, I'd be very surprised to see him moved down before the end of the year. He may not produce a ton of value outside of batting average and run scoring, but with the lack of offensive punch at shortstop, that alone makes him valuable.
In deeper leagues, he's a fantastic fill in as a middle infielder.
To pick him up, I'd drop: Asdrubal Cabrera, Erick Aybar, Yunel Escobar
Marcell Ozuna has looked refreshed since his return to the big leagues, swatting eight extra base hits in just 56 plate appearances in his two weeks back with the Marlins. But this recommendation doesn't have a whole lot to do with Ozuna's actual performance in recent weeks, it's more about what we know he's capable of.
Last year's 23 homer performance didn't happen by accident. Ozuna flashed plus power in the minors and carried that power through to the big leagues, ranking 16th in average home run distance last season, ahead of proven sluggers like Nelson Cruz and Chris Davis. Each of the three homers he's smashed since his return has travelled more than 410 feet, per ESPN's Home Run Tracker, and his batted ball distance, while still lagging behind last year's mark, is on the upswing, according to Baseball Heat Maps.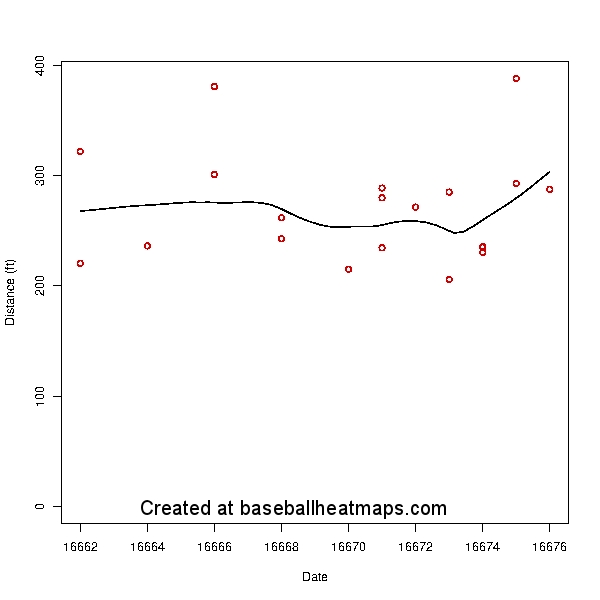 But his stint in the minor leagues dropped him off the radar for most fantasy owners; he's owned in just 42% of Yahoo! leagues. Only two other healthy hitters who popped more than 23 homers last season are owned in fewer Yahoo! leagues, and both Adam LaRoche and Marlon Byrd are certainly past their primes. Ozuna is still three months shy of his 25th birthday.
This type of player shouldn't be so widely available. If you've got a revolving door on the end of your bench, you'd be wise to give Ozuna a shot.
To pick him up, I'd drop: Chris Carter, Khris Davis, Marlon Byrd
With four clean saves in his last four appearances heading into Sunday, Tom Wilhelmsen has snuck right back into the closer role in Seattle. With Fernando Rodney shipped off to Chicago, talented rookie Carson Smith stands out as Wilhelmsen's only competition for the gig, though it seems that competition has already been decided…
From 710 ESPN's Mariners Notebook:
Smith and Wilhelmsen, in that order. It was the second straight win where Smith entered the game in the seventh inning with two outs and pitched the ninth and was followed by Wilhelmsen. It is a combination, in that order, that we will see more of according to Lloyd McClendon. For now, Wilhelmsen is the closer.

"As we speak, yes," he said. "He's done a nice job. Sometimes when you take a step back you learn from your past. He seems very comfortable, he's not overwhelmed. His breathing, his pace out there, ability to execute pitches has been very impressive."

The move has been good for Smith as well, for similar reasons. McClendon acknowledged that he does look different earlier in the game.

"His pace has slowed down," he said. "He's a lot more relaxed."
When it comes to the way they deploy the bullpen, the Mariners should be prioritizing Smith's development over everything else, and by the looks of it, McClendon believes that the pre-closer role is the best way to further that goal. Otherwise, I can't imagine why he would have given Wilhelmsen a shot at the job in the first place. I don't expect his position on that matter to change as the year goes on; I do expect Wilhelmsen to remain the closer for the rest of the season.
To pick him up, I'd drop: Drew Storen, John Axford, Junichi Tazawa
3 TO CUT
Players to be traded or dropped, depending on the depth of your league
Travis Shaw | Boston Red Sox | 1B
Travis Shaw has been an outstanding find for the scuffling Red Sox, but with Hanley Ramirez' pending tryout at first base, it looks like his value is on the verge of a precipitous drop. Shaw's .306/.355/.582 batting line certainly seem like something that should be a daily fixture in Boston's lineup, but led by Ramirez, forces outside Shaw's control are likely to elbow him into a bench role for the balance of this season.
Ramirez' tenure in Boston has been an inarguable disaster, but with (likely) four years and over $90 million remaining on his massive contract, the 31-year old Ramirez is almost certainly more secure in his place as a piece of the Red Sox' future than the 25-year old Shaw. Now that he's proven himself to be a defensive liability at three positions (shortstop, third base, and left field), Ramirez is essentially untradeable. With their investment already a sunk cost, the Red Sox absolutely must find a way to squeeze some value out of him, even if that comes at the expense of the development of one of their young players. And so we're left with this first base tryout situation. Once Ramirez' audition begins, the best Shaw can hope for is the occasional platoon start at first against a tough right-handed pitcher.
In a normal situation, you might expect Ramirez to slide over to DH once in a while to clear a path for Shaw to play, but with David Ortiz entrenched there, I can't imagine there are many extra at bats to be had through at path.
Shaw could possibly swap with Ramirez and slide out to left field, but even after the deadline trade of Shane Victorino, the Red Sox are flush with talented outfielders. The team is committed to Rusney Castillo in right and Mookie Betts in center, and Jackie Bradley, Jr. has grabbed the left field job by the throat over the last month, supplementing his always excellent defense by smashing 15 extra-base hits in only 87 August plate appearances. Even worse, the fact that Shaw, Bradley, and Alejandro de Aza are all lefties severely limits Shaw's chances to platoon in an outfield spot. The first domino to fall here was the result of Boston prioritizing defense over offense; both Bradley and de Aza hold a significant defensive advantage over Shaw in the outfield.
Shaw has been spectacular and may well mature into a useful big leaguer, but for fantasy owners in non-keeper mixed leagues, he likely won't earn enough playing time to contribute much down the stretch this season.
I'd trade/drop him for: Logan Forsythe, Mike Napoli, Ben Paulsen
I tend to focus my recommendations this late in the season on players who can pile up production in counting categories like home runs and stolen bases, but I'll admit there are some circumstances in which an owner can close a small, but valuable gap in batting average. Fact is, though, hitters who can reliably hit for a great average tend to be pretty good at the other aspects of hitting as well, and therefore tend to be owned in most fantasy leagues already. The operative word there is "reliably".
There will always be a few hitters who get BABIP-hot down the stretch, but that luck can cut both ways. If all I'm getting is batting average and I'm only getting it over a short period of time, I just can't get comfortable relying on anything less than a proven player.
And that brings us to the scorching Stephen Piscotty, who's slashed .344/.378/.576 with four homers and a steal in his 35-game major league debut. The power and speed are nice, but given his minor league track record, ZiPS doesn't like him for more than one each the rest of the way, and I agree.
Piscotty was a consistently excellent batting average producer in the minors, but he did it with a BABIP that usually hovered right around .300. His BABIP as a big leaguer is .415. And that jump in BABIP has covered up a concerning hike in strikeout rate. Despite his high batting average, it's clear that the excellent contact skills Piscotty shows as a minor league haven't fully translated to the next level; his 21.5% MLB strikeout rate is by far the highest he's posted at any level.
So though it is possible to gain points in batting average in the lategoing, I'm not willing to bet on Piscotty's luck-reliant performance, especially with Matt Holliday possibly on his way back. I wouldn't immediately drop him, but if there's somebody with more proven upside out there, don't hesitate to pull the trigger.
I'd trade/drop him for: Kevin Pillar, Nori Aoki, Ender Enciarte
Kevin Jepsen has been quite good as the Twins closer, but with Glen Perkins healthy and on his way back, Jepsen's days of fantasy relevance are numbered. It's true, Jepsen worked the ninth while Perkins worked the seventh in Minnesota's Friday night victory over the Astros, but that's not a sign of a demotion. If anything, it seals Jepsen's fate over the longer term, showing Paul Molitor's desire to protect his closer by easing him back into action.
This one's pretty simple. Jepsen might have value for a few more days, but if you can drop him for a reliever with more long term value, do it immediately.
I'd trade/drop him for: Drew Pomeranz, Sean Doolittle, Arodys Vizcaino
3 TO KEEP
Players to hold or trade for; owned in most standard leagues
Ian Kennedy | San Diego Padres | SP
Like most pitchers, Ian Kennedy leads with his fastball.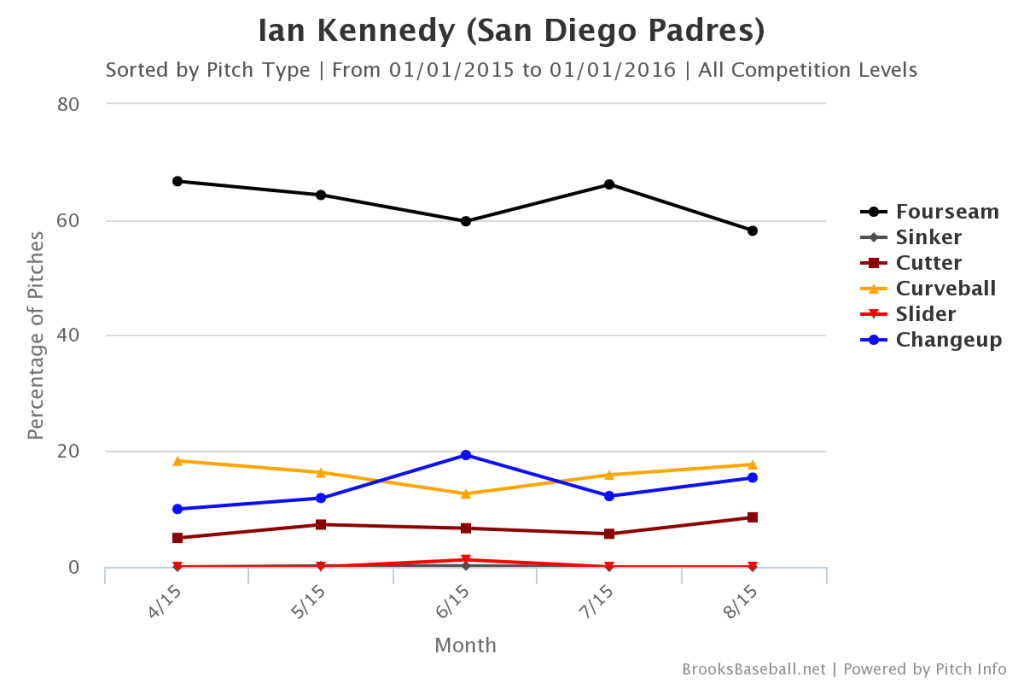 Unfortunately for Kennedy, leading with this particular fastball is akin to a boxer who leads with his chin; his heater is more often the recipient of damage than the inflictor of it. He can miss some bats with the fourseamer, sure, but when hitters are able to make contact, they square it up with frightening force. Kennedy's fastball allows a .262 ISO that ranks third-worst among starters who've thrown at least 1,000 fourseamers, per Baseball Prospectus.
He doesn't have one dominant secondary pitch; Kennedy relies on a full junk drawer, featuring a changeup, cutter, and curveball that all generate whiff/swing rates around 30%. You'd think that he'd be wise to rely less on his fastball and more on his secondary stuff…
And you'd be right.
As you'll note from the chart above, there have been two months this season in which Kennedy's fastball usage has dipped below 60%. In June, he pitched to a 2.31 ERA and 23.2% strikeout rate. So far in August, he's logged a 2.30 ERA and 27.9% strikeout rate. I can't explain why he decided to rachet his fastball usage up in July, but it does look like the declines we've seen in August are here to stay; he hasn't cracked 63.2% fastball usage in a single start this month after breaking that barrier in seven consecutive pre-August starts.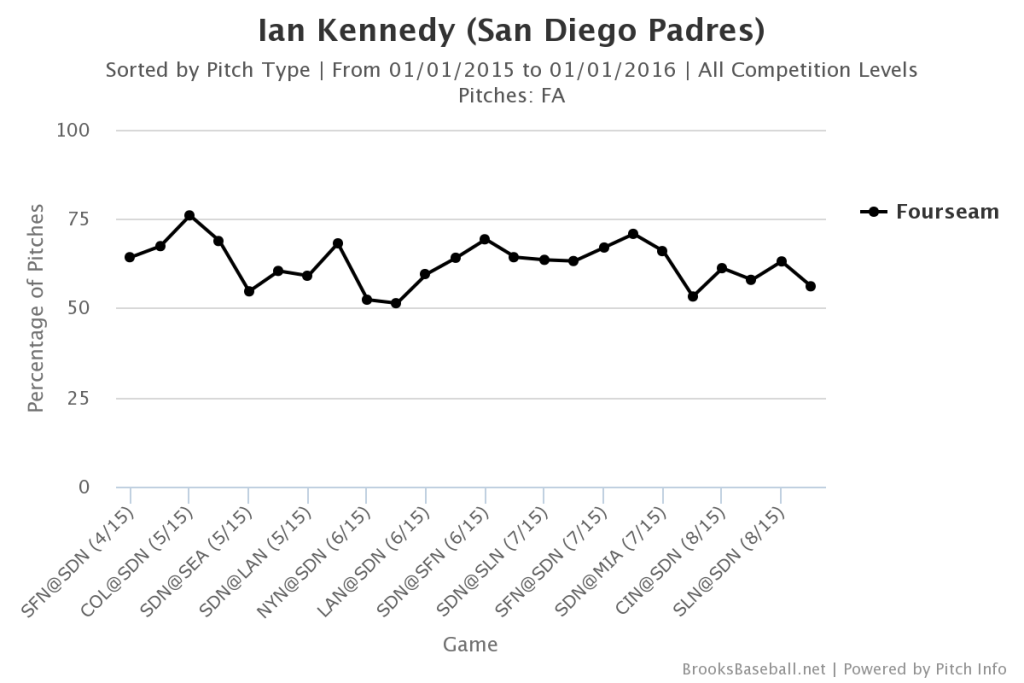 With the fastball largely holstered, Kennedy will be an excellent source of strikeouts and WHIP down the stretch. He'll still give up a few homers, but with a low walk rate and high strikeout rate, many of those bombs will be solo shots.
And with the exception of one September date in Coors, Kennedy's remaining slate looks exceptionally manageable, with home games against the Rangers, Rockies, and Brewers surrounding a trip to San Francisco and the aforementioned outing in Denver.
I wouldn't trade/drop him for: Andrew Cashner, Marco Estrada, Taijuan Walker
Hector Santiago's approach seems to spit in the face of much of conventional wisdom about how a pitcher should mitigate the risk of allowing runs. While most of baseball sleeps beside cassette tapes repeating "down and away, down and away, down and away…", Santiago pounds the upper reaches of the strike zone with a low-90's heater that's really more of a "warmer".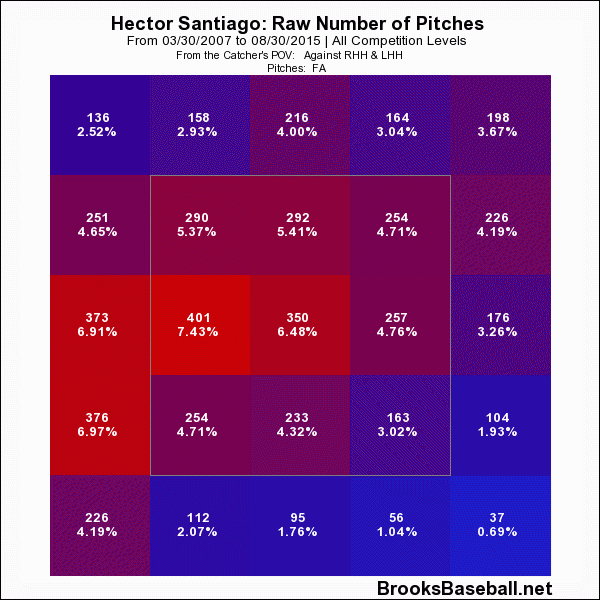 You'd expect that approach to lead to a whole bunch of fly balls, and you'd be right.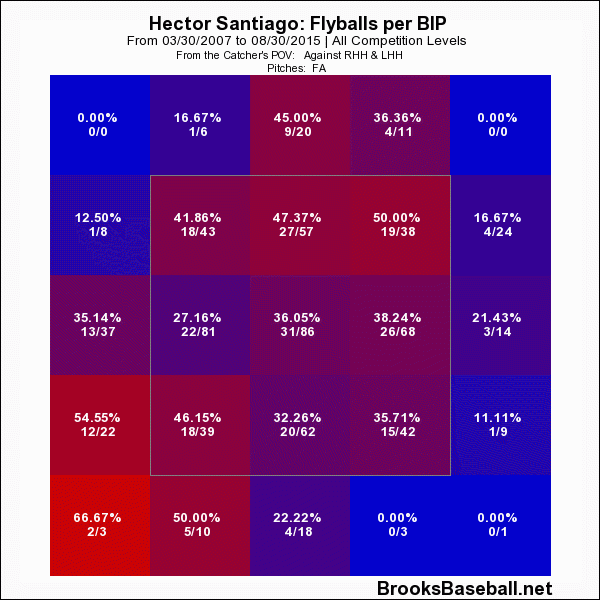 Then, you'd probably expect that approach to lead to a whole bunch of home runs. And you'd be very, very wrong.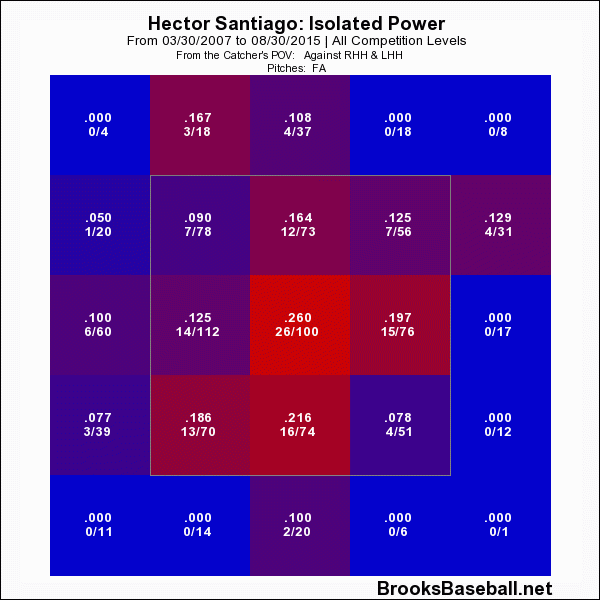 With 18.34 inches of aggregate movement, Santiago's warmer makes up for its lack of pep by doing more dancing than any other heavily-used fourseamer in the game. Chris Sale was the only other pitcher I found whose fourseamer featured more than 17 inches of aggregate movement, according to Baseball Prospectus.
That's how Hector Santiago has become Johnny Cueto-lite. Since the beginning of 2012, when Santiago first became a big league regular, no pitcher with at least 400 innings pitched has a bigger positive differential between his ERA and FIP. Per FanGraphs, Santiago's 3.45 ERA during that time period is nearly a full run lower than his 4.42 FIP. In much the same way that Cueto continues to befuddle ERA estimators, Santiago consistently outpitches his peripherals with an approach perfectly suited to both his skill set and his home ballpark, which consistently ranks among the stingiest in baseball for home runs.
So in spite of the fact that he's had a rough go of it in the last month or so, I remain bullish on Santiago's prospects for the rest of this season, especially with the way his schedule lines up. Santiago's next few starts will be in Oakland, at home against Texas, at home against Houston, and at Minnesota. He doesn't pitch in a hitters' park until the last week of September in Houston.
I wouldn't trade/drop him for: Mike Leake, Trevor Bauer, Jose Quintana
The polar opposite of Santiago in many ways, Nathan Eovaldi has long been a darling of talent evaluators and ERA estimators alike. His career FIP is nearly a half-run lower than his career ERA; Eovaldi is arguably the premier "great stuff, bad results" pitcher in the game.
But recently (Sunday's start notwithstanding), that stuff has translated to strong results, with four quality starts in his last seven outings and a sharp uptick in strikeouts in his last two. Incredibly, he's achieved these results by somehow making his already excellent stuff better.
He's throwing his fastball, which already led the league in velocity, harder.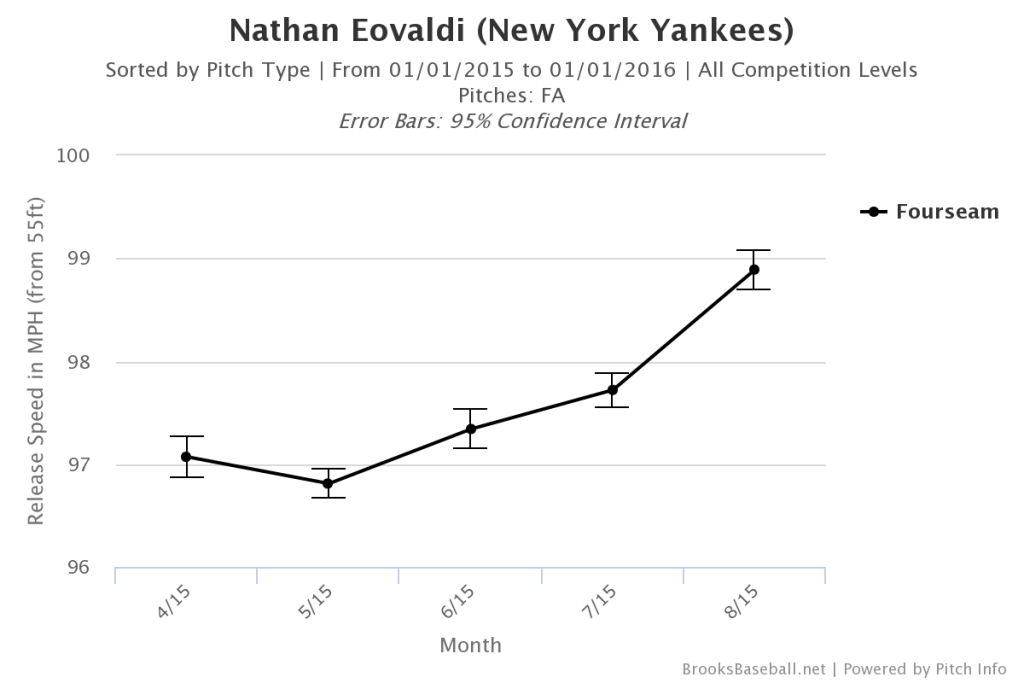 His splitter (or changeup, depending on which classification you like), which was already his best pitch by linear weights, has gained in both velocity and horizontal run.
So after swearing him off back in April, I'm back in on Eovaldi. How can I stay mad at somebody who's capable of this?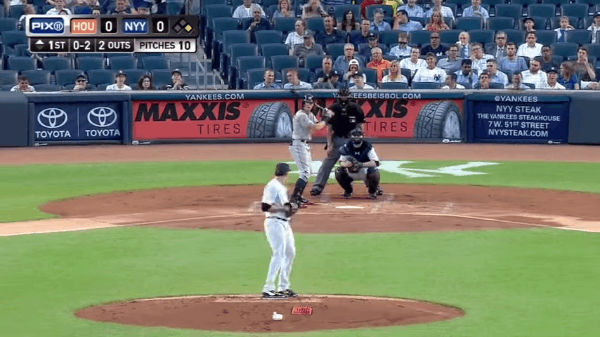 There are a couple of Toronto-flavored landmines coming up on the schedule, but it's otherwise workable. I'm back on board in ten-team mixers.
I wouldn't trade/drop him for: Jeff Samardzija, Mat Latos, Chris Tillman