2015 Fantasy Baseball Week 3 Waiver Wire: 3 to Catch, 3 to Cut, 3 to Keep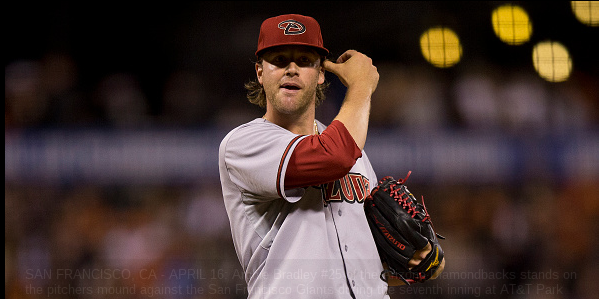 In the Week 3 edition of fantasy baseball 3×3, we're circling Archie Bradley, doubting Kendrys Morales, and keeping faith in, ahem, Alex Rodriguez.
There are plenty of waiver wire columns out there that provide an exhaustive list of the most added players in fantasy leagues. This isn't one of them. Here, we'll run down a few of the most interesting players for fantasy owners, with perspective on who deserves a your attention, who deserves your patience, and who deserves to go straight to bed without dessert.
Any questions, thoughts, preemptive links to your yet-to-be-recorded podcast?
I've got one of those (again)! Ryan and I had some scheduling issues last week, but we should be good to go for our first ep this week, which will tentatively be up on the site and iTunes on Wednesday. I'll drop a link here once it's up.
For anything else, hit me in the comments or on Twitter.
And if you haven't tried daily fantasy baseball at DraftKings just yet, use this link and we'll help you get started and provide you access to our #FrontOffice research/analysis for a month, free!
3 TO CATCH
Players to be picked up; available in most standard leagues
Archie Bradley | Arizona Diamondbacks | SP
It's not often that a young pitcher can face Clayton Kershaw in his first start of a season, square off with Madison Bumgarner in his second, and come out as arguably the most impressive pitcher in both outings. Sure, Archie Bradley has benefitted from some BABIP and strand rate luck, but he's also begun to realize the potential that made him one of the top pitching prospects in baseball.
He starts by commanding his fastball up and away, showing enough life to limit any power against his heater.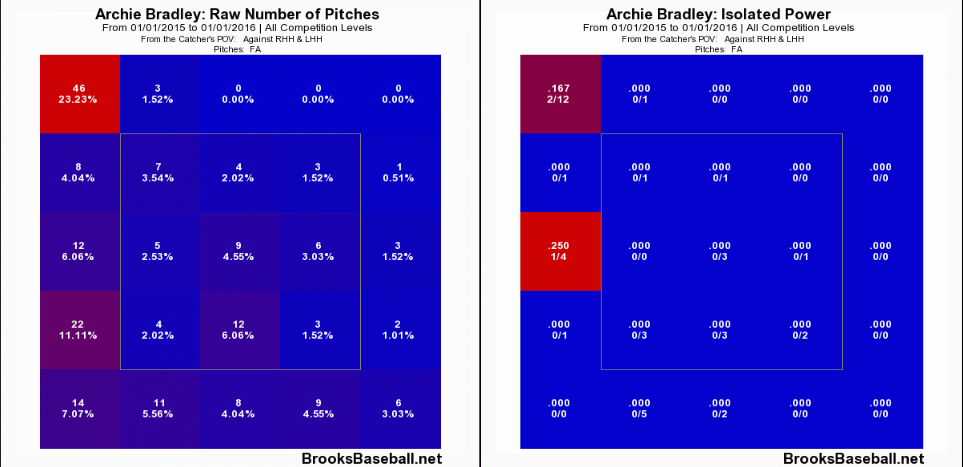 Overall, he's allowed a .313 BABIP against it, but just a .075 ISO.
The fastball is good, but that curveball… oh, that curveball. It is a knee-buckler of the highest quality.
The pitch that befuddled Brandon Belt there has racked up a 36% whiff/swing rate this season, putting it on part with the breakers of strikeout artists like Gerrit Cole and James Shields. Bradley has five strikeouts on 72 curveballs this season and he hasn't allowed so much as one hit, surrendering only two batted balls above ground level, per Brooks Baseball.
Despite that devastation wreaked by his Uncle Charlie, Bradley hasn't quite matched the gaudy strikeout numbers he put up in the minors, oddly because he's struggled to get hitters to chase. It's a trend that bears watching, but one that concerns me less knowing that Bradley can throw his breaker for a strike when he needs to. Once big league hitters are convinced of that, they'll start to chase.
To pick him up, I'd drop: Rick Porcello, Mat Latos, Chris Tillman
Adam Eaton | Chicago White Sox | OF
It's not easy to give extra slack to a non-star outfielder who's hitting .136, but I think it's too early to give up on Adam Eaton. His value as a leadoff hitter comes in his ability to run and to score runs, neither of which he can do if he's not getting on base. Certainly, this conundrum is frustrating for his fantasy owners, but I can only imagine it's been exponentially worse for Mr. Eaton himself.
He looks like a player who's pressing. His walk rate is down, his swing rates are up. He's clearly going after some pitches that he can't do much damage with. For most players, this would show up as a Chris Carter-ian (can I make fun of his strikeout rate in every column this season?) proclivity for whiffs, but Eaton is too talented for that. His strikeouts are actually down, because Eaton is making contact with absolutely everything, putting bat to ball on over 95% of his swings, including 90% on pitches outside the strike zone!
Certainly, this isn't helping, but it shows that Eaton's not broken, he's just anxious. Pretty soon, his .154 BABIP will double (which would still be well below his career average) and he'll settle back into the approach that helped him hit .300 last season and exhale his walk rate back up around 8%. If he does that again, he'll challenge 90 runs scored as the tip of the spear on an improved White Sox offense while chipping in 15-20 steals.
That kind of talent doesn't belong on the waiver wire.
To pick him up, I'd drop: Anthony Gose, Alejandro De Aza, Angel Pagan
Pitching performance aside, C.C. Sabathia deserves a ton of credit for what he's been able to do this season. It can't be easy for a former All-Star pitcher to scrap the guts of what made him great and rededicate himself to a new style of pitching, moving away from his power four-seamer to a sinker-heavy approach built on keeping the ball on the ground. He's working his fastball exclusively away instead of challenging hitters inside and burying his offspeed stuff down in the zone. He can't miss bats in the zone like he used to, but he's getting hitters to chase more often than ever before. It's a less directly aggressive approach, but one that's looking like it could write a new chapter in his career.
Sabathia's fastball velocity is way down (again), but so's the direction of contact against him; his 67% groundball rate through two starts this season is 17 percentage points better than his previous career high. He is on his way to setting career highs in groundball rate for every single one of his pitches.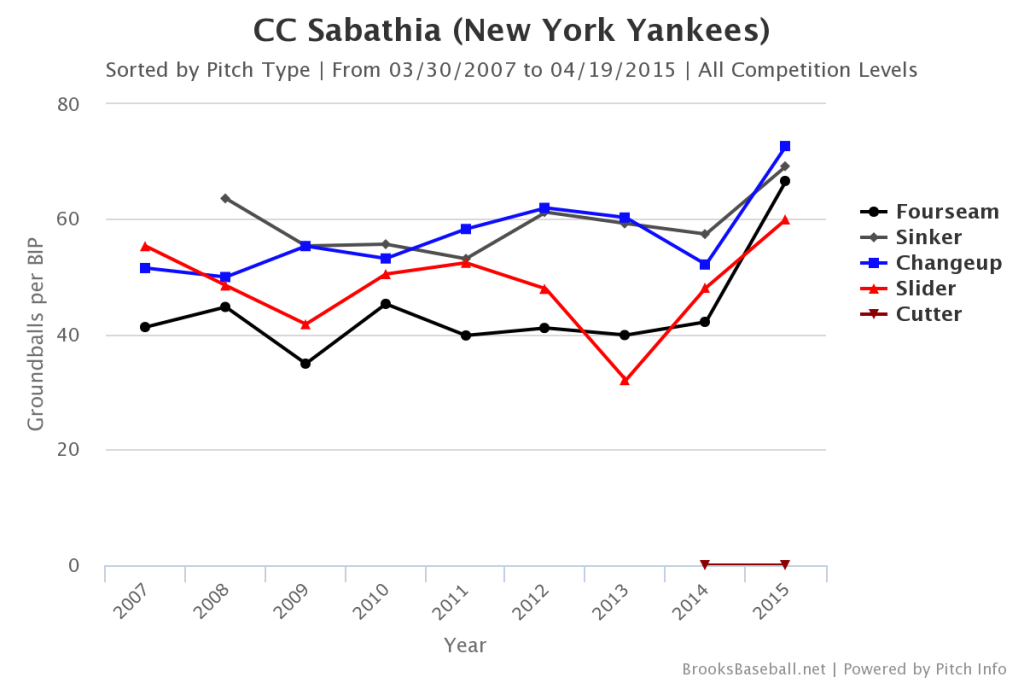 That success is obscured by a .389 BABIP, but the Yankees' infield defense should actually be ok; that number ought to settle down as the season goes on.
Sabathia's transformed fastball has been the base, but what really impresses me is the change he's made to his slider, dialing back the velocity off but increasing both the horizontal sweeping action and the vertical depth on the pitch even beyond where it was in his prime. His whiff/swing rate on the slider is back up to its highest level since 2012, which was the last year that Sabathia turned in a full season of solid production.
That season is almost certainly too much to ask from the newly lanky lefty, but an ERA in the high 3.00 range with strong strikeout numbers is definitely within reach.
To pick him up, I'd drop: Joe Kelly, Miguel Gonzalez, Edinson Volquez
3 TO CUT
Players to be traded or dropped, depending on the depth of your league
Kendrys Morales | Kansas City Royals | 1B
Kendrys Morales has been wildly successful in his short stint as a Royal, slugging his way to a .356/.431/.556 slash line with two homers, four doubles and ten runs scored. He's roping extra base hits with regularity and rolling alongside a suddenly explosive Kansas City offense. And, in a wonderfully ironic twist, Morales has posted a career high walk rate since joining the Royals, more than a 50% jump from his previous career average.
It looks like Morales resurgence is finally here, until, that is, you scroll down to the plate discipline section of his player profile on FanGraphs. Things look quite a bit different here… Morales is taking more walks this season, but there's no way you'd describe his approach as "patient". Morales swinging more often, chasing more often, and missing more often than he ever has before.
He's typically succeeded as a much choosier hitter; this profile is all new for him. In fact, it's kinda all new for the league. Over the last decade, there's no hitter who can match Morales' current 9% walk rate, 36% o-swing rate, and 80% z-swing rate. It's not necessarily a terrible combination; there are aggressive hitters who are still able to maintain solid walk rates and batting average and power production while chasing pitches outside the strike zone –  This leaderboard features some of the best hitting first basemen in the game. Freddie Freeman, Justin Morneau, and Miguel Cabrera are all similarly built hitters that have dominated on the back of an approach not too dissimilar to the one that Morales has employed so far this season.
But they do it without compromise. Add one more category to that leaderboard and the picture becomes a bit different. You see that while all of those successful hitters are extremely aggressive, they're also extremely efficient when they do take a cut. Most of those aggressive first basemen have z-contact rates better than 85%.
So far this season, Morales' z-contact rate is just barely over 81%, eight percentage points worse than his career average. It leads me to believe that this change in approach isn't an evolution, but a trade-off. He's exchanging aggressiveness for consistency. His technique is writing checks that his skills can't cash. His power production isn't backed by an elite batted ball distance; Morales ranks behind Sam Fuld, Joe Panik, and Rougned Odor on the Baseball HeatMaps leaderboard.
Hitters like Morales don't reinvent themselves like this. Sometime soon, he's going to turn into a pumpkin.
I'd trade/drop him for: Chris Carter, Brandon Moss, Steve Pearce
Alex Wood | Atlanta Braves | SP
For his career, Alex Wood has been a slightly better pitcher with men in scoring position. His BABIP is slightly lower, his strikeout rate jumps nearly ten points, and his FIP drops by a full run. It's wonderful for a pitcher to have the ability to bear down when the situation demands, but don't let his positive past record cloud the fact that luck in those situations this season has kept him from a truly disastrous start.
Wood has struggled across the board this year. Opposing hitters aren't chasing, aren't missing, and aren't striking out. Some of this could be by design; Wood is leaning heavily on his sinker, which doesn't miss as many bats as his other offerings. That pitch has been effective at generating grounders, but the resulting decline in strikeouts from its increased use, coupled with Wood's rising walk rate, has had him pitching in traffic all season.
Which brings us back to his ability to bear down with men in scoring position. His strikeout rate has been a bit higher in those situations this season, but even when he's bearing down, Wood can't manage even a 20% strikeout rate. Rather than facing danger head-on, he's been content to pitch around it, as evidenced by his sky-high 14% walk rate with RISP.
Wood has only started three games, but he's already recorded nearly six innings' worth of outs with runners in scoring position, which ranks among the highest totals in the league. Wood has survived by getting outs on balls in play, but that .214 BABIP can't last forever. Only six starters bested that number in RISP situations last season.
This is a good time to talk about the small samples and large grains of salt that come along with this kind of early season analysis, but there's a good reason to be worried about Alex Wood. If you can move him now, I'd take 75 cents on the draft day dollar.
I'd trade/drop him for: Chris Archer, Collin McHugh, Jeff Samardzija
Nick Markakis has led the charge for an overachieving bunch in Atlanta this season. It's a cute story, but much like with the Braves as a team, you'd be best served to cash in your chips as soon as you can. That other shoe is about to drop.
He's hitting .500 with men on base, riding a .667 BABIP that ranks fourth in baseball in that situation. Because the Braves are the Braves, that luck has led to only five RBI, but think about what Markakis' run production totals will look like when his good fortune dries up.
/shudders
Sure, there's inherent value in anybody who's hitting third in a major league order, but on most nights, that order begins with Eric Young, Jr. and Alberto Callaspo. Eww.
And even if those table setters are able to get themselves on base, Markakis won't help them move along more than one station at a time. All but one of his 15 hits this season are singles; I don't think he's made an outfielder take a step backward yet.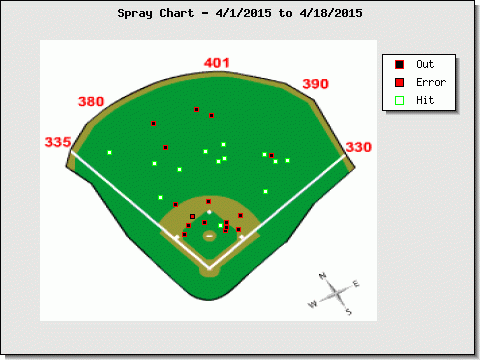 I guess we'll have to append that old baseball adage to: "Your first step is always back… unless Nick Markakis is up."
Markakis was a lock for double-digit homers when he played in Camden Yards and visited the rest of the homer-happy AL East, but Turner Field is a below average environment for righty power, per FanGraphs Handedness Park Factors.
He's fine in NL-only formats, where his ability to eat up plate appearances with average-ish production is worth its weight in gold, but in mixed leagues, Markakis offers absolutely no upside.
I'd trade/drop him for: Steven Souza, Jake Marisnick, Dexter Fowler
3 TO KEEP
Players to hold or trade for; owned in most standard leagues
Alex Rodriguez | New York Yankees | 3B
There aren't many people on the planet who can do this.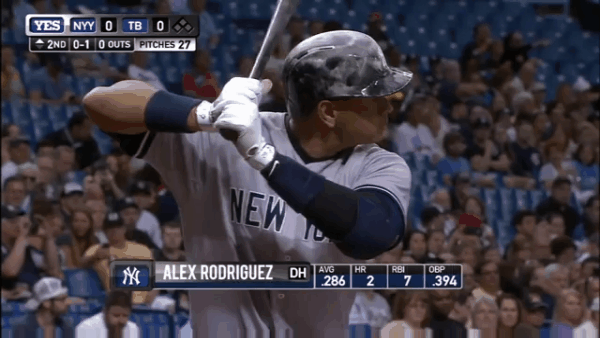 For most of us, being in a situation where you're cheering for Alex Rodriguez probably feels kind of… what's the word… icky? I get it, but it's time for us to collectively shake that off.
A-Rod is closing in on 40 years old, but he doesn't have the typical 40 year-old's physical ability, both because he's one of the greatest athletes of his generation and because he's had the last 18 months or so to rest and get himself in shape. He looks refreshed and strong; Rodriguez' average batted ball distance ranks sixth in baseball, checking in at just under 320 feet, per Baseball HeatMaps. Every single one of his homers would have found the seats in every yard in the big leagues, per ESPN Home Run Tracker.
The power he's showing is impressive, but what makes me really feel good about his potential is where he's showing power. All four of his bombs have been to the opposite field.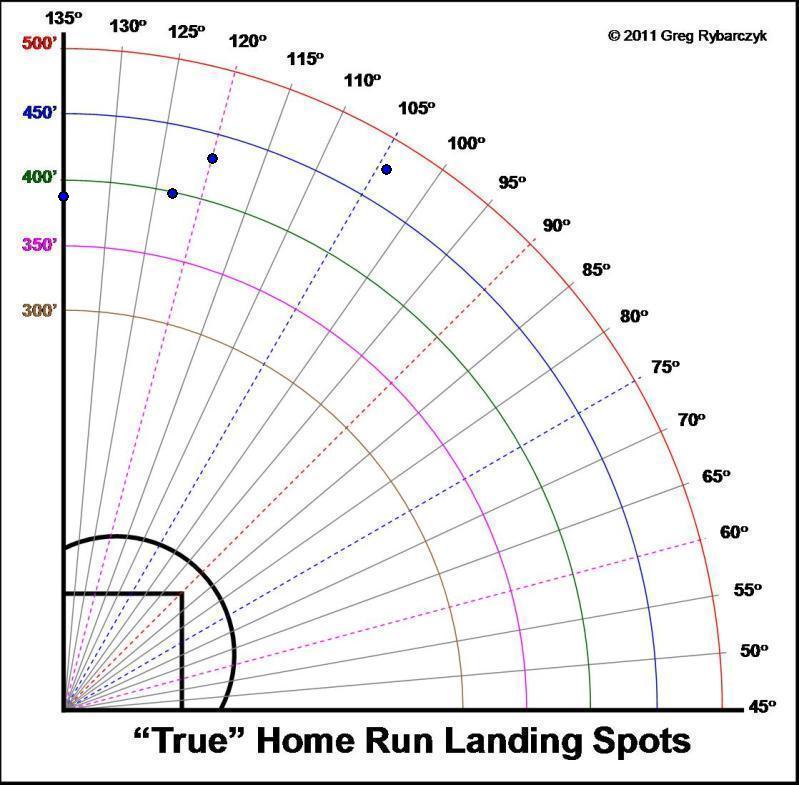 He's producing like one of the best power hitters in the game, and he hasn't even used Yankee Stadium's short porch yet!
Certainly, it's too early to call the Rodriguez renaissance complete, but these early returns are no fluke. The talent is still there and A-Rod looks as healthy as he's been in years. His health could be fleeting, but as long as he's on the field, he's good enough to be owned in any and all formats.
I wouldn't trade/drop him for: Ryan Zimmerman, Pedro Alvarez, Aramis Ramirez
Jose Iglesias' most memorable hit of the season, last week's walk-off against the White Sox, doubles as a microcosm of what's made him so successful.
He makes contact with a tough pitch, keeps it on the ground, and gets a base hit that he maybe doesn't quite deserve. If that infield isn't drawn in tight, Micah Johnson scoops the grounder and easily throws him out at first. Iglesias has been undeniably lucky this season, but there are some underlying improvements that will help him fight off the regression that likely lurks in the next few pages of the calendar.
He's always been an aggressive hitter, and that hasn't completely changed, but Iglesias has cut way down on his swing rate this season, especially on pitches outside the strike zone. When he does swing, he's making contact with absolutely everything and keeping just about all of it on the ground. He's struck out only twice in 43 plate appearances and ranks second in the majors with a 96.2% contact rate.
He's starting to look a lot like Juan Pierre: An aggressive, skilled hitter who won't walk much, but gets on base by making tons of contact and legging out grounders, then steals a few bags once he's there. Nothing in Iglesias' minor league profile tells me he'll run like Pierre used to, but he has been extremely aggressive this season, already racking up four stolen bases after swiping just five in almost 400 plate appearances' worth of action back in 2013. With a pair of finally healthy legs, I think 20-25 steals is within reach this season.
Both ZiPS and Steamer like him to hit around .265 the rest of the way, but I don't see much reason why he can't maintain an average closer to .300. Swing rates stabilize very quickly; the more patient approach that Iglesias has shown this season makes him a valuable middle infield contributor in just about all formats.
I wouldn't trade/drop him for: Danny Santana, Alcides Escobar, Marcus Semien
Mike Fiers | Milwaukee Brewers | SP
There are good reasons that Steamer absolutely adored Mike Fiers coming into this season. Radar guns and scouting report stereotypes be damned, my man misses bats everywhere he goes. And he's done it this season, putting up a spectacular 11.5% swinging strike rate on his way to striking out over a quarter of the batters he's faced. All four of his primary offerings are generating results right in line with his previous major league performance.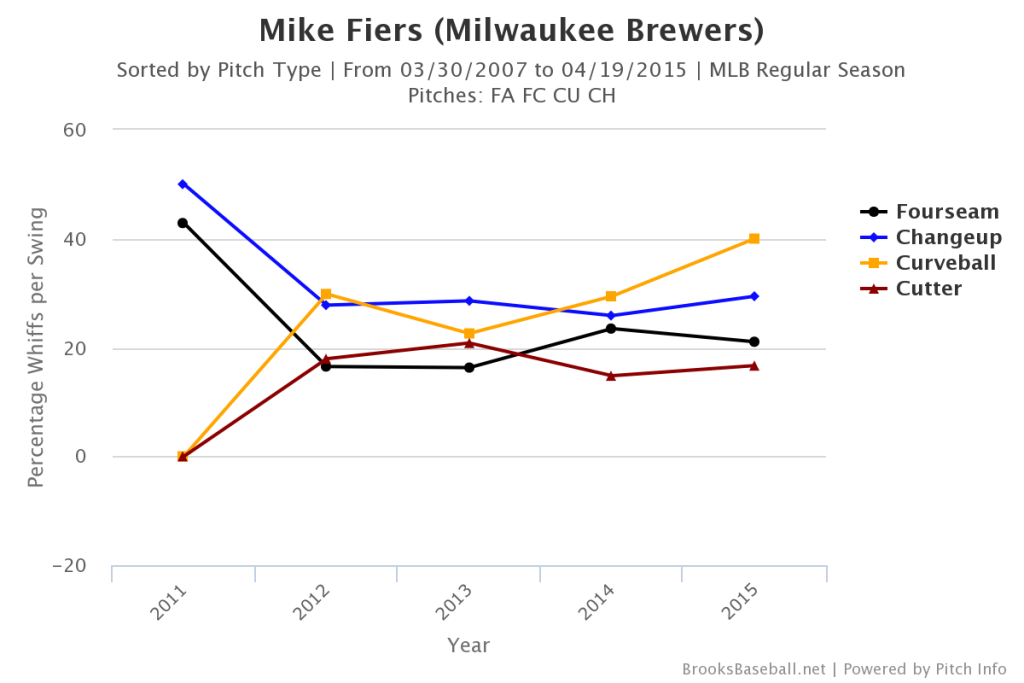 Unfortunately, things haven't gone so well when he's allowed the opposition to make contact. His .419 BABIP doesn't even tell the whole story; Fiers has suffered through a .533 BABIP with men on base and a .556 BABIP with men in scoring position, despite the fact that he's struck out better than a batter per inning in both situations and has yet to walk a man with runners on.
Fiers deserves the benefit of the doubt. If you believed enough in his talent to draft him back in March, nothing that's happened in April should change your opinion.
I wouldn't trade/drop him for: Homer Bailey, Shane Greene, Jose Quintana