2016 Fantasy Baseball: Baltimore Orioles Sign Pedro Alvarez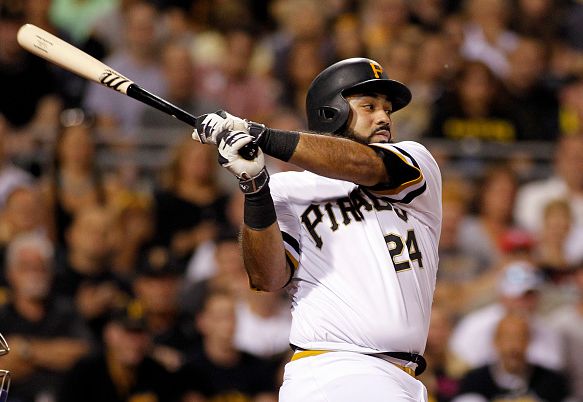 The top 50 free agents from the 2015-16 offseason are all officially off the board. The Baltimore Orioles continued their late spending spree when they signed Pedro Alvarez to a one year, 5.5 million dollar deal late Monday night. The deal officially closes the book on the offseason and gives the Orioles one more bat to take on the AL East.
Why the Orioles make this move
A couple of weeks ago, it was reported that the Orioles had signed Dexter Fowler to a three year contract. The deal fell through because the Orioles do not offer opt out clauses as a general rule, so Fowler returned to the Cubs on a one year deal. The Fowler acquisition was a blow since he would fit their lineup a lot better than Alvarez, but Alvarez signing on a one year deal is good for both the Orioles and for Alvarez.
The idea is that Alvarez will slide in as the team's designated hitter and Mark Trumbo will slide into right field. The fact that the Orioles ostensibly have three first baseman on their team is a bit of a problem in terms of defensive value, but all three players (Alvarez, Trumbo, and Chris Davis) are capable of producing 30 or more home runs this season.
Alvarez has averaged 28 home runs a season in the last four years as a regular. He reached his apex in 2013 when he delivered 36 home runs and 100 RBI for the Pirates. He came up as a third baseman, so he could play that position in a pinch, but he thoroughly demonstrated last season that his best defensive position is to stay as far away from the field as possible. If it's possible, he was actually worse as a first baseman (-14 defensive runs saved) than he was as a third baseman. Third base is obviously well manned with Manny Machado.
While the Orioles defense will not inspire that much confidence on the right side of the infield, the power numbers coming out of that side of the diamond alone could be tremendous. The Blue Jays bombed their way to the AL East crown last season and now it looks like the Orioles could do the same. When you couple those players with Adam Jones, Matt Wieters, and Jonathan Schoop, you see that they may have an outside chance of having seven or eight players with 20 or more home runs.
What this deal means for you
Alvarez is not a viable starting first baseman in fantasy baseball, so his value depends largely on whether he still retains third base eligibility in your league. His value also depends on whether you play in a five or six category league. He's never hit better than .256 in any big league season and has hit below .250 five years in a row. However, he has a decent walk rate, so he could play up some in six category leagues.
If you remove 2014, Alvarez has been a steady power source, so if you are looking for cheap home runs late in your draft he might be a decent option. The trouble there is that the Orioles now have plenty of depth, so he is not a lock to even get 500 plate appearances. In some drafts he might even go undrafted, but he is a guy worth watching.