2017 Fantasy Baseball: 3 to Add, 3 to Keep, 3 to Drop– Second Base Edition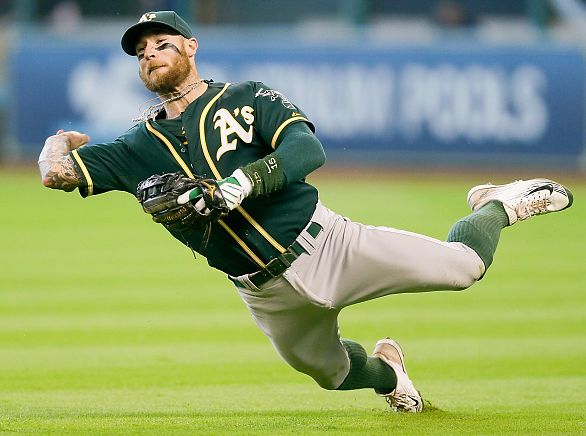 Admittedly, I took some flack last week for going with the obvious choices at first base. This feature creates an interesting conundrum. We can outthink ourselves by going for the under the radar choice when the obvious choice is well…obvious. On the other hand, if that player is owned in your league it can be less than helpful. Point taken. Still, there is always the possibility of trades, so we will still look at the best candidates to add and hopefully one or more will be available for you.
Maybe it is the advent of the 10 day disabled list, but more and more players seem to be landing on it this season. So, when looking at our perspective categories we try to focus on players with more than 100 plate appearances. That obviously limits our choices, but it also gives us a lengthy track record to look at players.
3 to Add
Jed Lowrie— Oakland Athletics
What is going on?
Lowrie has always been a middle of the road infielder every where he's gone. When you look at the per 162 game statistics you will be pleasantly surprised. While he has never been a stolen base threat, he does have moderate to good power for a middle infielder. When healthy, he is a decent middle infield candidate or good as the first middle infield bat off the bench.
Barriers to Launch: The phrase "when healthy" might be planted on his tombstone. Lowrie has spent a day or two on the disabled list in his career.
Cesar Hernandez— Philadelphia Phillies
What is going on?
Hernandez went undrafted in a majority of leagues, but he was likely one of the first adds. His .311 average (through Monday night) and 30 runs scored is hard not to botice. If no one has picked him up in your league I would add him even if you already had a good second basemen. The addition of six steals at this point might be the kicker.
Barriers to Launch: Hernandez has been good before, but he is typically a low power/low speed option that offers good on base numbers and hopefully batting average. That can be a hard sell in five category leagues.
Brandon Drury–Arizona Diamondbacks
What is going on?
Drury is off to a great start (.320, 3 HR) to become the latest Dback position player to come out. Jake Lamb and Yasmany Tomas did it last year and now Drury is joining the party. When all is said and done he is probably not a regular second sacker in fantasy terms, but everyone needs a good guy to have off the bench.
Barriers to Launch: Who exactly is Brandon Drury and where did he come from?
3 to Keep
Rougned Odor— Texas Rangers
What is going on?
I took flack for how low I rated him in the offseason. It's too early to do a victory dance around the campfire but I feel somewhat vindicated. Still, he has six home runs and four stolen bases. It's not all bad, but bad plate discipline is getting in the way of superstardom. He will need to draw more walks or he will turn into Jonathan Schoop.
Drop him if– He ever stops hitting for power.
Jonathan Villar— Milwaukee Brewers
What is going on?
We kind of knew that 2016 was unsustainable. Yet, the power and speed is still there. If you close your left eye and drown out the batting average you still have a guy on pace to hit 20 home runs and steal 30 or more bases. There are those that can't seem to overlook batting average and if you don't own Villar you can possibly steal him if his owner is one of those average obsessed fantasy players.
Drop him if– see above.
Ben Zobrist— Chicago Cubs
What is going on?
Someday soon, batting average will be a thing of the past. In that universe, Zobrist will be a very valuable fantasy commodity. He still hits for reasonable power, he gets on base, and even steals the occasional bag. He might have lost a step and a little bit of bat speed, but he is still an immensely valuable fantasy players because of his positional flexibility.
Drop him if– He continues to lose playing time in a deep Cubs lineup.
Three to Drop
Danny Espinosa— Los Angeles Angels
What is going on?
We all have our delicate sensibilities and we can say we ignore batting average at all costs, but all of us have our limits. Espinosa has surpassed that. He is currently hitting .144 and while he does have impressive power numbers (four home runs), it is hard to overcome a batting average that half of the starting pitchers in the NL could beat.
Keep if– He suddenly goes on a hot streat before you hit the drop button.
Jose Peraza— Cincinnati Reds
What is going on?
Peraza isn't all bad. He does have eight steals at this point in the season, so he doesn't have zero fantasy value. That being said, his .243 current batting average is not good enough to sustain a player that only steals bases. If you want the direct comparison, he is essentially the second base version of his teammate Billy Hamilton. No one should slave themselves for a single category.
Keep if– He can find a little power stroke.
Devon Travis— Toronto Blue Jays
What is going on?
The preseason publications loved this guy. I subscribe to the Paul Bear Bryant school of grading prospects. He once said, "potential means they ain't done nothing yet." The legendary coach was always the grammarian. Sometimes waiting means you lose out on the next great thing, but nine times out of ten it means you end up avoiding this.
Keep if– He suddenly starts to hit.