2017 Fantasy Baseball: Third Base Rankings A-K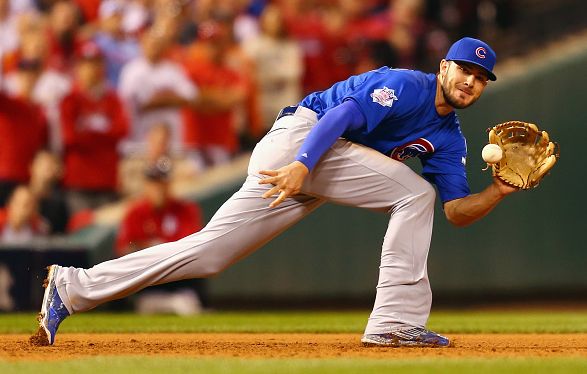 Third base might be the deepest position in fantasy baseball. This is particularly true when you add in the players knocking on the door. Even without those guys, you can easily go twelve players deep and man the position with a star or near star level performer. That always makes ranking the players difficult and certainly leaves us open to criticism. We will do the best we can with the numbers we have available and our own common sense.
For those just joining us, we are ranking the top twenty-four third basemen according to their numbers in the five main fantasy categories and after adding walks as the sixth category. Each player is ranked in three and five year intervals according to those numbers. At the end, we will rank them ourselves based largely on those numbers, but with some common sense adjustments thrown in.
Nolan Arenado—Colorado Rockies (.289, 33.7 HR, 90.3 Runs, 108.0 RBI, 2.0 SB, 42.3 BB)

3 Year 5 Category- 3
3 Year 6 Category- 5
5 Year 5 Category- 5
5 Year 6 Category- 8
Arenado presents a bit of a dilemma in that he is about as dominant a four category player as there is at the position. Over the last two years, he has averaged 40 bombs and over 120 RBI alone. The problem comes in the stolen base and walks category. In a five category league you can sacrifice the stolen bases and just enjoy the other categories. It's harder when you have to sacrifice walks too. Rank: 3rd
Adrian Beltre—Texas Rangers (.309, 25.0 HR, 86.8 Runs, 91.6 RBI, 1.0 SB, 46.4 BB)
3 Year 5 Category- 7
3 Year 6 Category- 8
5 Year 5 Category- 4
5 Year 6 Category- 4
According to the Jaffe WAR scoring system (JAWS), Beltre ranks fifth all-time amongst third basemen. Unfortunately, while you are sitting and chewing on that, he isn't getting any younger. He hasn't slowed down yet, but it is bound to happen and no one is really quite sure when it is going to happen. Rank: 8th
Kris Bryant—Chicago Cubs (.284, 32.5 HR, 104.0 Runs, 100.5 RBI, 10.5 SB, 76.0 BB)
3 Year 5 Category- 2
3 Year 6 Category- 2
5 Year 5 Category- 1
5 Year 6 Category- 1
Bryant is the most complete player on the board. Furthermore, with the Blue Jays going through a transition period, Bryant also has the best offensive attack on his side. The Cubs already led the majors in runs scored and there is no reason to think that will fall back with Kyle Schwarber returning to health. Bryant also could be poised to take another giant step forward in his third year. Rank: 1st
Matt Carpenter—St. Louis Cardinals (.272, 19.0 HR, 93.7 Runs, 70.3 RBI, 3.0 SB, 85.7 BB)
3 Year 5 Category- 8
3 Year 6 Category- 7
5 Year 5 Category- 8
5 Year 6 Category- 7
Just like in real baseball, there is always the dilemma between the player that does a little of everything and the player that does a whole lot of one thing. Carpenter fills up the stat sheet across the board, but he doesn't wow in any one statistical category (outside of walks). He will be moving to first base, so he will have multiple position eligibility. That could be a slight factor in where you pick him. Rank: 7th
Nick Castellanos—Detroit Tigers (.266, 14.7 HR, 48.7 Runs, 65.7 RBI, 1.0 SB, 34.3 BB)
3 Year 5 Category- 20
3 Year 6 Category- 21
5 Year 5 Category- 23
5 Year 6 Category- 21
In a normal time, Castellanos would rank higher. He got off to a great start last season, but got injured during the season. The problem for him his two-fold. First, he plays at a loaded position, so his numbers don't jump off the page. Secondly, the Tigers are reloading, so at least one or two prime bats won't be back in the lineup next season. Still, he personally might take another step forward next season. Rank: 21st
Josh Donaldson—Toronto Blue Jays (.279, 35.7 HR, 112.3 Runs, 106.7 RBI, 7.0 SB, 86.0 BB)
3 Year 5 Category- 1
3 Year 6 Category- 1
5 Year 5 Category- 2
5 Year 6 Category- 2
When you get to the very top, the differences aren't so much in ability, but in who has the better supporting cast. You really can't go wrong with Donaldson, Bryant, or Arenado, but with the impending free agency of Jose Bautista and Edwin Encarnacion, Donaldson is bound to lose some value. That being said, his patience at the plate makes him a more complete player than Arenado. Rank: 2nd
Matt Duffy—Tampa Bay Rays (.277, 8.5 HR, 59.0 Runs, 52.5 RBI, 10.0 SB, 26.5 BB)
3 Year 5 Category- 13
3 Year 6 Category- 17
5 Year 5 Category- 13
5 Year 6 Category- 14
Duffy is officially the Rays projected shortstop, but that can only serve you moving forward. He really shouldn't be a regular at either position, but he is definitely a nice guy to have on your bench. With a full complement of at bats, he should get to double digit home runs and stolen bases. Rank: 14th
Yunel Escobar—Los Angeles Angels (.277, 7.8 HR, 59.0 Runs, 48.2 RBI, 2.4 SB, 44.0 BB)
3 Year 5 Category- 19
3 Year 6 Category- 19
5 Year 5 Category- 19
5 Year 6 Category- 17
Escobar presents a problem in fantasy circles. Since he does not have power or speed, he has to hit for high average to be useful. He's done that before, but it takes batted ball luck to happen. He's probably better off as a waiver wire pickup for that reason. He will have some positional flexibility in some formats, so that is something to look for. Rank: 19th
Maikel Franco—Philadelphia Phillies (.268, 19.5 HR, 56.0 Runs, 69.0 RBI, 1.0 SB, 33.0 BB)
3 Year 5 Category- 15
3 Year 6 Category- 15
5 Year 5 Category- 15
5 Year 6 Category- 15
Franco is better than numbers above because that includes his partial rookie season. 2016 saw him produce .255/25/67/88/1/40. Those numbers are borderline starter quality numbers and if you want to bet on growth you can go ahead and slot him a little higher. I prefer to treat most players where they are at. Rank: 15th
Todd Frazier—Chicago White Sox (.251, 34.7 HR, 86.3 Runs, 89.0 RBI, 16.0 SB, 53.3 BB)
3 Year 5 Category- 5
3 Year 6 Category- 4
5 Year 5 Category- 6
5 Year 6 Category- 6
Frazier is a classic four category guy (five category in six category leagues). Some will downplay his value because of the lower batting average, but that can only serve you well on draft day. If he falls outside of the top five among third basemen then he could be a draft day steal. Remember this, he had a .236 batting average on balls in play last season (BABIP). His career average is .278. Rank: 5th
Chase Headley—New York Yankees (.252, 12.7 HR, 62.3 Runs, 54.0 RBI, 5.0 SB, 51.0 BB)
3 Year 5 Category- 18
3 Year 6 Category- 14
5 Year 5 Category- 12
5 Year 6 Category- 10
The numbers above do not include his brilliant 2012 campaign. Including them skews the data and inflates his value. Some bought into that the past few seasons only to be disappointed. I think everyone is beyond that now and accepts Headley for who he is. He's not a bad player, but he is someone you shouldn't prioritize on draft day. Rank: 17th
Jung Ho Kang—Pittsburgh Pirates (.271, 18.0 HR, 52.5 Runs, 60.0 RBI, 4.0 SB, 32.0 BB)
3 Year 5 Category- 16
3 Year 6 Category- 18
5 Year 5 Category- 16
5 Year 6 Category- 16
Depending on the platform, Kang may be eligible at short and third. If that is the case then his value probably jumps up a few slots. Kang has never played a full season due to nagging injuries and because the Pirates have been fairly deep in the infield. Sean Rodriguez signed with the Braves, so the second problem should be fixed. Rank: 16th