2018 Fantasy Baseball: PECOTA Projections– Top 20 Closers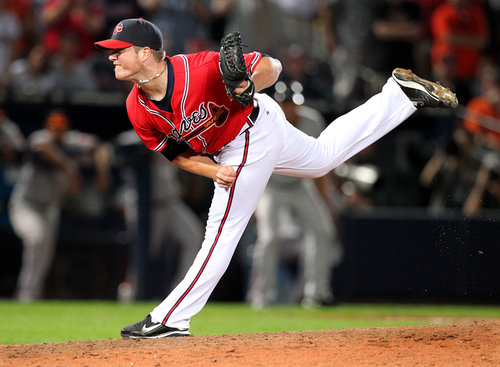 I hate closers. Okay, that's a little extreme, but I hate saves. The problem with saves is that they are almost completely dependent on what a team does and not what the individual does. So, forecasting closers is a bit myopic. I refuse to give into the game of forecasting saves. It depends on the quality of the team, whether they will play in a lot of close games, and the quality of the rest of the bullpen. Acknowledging the fact that there are 30 closers at any one time, we know some will not keep their jobs all year around. How many will be replaced is another guessing game.
Most fantasy owners like to have three closers on their squad. You can get by with two, but you probably shouldn't have fewer than that. However, there is a growing consensus that owners should employ a couple of setup men as well because they can replicate the numbers of one good starter. We will have our own separate list for those later on. The list of the top 20 closers are based completely on their abilities as pitchers independent of wins and saves. The upshot is that if they are good enough they will retain their positions and build save statistics independent of that. I wouldn't kick the other closers off your list completely, but they are all at risk of losing their jobs.
20. Kelvin Herrera— Kansas City Royals
PECOTA: 57 INN, 3.95 ERA, 1.29 WHIP, 8.4 SO/9
If we ignore saves then we are left with everything else. In general, you want relief pitchers to keep putting up zeroes and getting strikeouts while they do it. Herrera is the closer on a bad team. Closers on bad teams often become setup men or middle relievers on good teams at the trade deadline. At that point, his value becomes very limited.
19. Wade Davis— Colorado Rockies
PECOTA: 48 INN, 3.71 ERA, 1.30 WHIP, 10.9 SO/9
Denver is where most pitchers go to die. Greg Holland went there and he is now on the free agent scrap heap. I'm not sure his former protege is going to fare much better. The good news is that is the best of the lot there, so he should continue to hold the job for most of the season. The numbers may not end up looking pretty in the end.
18. Sean Doolittle— Washington Nationals
PECOTA: 57 INN, 4.02 ERA, 1.28 WHIP, 10.4 SO/9
Doolittle was one of three trade deadline relievers the Nationals brought in last season. Most assumed that either Ryan Madson or Brandon Kintzler would be the guy. He kept the job through the end of the season and ended up performing well. PECOTA is projecting a step backwards for all three guys.
17. Jeurys Familia— New York Mets
PECOTA: 60 INN, 3.55 ERA, 1.33 WHIP, 9.5 SO/9
Familia missed much of last season, but he is being penciled in as the Mets closer. A.J. Ramos and Anthony Swarzak could fill in if necessary, but Familia is a cut above. He hasn't quite been the same since blowing saves in the World Series in 2015. He still should be good enough to be a decent second closer on a fantasy team.
16. Hector Neris— Philadelphia Phillies
PECOTA: 63 INN, 4.43 ERA, 1.32 WHIP, 10.0 SO/9
Here is an example where you can get a little too cute reading the tea leaves of the transaction wire. Yes, they've added Carlos Santana and Jake Arrieta. They added Pat Neshek and Tommy Hunter to the bullpen. That makes them better and could end up increasing save opportunities in general. Who is to say whether Neris will be getting all of those based on these numbers?
15. Blake Treinen— Oakland Athletics
PECOTA: 62 INN, 3.53 ERA, 1.33 WHIP, 8.9 SO/9
I'd rather have a good reliever on a bad team than a mediocre one on a good one. Treinen is more likely to hold down the job the whole season and the Athletics may be better than what we think. Projecting saves is a game I don't like to play. I'd rather just employ three or four good relievers and let the chips fall where they may.
14. Mark Melancon— San Francisco Giants
PECOTA: 60 INN, 3.26 ERA, 1.23 WHIP, 8.0 SO/9
Melancon doesn't have the kind of power arm that most people like in a closer, but he has always been effective when healthy. He should be healthy this season and the Giants should be better. Plus, AT&T Park is a great place to pitch.
13. Alex Colome— Tampa Bay Rays
PECOTA: 64 INN, 3.33 ERA, 1.27 WHIP, 8.9 SO/9
A quality closer on a bad team is worth about as much as a Bose stereo system in a 1974 Chevy Chevelle. I would have thought they would have dealt Colome by now, but the Rays say they aren't tanking. Colome won't be as good as he was last season, so he has no more value than right now.
12. Archie Bradley— Arizona Diamondbacks
PECOTA: 54 INN, 2.91 ERA, 1.25 WHIP, 10.3 SO/9
It's interesting how PECOTA works. They based the projections of the Dbacks starters on the presumption that the pen will be worse. Yet, they project Bradley to be better than Fernando Rodney was as the closer. Maybe the left hand doesn't know what the right hand is doing.
11. Edwin Diaz— Seattle Mariners
PECOTA: 52 INN, 3.01 ERA, 1.18 WHIP, 11.9 SO/9
Diaz is a cut above in everything except innings. It may seem minor, but the secondary benefit of a great reliever is that they give you a zero or two to put up against a struggling starter on a given night. Throw in a strikeout or two and it adds up at the end of the week in head to head leagues. Diaz just doesn't have the volume of other top relievers, but he has everything else.
10. Felipe Rivero— Pittsburgh Pirates
PECOTA: 62 INN, 3.05 ERA, 1.19 WHIP, 9.8 SO/9
Sure, ignore Rivero because he is pitching on one of the worst teams in baseball. That would be a mistake. Again, I'd rather have a good reliever on a bad team than a mediocre reliever on a good team. A few Riveros could deliver you a fantasy title.
9. Cody Allen— Cleveland Indians
PECOTA: 63 INN, 3.64 ERA, 1.27 WHIP, 11.4 SO/9
The Indians have acknowledged that Andrew Miller is a better reliever and don't care. They'd rather use Miller in crucial situations before the ninth inning. This is why I hate the save statistic. Allen is decent enough and fairly secure in his job, but he isn't particularly special.
8. Corey Knebel— Milwaukee Brewers
PECOTA: 61 INN, 3.37 ERA, 1.25 WHIP, 12.6 SO/9
The Brewers appear to be on the rise and Knebel had a nice season under the radar last season. He won't be under the radar this year, but the Brewers also don't have anyone else that can clearly do the job. Job security matters.
7. Ken Giles— Houston Astros
PECOTA: 54 INN, 2.92 ERA, 1.20 WHIP, 11.7 SO/9
A number of pitchers swore the ball was different in the World Series. It was apparently slicker and that made it nearly impossible to control a slider. Giles relies heavily on his slider, so it makes sense that he was almost useless in the World Series. As long as the ball is back to normal he should be too.
6. Raisel Iglesias— Cincinnati Reds
PECOTA: 62 INN, 3.30 ERA, 1.18 WHIP, 10.5 SO/9
Let's repeat our refrain, I'd rather have a good pitcher on a bad team than a mediocre one on a good team. Iglesias is one of the more dominant pitchers in the game and if the a lead ever slips through to the end of the game he should close it out.
5. Aroldis Chapman— New York Yankees
PECOTA: 54 INN, 2.66 ERA, 1.15 WHIP, 12.7 SO/9
Chapman might be better than fifth except that he won't have the volume of innings as the others. The Yankees have too many relievers capable of being closers to put too much on his back. Both David Robertson and Dellin Betances would likely be closers on a lot of other teams.
4. Craig Kimbrel— Boston Red Sox
PECOTA: 51 INN, 2.31 ERA, 1.04 WHIP, 14.1 SO/9
Attendance matters. Kimbrel was projected to throw fewer innings than any other prominent closer. I can't exactly say why that would be other than the fact that the Red Sox have a deeper bullpen than most teams and they probably don't want to tax Kimbrel. There is real value in more quality innings, but otherwise he is as good or better than everyone else.
3. Brad Hand— San Diego Padres
PECOTA: 68 INN, 2.99 ERA, 1.12 WHIP, 10.8 SO/9
Hand is not a traditional closer, so he will likely get more work. For those looking at Kimbrel's gaudy numbers consider this. If you draft two relievers that average 75 innings a piece that equals one starter who throws 150 innings. If both pitchers pitch to a combined 3.00 ERA with a 1.10 WHIP then you have a starter with those numbers. Add in maybe 180 combined strikeouts and the wins and saves are gravy.
2. Roberto Osuna— Toronto Blue Jays
PECOTA: 65 INN, 2.63 ERA, 1.13 WHIP, 10.7 SO/9
14 innings adds up. It means more zeroes you can add during the course of a week. Admittedly, that's less than an inning a week, so maybe we should take it with a grain of salt. Still, Osuna is younger than Kimbrel, so there is more opportunity for growth as compared to likely slippage for Kimbrel.
1. Kenley Jansen— Los Angeles Dodgers
PECOTA: 63 INN, 2.18 ERA, 1.00 WHIP, 13.3 SO/9
The honest separation between number one and number five is not great. The problem is that it is impossible to know how your draft will go. Closers never go at the same time, but when they go they go fast. I don't like closers, but they are a necessity and Jansen is clearly the best.